Living
Drip by Drip
Pitcher Irrigation
Sometimes it just isn't possible to be there with the hose to nurture that newly planted vine, tree, or shrub. Maybe there isn't a faucet anywhere near the very back corner of the garden, or the vacation cabin isn't occupied for weeks on end. There are ways to get around this dilemma. Since ancient times, say 2,000 years ago or more, gardeners from North Africa, the Middle East, and China have been sinking porous vessels into the ground near plants to deliver a slow but constant supply of water over time. It's called "pitcher irrigation," and it is remarkably efficient at spreading a minimum of water for maximum effect. The clay pitchers slowly lose water through osmosis into the surrounding soil, leaking out only what is physically needed to dampen the soil. Arid gardens, in areas of very limited rainfall, can be grown successfully by merely keeping the pitchers filled with water.
Besides irrigating the gardens of our ancestors, this method has been put to use in modern times. Just in the past decade, this method of irrigation has been introduced (reintroduced?) to subsistence farmers in southern Pakistan, for example, where average yearly rainfall at five inches or so makes growing vegetables difficult. It has even been used successfully in mango orchards in India. The size and placement of pots depends on the soil and crop, but ongoing trials are proving the efficacy of the method for many situations. In an era of increasing water and weather uncertainty, this could prove to be lifesaving for many.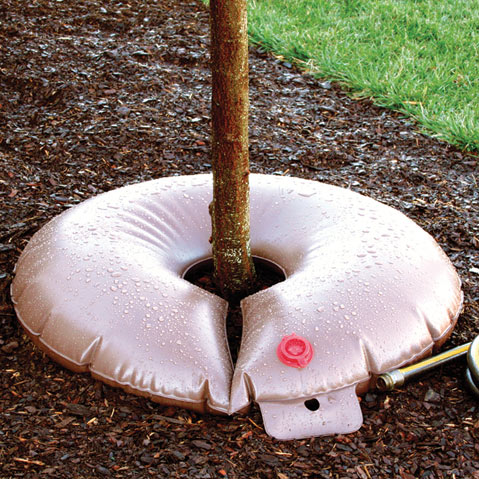 The idea of a small, closed reservoir delivering water slowly right at the root zone has served as the inspiration for a number of more recent innovations. Municipal groups have put the Treegator to good use in establishing street trees. This device consists of a reinforced plastic bag that can be installed at the base of a young tree or shrub. Filled with 15 to 25 gallons of water it can soak the root zone of a tree in half a day. For smaller areas and plants, there are other options, too. Garden catalogs regularly feature fancy, blown-glass watering globes. Looking like a crystalline version of a baby's nasal bulb syringe, they will, drip by drip, keep potted plants in top shape and do it without messy overflows. Recycled used plastic soda bottles can also do the trick. There are two methods: One is to drill several small holes in the bottom and sides of the rinsed bottle before burying it next to the plant and filling it with water. The other method is to drill two small holes in the cap of the bottle and cut off the bottom, inverting it into the soil near the plant. One of the beauties of this system is that it can direct water into the root zone and avoid runoff and evaporation. It also concentrates the water by desirable plants, discouraging weeds.
Take a tip from the ancients, and see if these tried-and-true irrigation techniques can work in your garden.