Announcement
New Technology to Help Protect Families with Alzheimers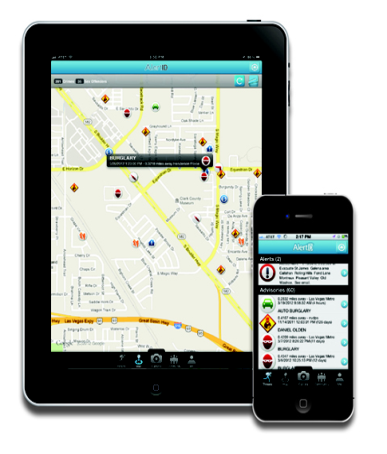 AlertID provides a free national program for families to share information with law enforcement and other family members quickly in the event that an elderly member of the family becomes missing, helping to reunite families and protect the more than 5 million Americans who suffer from Alzheimer's disease or other forms of dementia.
It is estimated that 60-70%, or more than 3 million of these people will wander from safety and often do not have the ability to recall their names, addresses or contact information. The Alzheimer's Association reports that about half of those who wander and are not found within 24 hours may suffer serious injury or even death, and FBI National Crime Information Center notes that there are roughly 50,000 cases of missing adults in the US each year.
AlertID, which has helped support Silver Alert Legislation, now provides a way for families to help keep elderly loved ones safer.
"AlertID is offering a wonderful free service that allows families an easy way to protect their elderly family members and I encourage every family to utilize AlertID's online service and mobile app to be empowered and prepared for an emergency", said Dr. Herbert Randall, President Nevada Silver Haired Legislative Forum and Silver Senator from the Nevada Delegation to the National Silver Haired Congress.
AlertID is able to help missing and endangered adults in several ways:
AlertID Broadcast System™ (ABS) – AlertID makes its proprietary ABS available free to law enforcement agencies. With ABS, law enforcement can broadcast alerts that can include pictures and other important information to AlertID members when an elderly person becomes missing. This information goes directly to member's smartphones and emails, giving law enforcement the ability to quickly reach large numbers of people who can then help search for the missing loved one and contact authorities with any information, which can help shorten search times and reunite families.
AlertID's Secure Social Network (SSN) – AlertID's SSN provides a safe and secure way for families to communicate. Caregivers can create their own groups on AlertID's SSN, which allows them to safely communicate and send out their own broadcast alerts to everyone in the group (family, caregivers, friends, health professionals) should their loved one wander from safety.
My Family Wallet™ – My Family Wallet is part of AlertID's free mobile app, and it provides families with a secure, convenient way to store current information and updated photos of their loved ones directly on their smart phones. In the event that a caregiver needs to report a missing elderly family member, this critical information can be sent to law enforcement or other security officials in seconds with the push of a button, allowing the search to begin immediately.
"AlertID is a powerful tool that offers families and law enforcement a solution to a difficult problem," said Keli Wilson, mom of three and founder, AlertID. "Our goal is to help protect all members of families and communities every day."
To sign up for a free account or for more information, go to www.AlertID.com.
About AlertID, Inc.
AlertID is the established leader in making the country's public safety information universally accessible, helping people protect their families and communities. Alerts are provided by trusted sources including public safety agencies, local law enforcement, schools, neighborhood groups, neighbors, family members and friends. This first-of-its-kind, fast-growing network is the leader in helping people protect their families and communities throughout the United States and is poised to evolve into the world's go-to public safety and security resource.