Announcement
The Villa at Sunstone Welcomes Pamela Sheldon Johns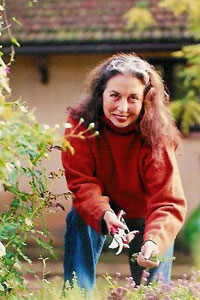 Friday, December 14, 2012
11am – 2pm
Pamela returns to Santa Barbara from her adopted homeland of Italy where she is a well-known cooking instructor and the host of culinary workshops throughout Italy. She has authored 14 cookbooks, many specializing in Italian food, such as "Parmigiano" and "Balsamico". Pamela has spent 20 years exploring and writing about the back roads of Italian Food Culture. She was recently featured as one of the top 20 culinary workshops in Italy by "Food and Wine Magazine". She has also been written up in "Travel and Leisure" and "The Wall Street Journal".
Surrounded by sweeping views overlooking the Santa Ynez Mountains, the Villa at Sunstone is an old world architectural masterpiece. Built with reclaimed materials, such as French limestone, hand-formed roof tiles, a fireplace from the Bordeaux region of France, enormous hand-hewn pine beams from Queen Victoria's lavender factory the Villa is an extension of the Sunstone Winery lifestyle.
Pamela will be cooking in the Villa's kitchen where guests will enjoy the dishes as she cooks. She will prepare a menu from her cookbook "Cucina Povera: Tuscan Peasant Cooking". Lunch will be paired with Sunstone Wines.
Menu
Pinzimonio crudite with olive oil dip
Salvia Fritti, fried sage leaves
Ribollita, Classic Tuscan Vegetable-Bread Soup
Peposo di Guanciale, Stewed Peppery Beef Cheeks
Cicoria in Padella, Sauteed Wild Greens
Fichi allo Virio, Virio's Stuffed Figs
Necci, Chestnut crepes with fresh ricotta and chestnut honey
Class time: 11am – 2pm
Price including wine pairing: $185.00
Reservations: 805-688-9463 ext.244
For more information: