Announcement
Santa Barbara Zoo is Open on Christmas Day for the First Time
Half-Price Admission on Christmas Day!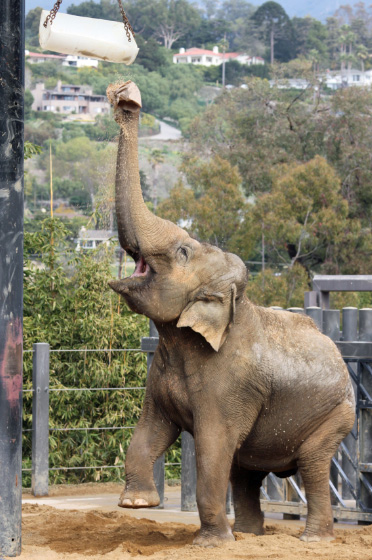 Santa Barbara, CA, December 18, 2012 – For the first time in its nearly 50-year history, the Santa Barbara Zoo is open on Christmas Day, December 25, 2012, from 10 a.m. to 3 p.m. As a gift to the community, Zoo admission is half-price on Christmas Day. The Zoo is also open on Christmas Eve from 10 a.m. to 3 p.m. with full-price admission.
"It's great place for kids to blow off steam after all the excitement of Christmas morning and a perfect outing to get relatives out of the house while a holiday meal is being prepared," says Zoo Director Nancy McToldridge, "and we're happy to be able to give the community our gift of half-price admission on that day."
The Zoo's Animal Care staff have planned special enrichment activities for the animals and scheduled keeper talks throughout both days. A schedule will be posted at Admissions.
The holiday spirit is also evident on weekends through December 23 when Santa is at the Zoo for special souvenir photos. A framed 5×7 or several wallet-sized photos cost $14.95 and include an email copy of the shot. "Buy two, get two free" is also available.
Several Zoo VIP experiences are available as holiday gifts for that "person who has everything." Prices range from $200 to $1000. For more information about these extraordinary experiences, contact Julie Mino at 962-5339 ext. 112 or jmino@sbzoo.org.
– Keeper for a Day is the closest someone can get to being a zookeeper without working for the Zoo.
– Backstage Pass offers kids and small groups as chance to interact with the barnyard animals, birds, Eeeww! residents, or small mammals.
– Up to ten people can take a Behind-the-Scenes tour to meet favorite animals.
– Painting with the Elephants is a true once-in-a-lifetime experience, in which the pachyderms create a one-of-a-kind artwork.