Travel
Riding the Rails
Santa Barbara Botanic Garden Offers a Unique Train Trip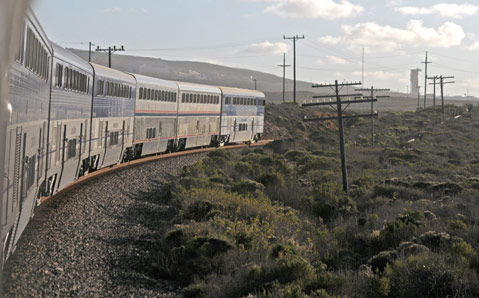 I could almost hear the conductor yell "All aboard!" as I stepped onto the train car and back in time. It was a crisp morning last November, and I was one of a group of about 40 folks who had signed up for a day of riding the rails in a 1956 Vista Dome lounge-dining car, an excursion offered by the Santa Barbara Botanic Garden.
The stainless steel, double-decker carriage had been painstakingly restored to its original glory when it was part of the Denver Zephyr passenger train that ran between Chicago and Denver. And while our trip was significantly shorter — Santa Barbara to San Luis Obispo (and back) — it was imbued with the sense of nostalgia for a time when train travel was a popular transportation option.
The route followed an infrequently seen part of the coast, passing through Gaviota, the Hollister Ranch, the Cojo Ranch and Point Conception, Vandenberg Air Force Base, and the Guadalupe and Oceano dunes region. On the lower level of the carriage, riders sat at dining tables and chatted with one another, making new friends and enjoying the vibrant, rarely seen flora and breathtaking ocean views. (The day I went, the skies were alternately stormy and patchy; spectacular rainbows abounded.)
On the upper deck, in the dome section, folks heard from the Garden's botanist Steve Junak, who related the history of the various areas we passed and pointed out endangered native plants. Sitting in the all-windowed dome listening to Junak's engaging educational stories was a wonderful experience that brought to life the surrounding countryside, which is often taken for granted.
We stopped midday in San Luis Obispo to stretch our legs before reboarding for the return trip. Everyone switched seating sections — those in the dome came downstairs, and vice versa — making for a different experience each way. Back home by 5 p.m., the train trip was a unique and thoroughly delightful way to spend a Saturday afternoon.
4•1•1
Time Travelers: Private Domecar Botanical Day Trips are scheduled for Saturday, March 9 (reservations by February 20) and Saturday, March 23 (reservations by March 5). Lunch is included. For more information or to sign up, call (805) 682-4726 or visit sbbg.org.