Theater
Or,
Jewell Shines as Restoration Playwright Aphra Behn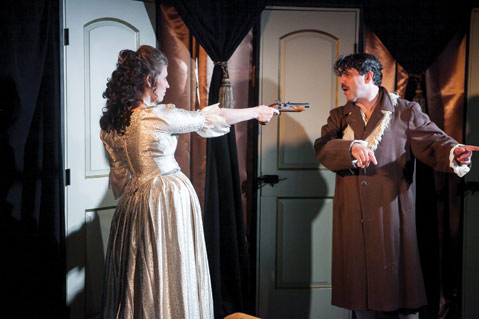 We have all heard that "the play's the thing," and nowhere is this any truer than in a crowded, noisy coffee house on a Saturday night. Despite formidable initial challenges that included a roaring fan that thankfully subsided after 10 minutes and the recurrent whoosh of lattes being foamed, the three-person cast of Or, managed to make this recent play about a female playwright from Restoration England into fully engaging 21st-century theater. Emily Jewell in particular is outstanding as Aphra Behn, a writer, spy, and international woman of mystery, although Michael Bernard and Stephanie Farnum are also to be congratulated for carrying off the magic trick of bringing all the show's other characters to life, sometimes within mere seconds of one another through fast costume changes.
The action takes place all in one night, and the play fairly races along in a single dynamic act. With her writing hand, Behn must finish her latest play, while with her other hand — and her considerable skills as a seductress and diplomat — she must keep no less than three suitors happy, one of whom happens to be a woman.
As King of England, the double agent William Scott, and the theater patron Lady Davenant, Bernard is wonderful, and especially ebullient as the dapper libertine Charles II. Farnum plays the actress Nell Gwynne (and others) and is responsible for sustaining the play's connection to the radicalism and free-love philosophy of the 1960s, a parallel that's so subtle as to verge on the subliminal. The strong script contains a wealth of brilliant lines, observations, and exchanges. Liz Duffy Adams describes herself as "a playwright interested in the poetics common to classical and experimental theater," and she unquestionably makes good on this substantial promise with Or,.