Eat This
Ethan Stewart Eats Figueroa
Eat Your Neighborhood Hits the Promised Land of West Figueroa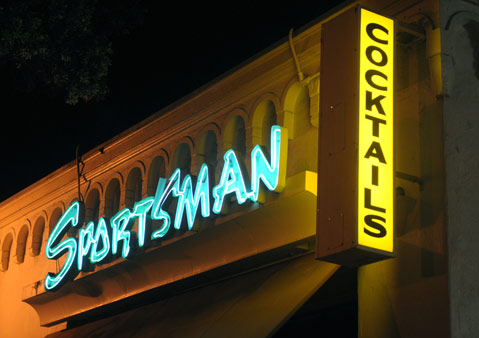 Less than 90 steps. Or, for those keeping score from home, roughly two minutes' worth of walking. These are the basic measurements of how long it takes to make your way through downtown Santa Babylon's most hallowed stretch of lunchtime delights, the midday, stomach-stuffing promised land of eateries that call the first block of West Figueroa Street home. A short distance from the courthouse, county building, Police Department, art museum, and a holy host of others (including our own Santa Barbara Independent HQ), this densely populated, food-friendly 'hood, with its half-dozen chow spots and one wonderfully efficient watering hole, has something for everyone every day of the week no matter how ravenous your appetite, hectic your schedule, or bizarre your diet. Shoots, you can even get your hair cut, have your coin collection appraised, or high-five a wooden Indian while passing through.
Bookended by the French Press on the State Street side (a coffee and light-breakfast spot — and, as of this week, purveyor of premade Blue Owl sandwiches — of world-class proportions that, at this point, should require no introduction to even the most unsophisticated of caffeine addicts) and Henning's Cake Boutique (28 W. Figueroa) on the Chapala end of the road, West Fig's first block is the ideal grazing ground for the "I'm starving, but I don't know what I want" crowd. My approach typically comes from the Chapala corridor as I rush out of The Independent's office two hours past mainstream lunchtime, stomach and blood-sugar levels screaming at me to fill my fuel tank ASAP or else.
Logistically speaking, option one is Henning's, a long-celebrated and certifiable S.B. legend when it comes to cakes. What you may not know is that Henning's is holding the goods for your breakfast and lunch needs, as well. In fact, in terms of bang for your buck, there is no better option in this 'hood. A few years ago, they added sandwiches, salads, smoothies, and a full coffee menu to their more than 40-year-old bakery program, and the results have been a boon for the Figueroa Street regular. A soup and sandwich combo sets you back only $7.50, a well-proportioned BLAT is but $6.50, and their heaping mango chicken salad (a lunch Indy Senior Editor Matt Kettmann swears by as a quintessential triple threat: tasty, filling, affordable) is yours for only $5. Also of note: if you're looking for a quick and hot breakfast egg sandwich that spills out the sides as you bite into it, Henning's has you covered.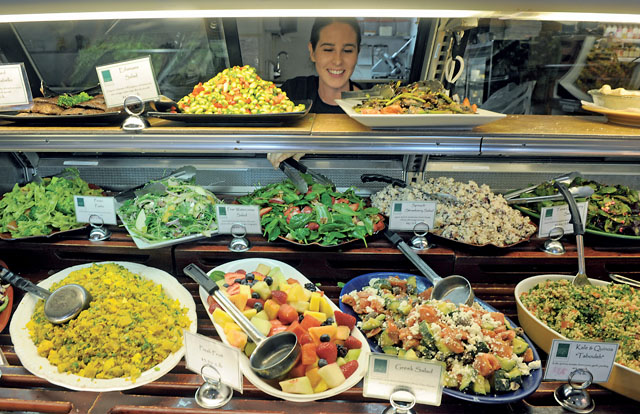 Headed east, next comes Savoy Café and Deli (24 W. Figueroa), home to a salad bar the likes of which sets the standard by which all others are measured. At $9.99/pound, feasting from this impressively fresh and varied lineup of lettuces, veggies, house-made dressings, and proteins like wild salmon and rosemary chicken (nearly 50 items to choose from underneath their sneeze hood) certainly has a cover charge, but with it comes a salad your body and your taste buds will thank you for. This is the second incarnation of Savoy at this location; a previous edition, with much the same focus on healthy and organic deli-case-driven eating, was wildly popular but fiscally flawed and forced to shutter prematurely much to the chagrin of a legion of downtown disciples. Luckily, after a brief and dark period that saw Cantwell's occupy the address, Savoy owner Paul Shields was able to regroup and bring the restaurant back better than before, delivering breakfast, lunch, and dinner six days a week (Savoy is open from 9am-4pm on Sundays). The all scratch-made menu runs the gamut from Bhutanese red rice salad and Moroccan harira soup to turkey pasilla fritters — made famous by the television show Diners, Drive-In, and Dives — and a mighty, face-sized mountain of meats on sourdough known simply as the Gibraltar.
From Savoy, your next and most obvious feed spot is meat mecca Norton's Pastrami and Deli, aka the place that publicly claims "We have big ones" and serves fountain soda in those oh-so-retro translucent plastic red cups. But, before we arrive there, something must be said of The Sportsman Lounge (20 W. Figueroa), the (both literally and, at least occasionally, figuratively) shady drinking spot you cannot help but notice along the way. The "Sporty," as it is often called with a tone that combines love and a certain amount of loathing, is a wonderful place to escape the rigors of life no matter the time of day, and the Bloody Mary makes as sound a case for a true liquid lunch as any. Add some chips or nuts from behind the bar and the characters you are sure to encounter along the way, and, well, for a certain type of "hungry" person, The Sportsman is not to be overlooked, be it 10 a.m, 10 p.m., or any hour in between.
Now, getting back to Norton's (18 W. Figueroa), let it be known that, when it comes to piled pastrami on rye, corned beef Reubens, french dips, and a hot, sloppy serving of awesome known as the Chilly Philly (add the avocado, trust me), this place is the real deal no matter what your urban eating background. It is a certifiable hive of wickedly delicious coronary-clogging delights. Only helping the vibe is that it is almost always cranking during lunch hours, and the seating situation encourages stuffing your face with strangers, the latter a surprisingly enjoyable and rare touch in this part of the world. If your wallet is influencing your order, regulars know the half-sandwich order is anything but anemic, and the $5.95 Special Sandwich menu has a few gems like the traditional Italian and the meatball sub.
Finally, between the belly-busting Norton's and the coffee nirvana of the French Press, reside the block's two more obvious ethnic options, both of which have been delivering the goods on Figueroa since the late '90s. First: Los Arroyos (14 W. Figueroa). Widely considered one of S.B.'s "better" Mexican joints, Los Arroyos has mastered the art of dishing out flavorful home-style sopes, enchiladas, tacos, and burritos that will fill you up without putting you in a digestive, nightmare-inducing food coma. Even better, the chefs are particularly adept in the seafood department; their crab enchiladas and any of their halibut dishes (hello, citrus primavera) are guaranteed goodness. And, while their prices may cause a certain degree of sticker shock for many, value lives in the Tu Combinación section of their menu, where you can combine your choice of taco, enchilada, chile relleno, or sope with a solid serving of rice and beans for under $10.
Last, but certainly not least on the West Figueroa food tour, lives Gino's Pizzeria (aka Gino's Sicilian Express, 12 W. Figueroa), the classic family-style, red-and-white-checkered-tablecloth pizza place that any proper lunchtime Shangri-la must have — think big slices of pepperoni or cheese, gut-expanding calzones, garlic knots, salads, outdated "Italian" posters on the wall, and, of course, a full lineup of assorted pizza pies. Gino's also has a "regular eaters" award program, a better than decent Chicken Parm sando for only $5, and a variety of hot paninis (the turkey or meatball options are the way to go, in my opinion) that, when coupled with a side salad, see you out the door with a proper feast in hand for $7.