Announcement
Laguna Blanca Begins First-Ever Girls Sand Volleyball Team in Santa Barbara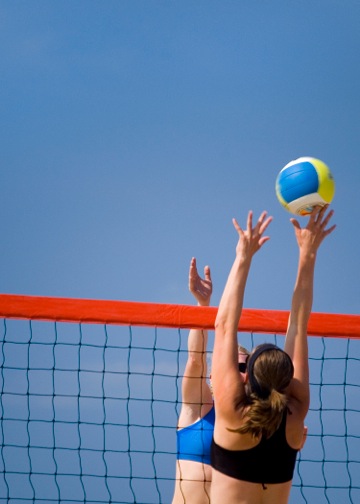 Laguna Blanca will join a short list of schools in the US that have come onboard to support the growth of Sand Volleyball at the high school level, and will become the first high school north of Westlake, CA to field a team.
Laguna's Indoor Volleyball teams have earned numerous championships and awards in recent years, and with a commitment and passion for this sport, the School is expanding their sports program to allow more opportunity for their student athletes. The Girls' Volleyball team alone has won 11 consecutive Condor League Championships, and has participated in 6 CIF Finals, winning the CIF Championship in 2006. This new sand sport will serve as great conditioning and a cross trainer for indoor volleyball and will improve the student athletes' all around skills. This is also an opportunity to play a game that is now a competitive college sport. As an emerging NCAA sport, colleges are now offering the opportunity to play Sand Volleyball for their schools. Currently, there are 22 schools in the nation that field a team, with new schools adding the sport each season.
"Sand Volleyball gives Laguna students another option for a spring sport," says Athletics Director Mike Biermann. "For our many incredible volleyball student athletes, this new club will give them a great conditioning and learning opportunity. And with colleges starting up their own Sand Volleyball programs, we want to make sure our girls are ready for that challenge."
The Laguna Blanca Sand Volleyball team will play in five tournaments in Santa Monica or El Segundo as part of the AAU Interscholastic Beach Volleyball League (IBVL). Their practices will take place at Santa Barbara's East Beach – not all Sand Volleyball teams in the country are as lucky to have beaches, hence the "Sand Volleyball" title. Dillan Bennett is the Head Coach, assisted by Julia Chamberlain. They currently have a full roster of 12 girls signed up and ready for practice to begin on February 12.
The Spring 2013 Laguna Blanca Sand Volleyball Team lineup includes:
– Clara Madsen
– Phoebe Madsen
– Bella Taron
– Courtney O'Donnell
– Jessie Dusebout
– Grace Copeland
– Chloe Richman
– Maddie Bonser
– Bryn Jewett
– Hannah White
– Grace Woolf
– MacKenna Connor
Alternates: Marla Bonser, Annabelle Sorenson
Laguna Blanca NOW—for today's modern student. Laguna Blanca School is a K-12 co-educational, college preparatory day school. Laguna Blanca School guides students to greater heights by building upon the 80-year tradition of academic excellence with new and innovative teaching methods and programs. With the introduction of the iPad initiative, the global studies program, the new outdoor adventure education program, and the renovation of the library into a state-of-the-art academic research center, the School continues to broaden and enrich our students' educational experience. For more information, please visit lagunablanca.org.