Sports
February Madness
High School Sports Teams Head to CIF Play-Offs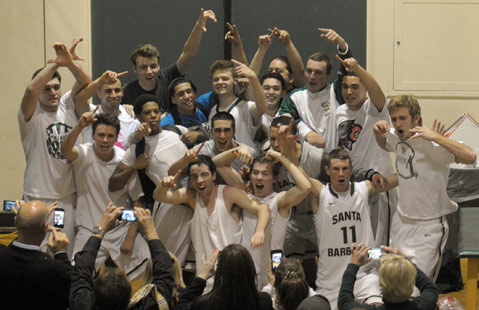 Championships do not get much more precious than those attained by the Santa Barbara High Dons last week in Channel League boys basketball and girls soccer.
The basketball team, two years removed from a two-win, 22-loss season (it went 1-24 the year before that) scrambled to edge out San Marcos and Dos Pueblos for the title. The Dons took a 20-4 record and nine-game winning streak into the CIF Southern Section Ford Division 3AAA play-off opener against Beverly Hills on Wednesday, February 13.
An even more stunning turnaround was accomplished by the soccer team; the Dons were winless last year and scored only one goal in league play. Ventura's Buena girls had ruled the league, winning 27 consecutive championships since 1986. But in a topsy-turvy race, Santa Barbara pulled out two clutch victories over San Marcos, which upset Buena in the final game, and finished on top of the heap. "It is truly your story that we all grew up with watching the Bad News Bears, Rudy, and Hoosiers," Dons coach Jeff Johnson said. Santa Barbara (11-4-3) will host Long Beach's Millikan in the CIF Division 2 play-offs at 5 p.m. on Thursday, February 14.
Here is a rundown on Santa Barbara area teams that qualified for the play-offs, a panorama of tears and cheers that has been referred to as February Madness.
BOYS BASKETBALL: San Marcos appeared to be rolling to the Channel League championship when Santa Barbara's Noah Burke hit a miraculous 50-foot shot at the buzzer to knock off the Royals. That set up a dramatic week at the S.B. gym, where the Dons held off San Marcos again, 60-50, and buried Dos Pueblos, 57-43. If the Chargers had won the latter game, all three teams would have tied for the league title. "We're kind of greedy," Santa Barbara coach David Bregante said. "I feel good for Emilio Gonzalez and Brendan Fay. They were sophomores on the team that won just two games." The Dons have a formidable threesome in the dynamic 6′4″ Gonzalez; Jack Baker, a fast-improving 6′6″ junior; and 6′5″ senior Jeff Paschke, a transfer from Arizona who is headed for USC on a baseball scholarship. San Marcos (17-8) is a well-balanced team when healthy, and the return of guard Bryce Ridenour should help the Royals, who were set to open the 3AA play-offs against Palos Verdes. Dos Pueblos (15-9) earned respect by going on a 15-0 run in the fourth quarter at Santa Barbara and battling down to the last rebound. The Chargers go into the 2A play-offs at home against Norwalk on Friday night. Bishop Diego (13-12), with outstanding play from Caleb Richey, opened the 5AA play-offs on the road, as did Laguna Blanca (9-6) in Division 5A.
GIRLS BASKETBALL: Santa Barbara (19-7), runner-up in the Channel League, is seeded No. 2 in Division 3AA and opens at home against Antelope Valley on Thursday, February 14. Bishop Diego (18-8) is the Frontier League co-champion (the Cardinals' first title since 1984) and will host Vasquez (Div. 5AA), while Carpinteria (12-12, Div. 4A) earned an at-large berth. Providence Hall, with 70 students, went 15-5 against larger schools and could make its second straight trip to the Division 6 finals.
GIRLS SOCCER: San Marcos (7-3-4) finished second in the Channel League and travels to Hart in Division 2. Dos Pueblos played in the wild-card round Tuesday. Bishop Diego (10-9-1, Div. 6) travels to Katella in Anaheim.
BOYS SOCCER: Four teams play at home Friday — Santa Barbara (19-4-2, Div. 1) against Fountain Valley (5pm); Carpinteria (11-4-3, Div. 4) against Santa Monica (5pm); Cate (13-2-2, Div. 6) against Orcutt Academy (3:30pm); and Bishop Diego (12-5-1, Div. 7) against Oakwood (3:15pm). Cate, led by Georgetown-bound Joshua Yaro, is two-time defending division champion.
GIRLS WATER POLO: Santa Barbara opened the Division 1 play-offs Wednesday in a quest for its first CIF title since 2006. The Dons (23-4) won their last 18 games. San Marcos (15-14) and Dos Pueblos (13-14) also earned play-off berths. Carpinteria (16-9, Div. 6) won its second straight league title.
COLLEGE BASKETBALL: Westmont College's men (21-4) and women (20-3) went a combined 17-0 in January. Both are ensconced at the top of the Golden State Athletic Conference standings and in the top 10 of the NAIA Division 1 rankings. Tuğçe Canıtez, the 6′3″ superstar from Turkey, has been a double-double machine — 28 points and 22 rebounds in a recent game. "She is special," women's coach Kirsten Moore said, pointing out Canıtez has only two home games remaining in her Westmont career (Sat., Feb. 16, against Arizona Christian and the first round of the GSAC Tournament). … UCSB's women (11-12) are trying to pull a repeat of last season, when a huge stretch run took them all the way to the Big West Tournament championship. They will try to turn the tables Saturday afternoon against Cal Poly, which defeated them by 19 points in San Luis Obispo last month.