Arts & Entertainment
How Blues Control Is Reimagining Classic Rock
Drag City's Newest Recruits Play the Biko Co-op on February 21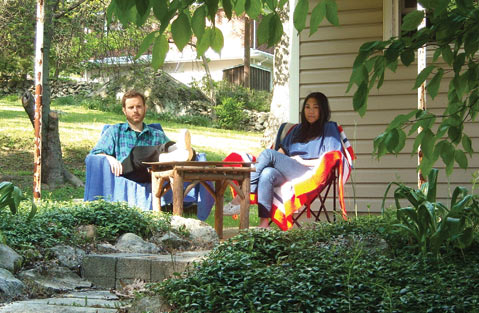 Lea Cho and Russ Waterhouse have been making music together for nearly a decade. Since meeting in New York City in 2003, the pair have become roommates, then lovers, then bandmates, first in the ambient New Age act Watersports and, as of 2006, in the experimental rock duo Blues Control. Their latest, Valley Tangents (out now on Drag City), is an unusual and unapologetically pretense-free instrumental album that draws inspiration from psych, prog, and kraut rock, as well as the couple's new digs in rural Pennsylvania. Next Thursday, February 21, Blues Control returns to the West Coast for the first time since 2009 for a show at the Biko Co-op Garage. We recently caught up with Cho and Waterhouse to talk humble beginnings, musical inspiration, and the story behind Valley Tangents.
Can you tell me a little bit about how you guys started making music together?
Russ Waterhouse: We were actually roommates before we started dating or playing music together. We had a lot of mutual interests and similar tastes in music. I previously had played in a number of bands — I'd made some solo recordings, I had a tape and CDR label, and I was booking shows in New York. I booked a show for somebody, and they asked if my solo project wanted to play. I had never played a solo show before, but I said yes, and about a week later I got cold feet and asked Lea if she wanted to play with me. That was a different project called Watersports, which was more of a quiet, environmental, low-key, ambient New Age thing. In 2006 we started doing Blues Control as the loud classic-rock alter ego to Watersports.
Lea Cho: In high school I had some friends who were in bands. I did play for a very short time in a Jethro Tull cover band [laughs], but that didn't really go anywhere. Then in college I tried to jam with some friends of mine, but it never clicked. I realized my [classical piano] training was getting in the way of my jamming, and I thought it was a problem with me, but after I started playing with Russ, I realized it was possible to do something I was interested in with my training.
I want to talk a bit about Valley Tangents. What inspired the record?
LC: Musically, we wanted to do something that was more proggy and more jazzy. But each song within that has its own specific inspirations.
RW: We first started working on that record in 2010 when we were living in Philadelphia. We lived there for a year, but we were having trouble focusing and making progress on the record. Our apartment and practice situation wasn't very nice, and it was kind of a stressful environment, so we moved out of Philly. We started writing a couple of songs that very slowly transformed into songs on Valley Tangents, but it really didn't come together until 2011, when we moved out of the city and into a house in the Lehigh Valley. Once we were out of that environment, and we had some privacy and sunlight and some peace of mind, we were able to focus and finish the record.
Recording-wise, how did Valley Tangents differ from past Blues Control sessions?
RW: Our other records were all done in studios, but they were done very quickly and basically live with a minimal amount of mixing. This was done for the first time piece-by-piece and multitracked and put together over a longer period of time.
How does the live show compare to the album?
LC: The live show is pretty faithful to the record.
RW: Somebody said that to me the other night in Oxford. They were really surprised how similar to the record it was.
LC: That's something we think about when we're writing — can we do this live? We can't play every song we've ever written live, but for the most part, we try to keep it pretty doable.
Given the amount of technology available nowadays, what are some of the benefits of using cassettes for the live show?
RW: I've just never been able to picture myself onstage with a laptop or an iPod. It's just not for me. I feel comfortable using tapes; I've always used tapes in my bands. They also just sound really good. Even when they mess up — it's too slow; it's too fast; it's all wonky — it still sounds good.
Finally, what can folks expect from a Blues Control show?
RW: We don't think of our music as being particularly obtuse or difficult for the sake of being difficult. To our ears it seems like pop music. We're influenced by classic rock; that was our initial jumping-off point for the band. Back in the late '60s and early '70s, a lot of bands were incorporating more experimental elements, so people can expect it to be musical. We're not a noise band, and we're not really an improv band. If people are interested in hearing some psychedelic rock pop experimental music, they should definitely come out.
4•1•1
Blues Control plays the Biko Co-op Garage (6612 Sueno Rd., Isla Vista) on Thursday, February 21, at 7:30 p.m. with Easter Teeth and Plastic Explosions. Visit sbdiy.org for info.