Outdoors
Grunion Running
The Wee Fish Make Their Annual Pilgrimage to South Coast Beaches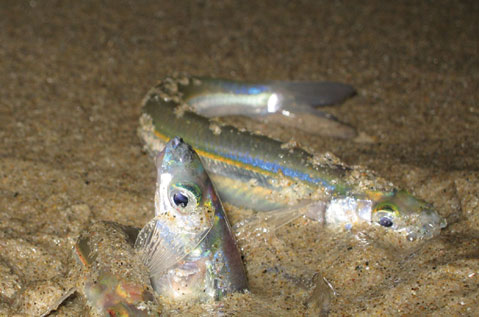 Every year between March and September, the moonlit beaches of Southern California's coastline are covered with small silver fish known as grunion as they flee the salty water to lay their eggs within the coastal sands.
The California grunion, or Leuresthes tenuis, spawn along coastlines with shocking predictability, to the point that California's Department of Fish and Wildlife (CDFW) is able to predict a specific schedule of their arrival down to the nights and hours that they are most likely to appear. This year's schedule shows expected two-hour "spawning run" intervals from early March to late August; times refer to runs at Cabrillo Beach near the Los Angeles Harbor, with times for Santa Barbara's beaches noted to run about 25 minutes later than those listed. Some of the best spots to see these fish "running" have commonly been at the ends of less popular beaches.
The California grunion — gruñón ("grunter") in Spanish, named by Spanish settlers for the squeaking noise they make — can be found from Point Conception, California, to Punta Abreojos, Baja California, Mexico. (They have also been seen spawning as far north as Monterey Bay.) Most often found living in waters near shore 15-40 feet deep, the grunion's lifespan is two to three years, and they can reach six to seven inches in length.
According to the CDFW, grunion exit the water to spawn during each full or new moon for three or four nights after the highest tides. Every evening for three hours, the fish will swarm the beaches, each female accompanied by up to eight males, to lay their eggs into the sands, which will then hatch 10 days later before the next high tide.
Grunion are more widely known in sport hunting for the "hands on" technique of catching them during their spawning runs, as fishers chase the stranded fish across the sand to catch them since digging holes and using nets is unlawful. However, this sport-fishing season is closed during April and May, at the height of their spawning cycle.
4•1•1
Find this year's predicted grunion run schedule on the California Department of Fish and Wildlife's website, dfg.ca.gov/marine/grunionschedule.asp.