Announcement
Live Oak Music Festival Announces 25th Annual Lineup
Jerry Douglas, Robert Earl Keen and Stooges Brass Band Headline Music and Camping Event
With 16 main stage acts, and genres ranging from folk, blues, and bluegrass to Latin, jazz, Americana and world music, the 25th annual Live Oak Music Festival will once again showcase some of the finest musicians in the world.
The current lineup of performers is as follows:
Sunday, 8:45 p.m. – Jerry Douglas, the 13-time Grammy winner, three-time Country Music Association Musician of the Year described as "the Muhammad Ali of the Dobro" by James Taylor will deliver his most stylistically expansive, personally-charged effort to date in songs from Traveler, the artist's 14th solo release and his first in three years.
Friday, 9 p.m. – Singer/songwriter Robert Earl Keen, one of the nation's finest musical storytellers, has created songs recorded by George Strait, Willie Nelson, Johnny Cash, Lyle Lovett and the Dixie Chicks. Having recently joined Lyle Lovett and Townes Van Zandt in the Texas Heritage Songwriters Hall of Fame, he brings to Live Oak songs from his 2011 album Ready for Confetti, tackling topics like losing love, living the best possible life and transcending this world into other spiritual realms.
Saturday, 8:45 p.m. – The Stooges Brass Band has been one of the elite brass bands in New Orleans since 1996, but their high energy blend of traditional New Orleans brass sounds and contemporary hip-hop beats is just beginning to receive recognition, winning the Street Kings competition in New Orleans in 2010, and Best Contemporary Brass Band at the Big Easy Music Awards in 2011.
Saturday, 6:45 – 8 p.m. – Grammy nominee Ruthie Foster will offer her combustible blend of soul, blues, rock, folk and gospel from her recent album Let It Burn.
Saturday, 5 – 6 p.m. – Rupa & The April Fishes, which combines the international musical powers of Aaron Kierbel, Safa Shokrai, Misha Khalikulov, Mario Alberto Silva and ringleader Rupa, ranges from reggae to raga to rockabilly; chanson to cumbia; and Malian guitar patterns to mournful duduk melodies for a one-of-a-kind performance.
Friday, 5:30 – 6:30 p.m. – The Joe Craven Trio, consisting of virtuoso Joe Craven, John R. Burr and Kendrick Freeman, is a power trio of keyboards, key bass, drums, fiddle, mandolin, found sound and vocals that pays tribute to Traditional American Folk, Blues, New Orleans, Swing, Funk, as well as the music of Brazil, Haiti, Ireland, Cuba and Puerto Rico.
Other musicians not to miss include:
Latin rock and world music hybrid La Santa Cecilia; Tom Ball & Kenny Sultan's blues, rags and good time music; dynamic singer‐songwriter Inga Swearingen; Americana, roots rock and alternative country band Dead Winter Carpenters; folk singers Ranchers for Peace; Bluegrass band Phil Salazar & The Kin Folk and more to come.
For a complete lineup of acts please visit: www.liveoakfest.org/lineup. A great way to kick off summer, the Live Oak Music Festival is a three-day concert and camping event held every year on Fathers' Day weekend. Nestled under the oak trees of the beautiful Santa Ynez Valley, Live Oak features music and activities for the entire family, including children's programs and activities, an artwalk, arts & crafts booths, and a tent where Live Oak merchandise can be purchased.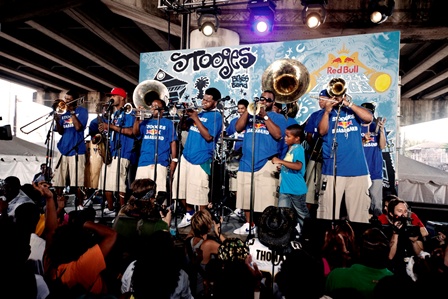 Tickets for the festival are now available and 100% of festival proceeds benefit KCBX Public Radio, which serves San Luis Obispo, Southern Monterey, and Santa Barbara Counties. 2013 Live Oak Music Festival tickets, the up-to-date entertainment line-up, and complete festival information are available at www.liveoakfest.org or by calling 805-781-3030.
Media interested in learning more about the Live Oak Music Festival may contact Holly Padove at (805) 773-1000 or holly@thepressroom.com. To learn more about KCBX, please contact the station at 805-549-8855 or 901kcbx@kcbx.org.