Announcement
Africa Schools of Kenya Actively Responds to the Maasai's Request to Ban Female Genital Mutilation (FGM)
As part of a "coming of age" ceremony, the Maasai tribe still practice the age-old ritual of "cutting" girls at puberty, signifying a girl's transition from girlhood to adulthood. Last August, 2012, the first ever 2-day pilot Alternative Rite of Passage (ARP) program was successfully conducted with 52 Maasai girls of Esiteti, without the need to circumcise them. Three times a year, girls come home from boarding schools and are at-risk of being circumcised, married off, and preventing them from continuing their education.
The goal of ASK's Indiegogo campaign (http://www.igg.me/at/StopFGM) is to raise $50,000, and put in place a sustainable Alternative Rite of Passage Program, insuring the safety of hundreds of girls. By underwriting the next five years, ASK is able to impact thousands of girls in the surrounding area by growing the ARP Program throughout Maasailand, Kenya. Neighboring communities have already requested ASK's help in establishing a similar ARP program in their area.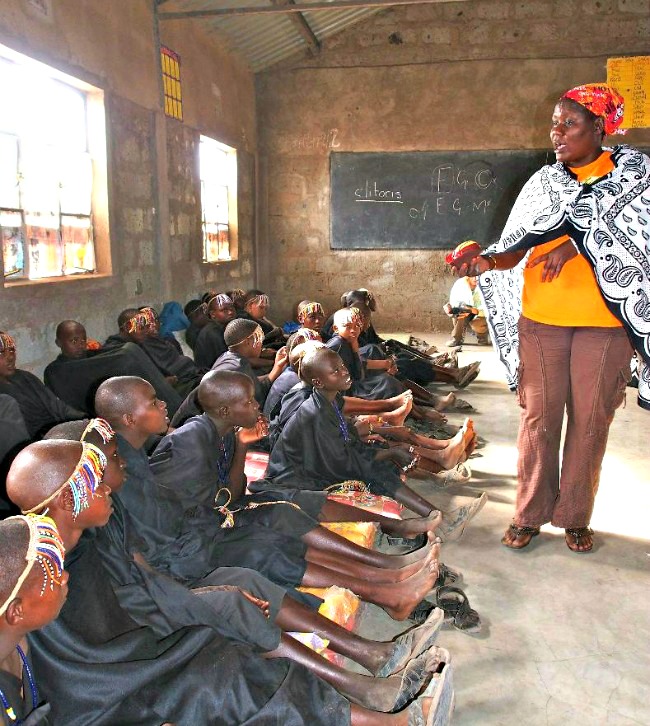 Last year, the Maasai people of Esiteti approached Teri Gabrielsen, founder of ASK requesting help with designing an alternative "coming of age" ceremony, without the need to perform the traditional ritual of FGM. Due to an ongoing Student Sponsorship Progam for girls, the Maasai elders now recognize the fact that educated women are of more value to the community than uneducated women.
Click here to view the video about ASK's work to stop FGM.
"ASK has developed many educational programs for the community of Esiteti, but never have we been involved with a program as exciting as this one. In the eyes of the Esiteti community, once the pilot program was in place, their girls were seen as adults, and safeguarded from FGM," shares Teri Gabrielsen, and she adds, "Education is truly the foundation for change, and by empowering these girls and women, it ensures that change will continue."
By making this new ARP Program sustainable, the women "cutters" will have a new role in preserving their culture and supporting a healthier, more honorable "coming of age" ceremony. There are currently 150 Maasai girls annually that will reach puberty.
$25 provides each of these girls an opportunity to attend a 2-day ARP ceremony, mirroring the traditional "coming of age" customs, without the need for circumcision.
By 2017, at least 750 girls from Esiteti will have completed the ARP program, and over 280 women will be will have the necessary tools to perform their own ARP ceremonies and pass on their knowledge to surrounding communities. The ultimate goal is to eradicate FGM worldwide and change the course of these Maasai girls' lives forever
About Africa Schools of Kenya:
Fifteen years ago, Teri Gabrielsen, founder of Africa Schools of Kenya, observed an elder Maasai chief, James Ole Kamete, teaching the alphabet to five children under a tree by writing the letters in the dirt. She became inspired by Kamete's dream to have education available to every boy and girl in his community of over a thousand people. Since 2007, Kamete and Teri have successfully implemented numerous educational programs, such as a high school scholarship program with a special emphasis on girl's education and the health risks of FGM and early marriage. Previous to Teri's work in Kenya, she retired as a teacher and worked in the field of advertising and marketing in Los Angeles and New York. Teri Gabrielsen is an active member of the Santa Barbara philanthropic community.