Announcement
18th Annual National Kick Butts Day!
The Council on Alcoholism and Drug Abuse Advocates for Tobacco-Free Youth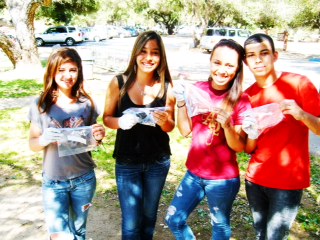 Kick Butts Day began 18 years ago to protect youth from tobacco and one strategy is to demonstrate the deceptive marketing strategies of the tobacco industry. This day of awareness promotes a tobacco-free lifestyle and teaches youth the critical thinking tools that can guide them as they encounter a variety of situations for the first time.
Jennifer Sidhwa, Youth Service Specialist at La Cumbre Junior High, shared "As a Y.S.S. I am constantly looking for ways to get students involved in activities that focus on healthy choices and are also a service to the community." Jennifer will take her Club Live students to clean the beach of cigarette butts after school on Kick Butts Day.
The Friday Night Live/Club Live Partnership is working with the Santa Barbara Tobacco Prevention Settlement Program to "protect the public from the harmful effects of tobacco and secondhand smoke". Using their previous experience with park clean-ups, tobacco outreach education, and tobacco retail assessments, the Friday Night Live Leadership Coalition is currently working on policy advocacy to reduce tobacco sales to minors and will conduct community outreach in the City of Goleta in honor of Kick Butts Day.
The Council on Alcoholism and Drug Abuse is "building a safer, healthier community" through its prevention programs beginning with elementary and secondary school youth.
Visit www.cadasb.org for information about the programs of the Council on Alcoholism and Drug Abuse and www.kickbuttsday.org to learn more about National Kick Butts Day.