Film & TV
Betting on The Bet
Community Film Studio Santa Barbara Releases First Feature Film
One morning last August, a unique brand of moviemaking magic was happening just off Milpas Street. Inside a former elementary school, veteran soap-opera star and Carpinteria resident Finola Hughes was on the other side of the lens for the first time, directing a cast and crew consisting completely of volunteers in a feature film called The Bet.
"Can you play a cop?" Hughes asks one of the many people standing around, watching the grips employ elegant carpentry to turn the hallway into a police station. "Sure," the man replies, hurrying off to the wardrobe room to don his uniform. Standing next to me is longtime radio man Ray Hamilton, who's donating his public relations expertise to The Bet. "That's classic," he says in hushed tones fit for a film studio. "That's the way everything is done here."
"Here" is the Community Film Studio Santa Barbara (CFSSB), the first all-volunteer, nonprofit, donation-funded film organization ever created. Anywhere. It's the brainchild of Jack Presnal, a 56-year-old who grew up acting in community theater in Austin, Texas. Presnal went on to lead a wide-ranging career that included photography, filmmaking, software development, and educational administration before moving to Santa Barbara to study psychology and work at UCSB until his retirement in 2007. A couple of years ago, while recovering from a surgery, Presnal was reading up on the latest film technology and trends.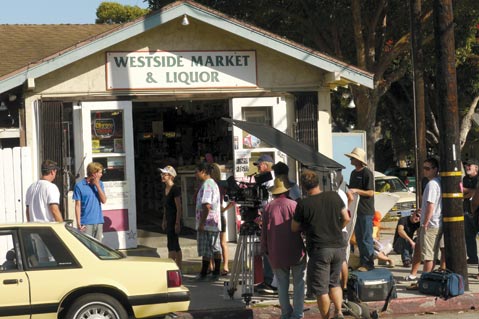 "I realized that it was now possible to not only make a film far less expensively than we did when I was making movies, but also to be in charge of your own destiny with regard to the marketplace," said Presnal, explaining that, thanks to direct-to-consumer services like Netflix, filmmakers no longer need to go through a distributor to reach the masses. "It occurred to me that it might be possible to marry the idea of community theater with the idea of making motion pictures," he explained. By July 2011, the studio was officially incorporated as a 501(c)(3) nonprofit, with the goal of producing about one film per year and providing educational opportunities along the way.
When she heard of CFSSB, Hughes — also a former community theater actor — signed on immediately to direct. "I was just fascinated by this concept," said Hughes, noting that the timing was right because of "how democratic filmmaking is at the moment." Though initially worried that she wouldn't be able to get the volunteers to return to the set each day on any of the 120 different locations used in the film, Hughes quickly realized that wouldn't be a problem. "It was just sheer enthusiasm and a kind of camaraderie and wanting to be part of this experience that brought everybody back each day," said Hughes, explaining that, unlike the typical Hollywood set, there were no tantrums or meltdowns. "It was great."
Last Thursday, The Bet's cast, crew, and supporters got a sneak peek of the finished product at the Bacara Resort's movie theater, where Hughes, some of her famous soap-opera friends, Kenny Loggins (whose daughter contributed a song to the film), and other less recognizable faces gathered to see the outcome. It's a sweet film about a teenager (played by Scott Hagood) who gambles with his grandfather (played by Tim T. Whitcomb) to see who can get laid first. It's a cute, sentimental, funny, and even occasionally moving study of youth, middle age (via the mother, played by Portia Thomas), and senior-citizen life. But considering it was made by all volunteers for around $60,000 — even similarly small, independent films often cost three or four times that — The Bet is nothing short of amazing, a thorough success and evidence that Presnal's bet just might one day pay off.
Better yet, The Bet and the hometown CFSSB format also shine a bright light on the Santa Barbara we know and love. Our cityscape is the silent star of the film, and people will get a kick out of seeing and hearing the places where we work and play. Even more powerful, you will recognize the actors or names when the credits roll because they are, quite literally, your friends and neighbors. It's exactly like going to watch a community theater production — with spontaneous bursts of applause upon seeing your buddy's mug included — but this is on the big screen, and, if you buy a DVD, you can take it home for later viewing on your little screen.
All that said, making movies and providing education is just the tip of the iceberg for what CFSSB could become. "Our hope is to take this as a concept and convince communities across the country to embark on the same thing," said Presnal, who wants to create a network of studios nationwide that produce a feature per year. "We hope we're starting a movement here."
4•1•1
The Community Film Studio Santa Barbara premieres The Bet at the Arlington Theatre (1317 State St.) on Friday, April 19, and Saturday, April 20, at 7 p.m. Tickets are $12.50, with a VIP package (drinks, dessert, and meet and greet after screening) available for $40. Visit cfssb.org and thebetmovie.com for info.