Bottles & Barrels
From Finger Lakes to Santa Ynez
Chatting with Morgen McLaughlin, New Director of the Santa Barbara County Vintners Association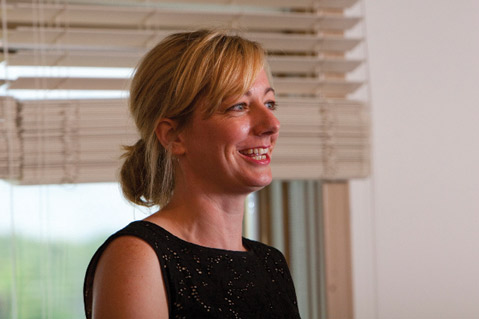 Last week, the Santa Barbara County Vintners Association named Morgen McLaughlin as its new executive director to replace longtime head Jim Fiolek, who left the organization earlier this year. Arriving just in time to be welcomed by the annual Vintners Festival — which happens this Saturday, April 20, at the place it all began: Mission Santa Ines in Solvang — McLaughlin spent her last seven years as the head of the New York's Finger Lakes Wine Country Tourism Marketing Association, where she helped elevate that region to the front page of Wine Spectator magazine.
Since her husband works in wine distribution and her family owns a vineyard and winery in Sandy Hook, Connecticut — where they make wines from chardonnay, vidal blanc, aurore, seyval blanc, and merlot grapes as well as bottling maple syrup — McLaughlin knows wine from all angles, and hopes to bring a new energy to publicizing the wines, winemakers, and wine growers of this region, specifically the 100-plus producers who are members of the Vintners Association. A mother of three boys, McLaughlin and her husband plan to get settled in the Santa Ynez Valley as soon as possible, as she plans to start the job full-time by June 30.
She spent a few minutes on the phone with me this week to talk about her plans.
Why'd you decide to come to the West Coast?
Both my husband and I are in the wine business, so when we were discussing the next phase of our careers, it's hard not to look at California as a hot spot for opportunity. Anytime either of us came to California for work, we realized that, if we can making something happen in the wine business, we needed to jump on it.
So your family has vineyard in Connecticut?
Of all the strange places, yes. So I certainly know the challenges and what it's like to operate a vineyard and a winery, and in a place like Connecticut.
You seem to have achieved a good deal of success in the Finger Lakes. How will you bring that our way?
Wine marketing isn't all that different based upon what region you're in. Obviously, there are different players and different types of wines, but in general, I don't want to say it's template-driven, but there is a way to successfully market a wine region. We've done that in the Finger Lakes with a relatively small budget. We've had to bre creative over the last seven years since I've been running that organization and, also a lot has changed in marketing.
I'm clearing our my desk now, and I'm looking at my old phone box. I had a flip phone when I started, and then I moved to a Blackberry. Now, I don't think anyone of us could live without a smartphone. So if you're not staying abreast of the rapidly changing marketing strategies, you become behind the eight ball very quickly. One way we've been successful in the Finger Lakes is that we've really gone after digital and social media like gangbusters, and it's really helped elevate our region.
A lot of people didn't know that New York or the Finger Lakes made wine. If you asked someone in California 10 years ago, one out of 10 might have known. Now, you say Finger Lakes, and they might say "riesling." They definitely know that we have wine.
The opportunity in Santa Barbara is right there. I'm really excited about bringing some of my successful strategies from the Finger Lakes, especially within social and digital marketing, to the region.
There have been concerns expressed over what might be called the splintering of sub-appellations within Santa Barbara County. Santa Maria has its own organization, as does the Sta. Rita Hills, and so on. Do you have any thoughts on that trend?
There is strength in marketing in the region and in the sub-appellations from a branding perspective, in terms of sharing resources. So I am definitely going to be looking at how the different organizations can be working together on a common message.
We have that infrastructure in place in the Finger Lakes, where you have Finger Lakes as a whole and two sub-appellations, each with their own wine trail association and own program of work. We've been able to be very cohesive and work together while still remaining autonomous. I'm here to promote Santa Barbara County and all of its AVAs.
And you're just in time for the Vintners Fest.
I'm super excited. Ticket sales, according to the office, have been very strong. There's a lot of momentum. I was already tweeting with folks over the weekend. This opportunity is just so exciting, and hopefully, being an outsider, I can bring a fresh perspective that people are willing to embrace. I'm a leader who's all about transparency. We all have common goals, so, with the sub-appellations and also the tourism associations, how can we all work together to promote Santa Barbara County?
4•1•1
The Santa Barbara County Vintners Festival is this Saturday, April 20, 1-4 p.m., at Mission Santa Ines. See sbcountywines.com or call 888-330-6744 for tickets.