Living
Modern and Modular Homes of S.B.
Sleek, Smart Alternatives to Traditional Building
So you want to build a house in Santa Barbara — but you're not enamored of red-tiled roofs, and your budget is a bit smaller than Oprah's. Can an average family hope to build a beautiful, modern home here? Behold: Three families who have done just that.
From Utah, with Love
Even before they married in 2002, San Marcos High School grads Rain and Dana Longo started looking for a house to buy. In 2009, they were still searching. "We couldn't quite get anything," Rain remembers. "We were outbid every time."
We're standing in the kitchen of the Longos' brand-new two-story home. Light streams through the massive windows above the sink and spills in from the clerestory windows in the dining room. It's hard to believe that just a few months ago, this stylish modern house was zipping along the freeway on the bed of a flatbed truck.
For the Longos, a factory-built house was the perfect solution: aesthetically pleasing, eco-friendly, and quicker and more affordable than traditional construction — even cheaper than many of the older tract homes they had considered buying.
The Longos worked with Irontown Homes, a company in Utah that allows for custom design. They hired an architect, and they bought what had been a blighted, undeveloped lot — a 6,000-square-foot corner property near Bishop Diego High School. They went door-to-door to speak with their neighbors and found their project warmly received.
Convincing the Architectural Board of Review wasn't quite so easy. "They finally acknowledged that you're not going to build a 1950s tract home in 2011," Dana says.
The final result is an eye-catching, 2,100-square-foot house with four bedrooms, two-and-a-half bathrooms, front yard and backyard, and mountain views. With three small children and a fourth on the way, they feel there's just enough space for everyone. "We got a big house by Santa Barbara standards," Rain says. "We never could have done it without modular."
Out of the Ashes
In 1973, Donnis Galvan took a risk and bought a piece of property nobody else seemed to want: an irregular 1.25-acre lot on a steep hillside, with a creek running through the middle. She and her husband, Peter Hale, decided to build a house there, and after years of planning and permitting, they completed the project in 1990, with Hale designing and managing the construction himself. Their unassuming modern house was set below the level of the street, providing privacy and quiet. It was cantilevered over the creek so that, from the kitchen and the back deck, you looked out into a canopy of leaves. The foundation had been so expensive that they had resorted to cheaper materials for the house itself, but they loved their home.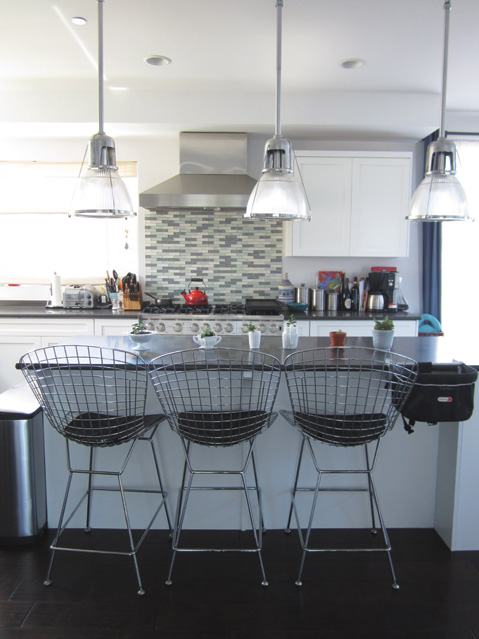 Then, in November 2008, the Tea Fire swept through the Montecito foothills, taking Galvan and Hale's house with it. Even in the immediate aftermath of their loss, the couple knew they would rebuild on-site. So they did, finally completing the new house in November 2011 and living in a borrowed Airstream trailer for the final year of the project.
The new house appears similar to its predecessor — a petite, modern structure that from the street looks like little more than a garage. Inside, a flight of stairs descends to an open-plan living room and beyond to the kitchen with its views of the canyon below. This time around, with an intact foundation, Galvan and Hale were able to invest more in their building materials and appliances. Still, they've kept things minimal: exposed steel beams, bare wood floors, and lots of glass. "We like things simple, uncluttered, and practical," Hale explains. With 1,900 square feet of dwelling space, it's the ideal size for two — and that's just the way they like it.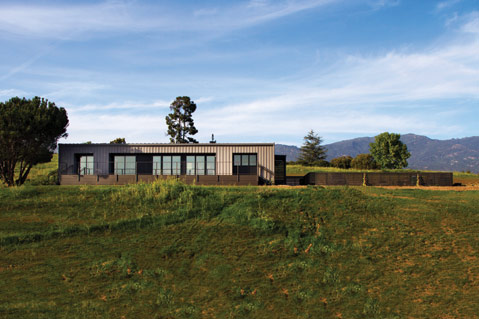 Prefab-ulous
Until 2011, the Wilson family lived in a comfortable San Roque neighborhood house. They were happy with the size of their home, but they ached for more land. So they took a risk and bought an undeveloped four-acre property, sold their house, and started looking for a way to build. They had heard about modular houses but associated the idea with a cheap, prefabricated structure — until they did their research.
Like the Longos, the Wilsons chose Irontown Homes, in large part because of the company's willingness to allow for custom design. They decided to work with area architect Keith Rivera, who was new to modular and who took on the project with some degree of skepticism — he worried it might be of a lower quality than a stick-built home and that it wouldn't allow for enough flexibility. Two years later, both Rivera and the Wilsons are modular converts.
Just last month, the Wilsons moved into their single-story, four-bedroom, two-bath house. It's sleek and modern, and unlike their San Roque house, they look out at an expanse of open land — plenty of space for gardening, and for their three young children to explore. "This house and other prefabs like it may be an example of a new, post-recession approach to home building," Rivera says. "It's modern, sensible, and efficient."
The Wilsons agree. "Prefab used to be a dirty word, but this is not a mobile home — it's a real home," they say. "It's beautiful. We're very happy."