Announcement
Men's Night Remembers Peter Murphy & Mother's Day Luncheon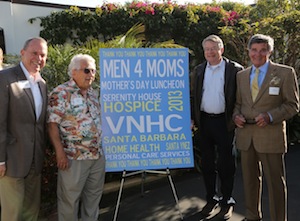 This year's Men's Night was dedicated to Peter Murphy, who passed away almost exactly one year ago. Peter was instrumental in beginning VNHC's Men's Night, and hosted it each year since its inception in 2003. He was the driving force behind the event, which has raised over $435,000, meeting and exceeding the goal every year to underwrite the Mother's Day Luncheon. With his wife Judy, the Murphys served as Honorary Co-Chairs for the 2005 Mother's Day Luncheon, and were donors for the Capital Campaign to build the new Serenity House which opened in August 2011, and where Peter passed.
The evening was co-hosted by Peter's son John Murphy, and Peter's close friend Neil Levinson, at the beautiful beachfront home of VNHC supporters Roberta and Stan Fishman. Stan currently serves on the VNHC Board of Directors. Peter's wife Judy Murphy was the Honorary Chair of this very special evening, along with event co-Chairs Janet Lew and Marie-Ann Strait.
The program included a moving personal testimonial by Bob Murphy about his brother Peter and the loving care they received from VNHC at the Murphy's home and at Serenity House. Although the family had been involved with VNHC for many years, it was not until their family experienced the compassionate care provided by VNHC that they fully understood the value of the organization's services.
The 80 guests in attendance, including many of the VNHC Board of Directors, enjoyed an intimate evening where they learned about the important hospice and home health care services that VNHC provides to the Santa Barbara community. Thanks to the legacy left by Peter Murphy, the philanthropic group of men raised over $75,000 to help underwrite VNHC's Mother Day Luncheon, which takes place on May 10th.
"Peter's compassion and willingness to help friends and business associates was also what aligned him closely with VNHC," said Lynda Tanner, VNHC President & CEO. "He lived the VNHC mission as someone whom you could turn to when in need. Peter's generous spirit, friendship, and support will always be remembered."
Visiting Nurse & Hospice Care is the leading nonprofit provider of comprehensive in-home health care. The mission of Visiting Nurse Hospice Care is to provide high quality, comprehensive home health, hospice and related services necessary to promote the health and well-being of all community residents, including those unable to pay. It serves the greater Santa Barbara area, and Santa Ynez and Lompoc Valleys. Established in 1908, Visiting Nurse is one of Santa Barbara's oldest nonprofit organizations. For more information on Visiting Nurse & Hospice care, please visit www.vnhcsb.org or call (805) 965-5555.