Outdoors
Indian Creek to Lower Buckhorn Camp
Land of Little Rain
Hike: Along Indian Creek to Lower Buckhorn Camp near the Dick Smith Wilderness
Mileage: 10.6 mile strenuous roundtrip on Lower Buckhorn Trail [27W12], turning into Indian Creek Trail [26W08]
Time: About 6 hours. Little elevation gain or loss. Fine for hardy children at least eight years old.
Maps: B. Conant's Matilija and Dick Smith Wilderness, and the U.S. Geological Survey 15' topo map Little Pine Mountain.
As summer swiftly approaches, the looming sun lashes the Santa Barbara backcountry. On this strenuous 10-mile dayhike into Indian Canyon, my colleague and I witnessed dying masses of colorful wildflowers and frantic lizards scuttling from rock to rock. If you undertake this rigorous foray skirting the Dick Smith Wilderness boundary you'll understand why Mary Austin called an area like this Land of Little Rain, the title of her famous 1901 book.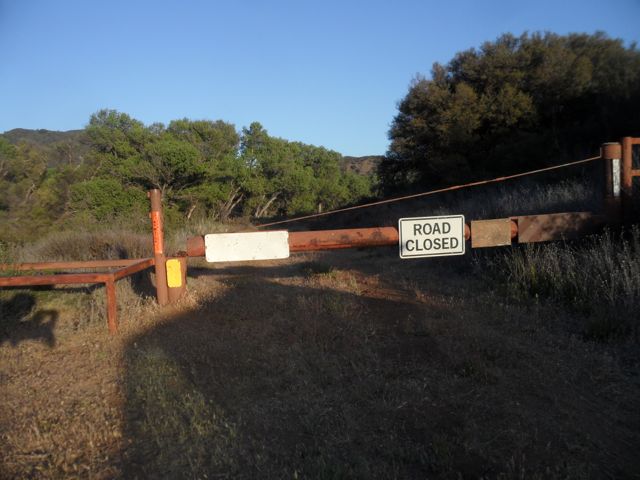 The U.S. Forest Service Indian Creek Trail officially ends at Indian Creek Camp, 8.2 miles from where your vehicle will be parked, at the Mono Creek Gate Trailhead (see below for driving directions). Once you exit your car and step around the gate at the trailhead, which is locked to prevent cars from going further, you are on the eastern end of the graded Romero-Camuesa Road.
You quickly cross a few cement aprons spanning Mono and Indian Creeks, both tributaries to the nearby Santa Ynez River (and both completely dry on April 26). Do not attempt this dayhike (or backpack) after heavy winter rains.
My colleague Chris Caretto and I enjoyed the first .9 mile on the dirt road and found it strangely relaxing. There is infrequent traffic on this segment, but bikes and properly-equipped motorcycles sometimes chug by (no cars allowed). We're dayhiking by 7:00 a.m. due to expected heat, and we encounter no vehicles at all, which causes us quiet jubilation. Cessation of machine noise, no other crazy hikers on the road, and, from a glance at Bryan Conant's very useful Matilija and Dick Smith Wilderness Trail Guide, we know we're nearing the wilderness.
This has been one of the Santa Barbara backcountry's driest seasons, so we're carrying three liters of water each, as well as an efficient water filter. There will almost certainly be water in Indian Creek, but it will be low, and writer Bob Burtness warns of highly alkaline water in this short creek.
Michel Foucault writes that "the anxiety of our era has to do fundamentally with space." While linear time has been almost entirely de-sanctified, contemporary space still contains hidden remnants of the sacred, e.g. the many Chumash rock shelters concealing their holy pictographs and petroglyphs. While Foucault lists spatial "sites of contemporary relaxation" like cinemas, cafes, and bars, another long-ignored relaxation site is in or near wild nature. The entire point of my columns is to stimulate free-spirited Americans and visitors to seize the opportunity to walk right into these hills and… wait, listen, slow down, allow one's natural mindfulness to expand.
At .9 miles, we see a large and impossible-to-miss metal road sign, and we know to turn inland off the road at this point.
Sure enough, we then observe the key wooden trail sign labeled "Indian Canyon Trail" – and for once our map mileage (8.2) roughly agrees with the "7 1/2" mixed fraction hacked into the old metal "Indians Camp" [sic] listing. For today, we're aiming for scenic Lower Buckhorn Camp, which this sign informs us is another 4 miles into Los Padres National Forest. Conant's map states it's another 4.4 miles, and this is the more accurate number.
Making Lower Buckhorn will get us into the mouth of Indian Canyon; if we have more energy we'll try to get to nearby Meadow Camp, but that may be too much for one day.
Most of this rugged dayhike includes traversing rugged terrain festooned with yuccas and various hard chaparral plants. We straggled across loose scree and slogged through trackless talus. Glorious giant juniper bushes have grown up, but there aren't many: the rocky wash usually wins out. Spring wildflowers are dying off in spectacular numbers, and we keep a very sharp eye out for rattlesnakes. We spot a horned toad (phrynosomatidae family, neither frog nor toad) crawling across the single-track path, and above us we notice a golden eagle along with turkey vultures.
There is only the one trail, but it's quite sketchy in places, and at some point around Lower Buckhorn Camp it turns into lower Indian Creek Trail (26W08). On three occasions, as we traversed and then re-crossed Indian Creek again and again, the lush spring growth had completely obscured where the path picks up after you cross the watercourse: You have to check around, then simply stalk through lush, chest-high bushes to pick it up again. This is also why we both wore long pants, long-sleeved heavy shirts, and gloves, and I used the twin Leki hiking poles to feel ahead for snakes when we had to blunder through the luxuriant brush.
I discussed Foucault's concept of heterotopias in the last column. These specially reserved, often ritual spaces stand out in contrast to dystopias (think District 13 in The Hunger Games) and to utopias (think Thomas More's 16th century book Utopia). When I run off to the Santa Barbara backcountry wildernesses it's neither in search of a utopia, which means "nowhere," nor a flight from a dystopic urban Santa Barbara.
Foucault writes that we're now above all in "the epoch of space. We are in the epoch of simultaneity … of juxtaposition, the epoch of the near and far, of the side-by-side, of the dispersed … our experience of the world is less that of a long life developing through time than that of a network that connects points and intersects with its own skein." Clearly, he had read a lot of Philip K. Dick, who contended in his novels that 'we are simply way-stations on a segmented universal Mind'. All this makes more sense when trudging along a dusty path littered with rocks and suffused by flower pollen, just a wee bit nervous about rattlers.
The juxtaposition is that we are indeed in wilderness, and it took 90 minutes to drive to the roadhead – yet spatially we can't be more than 7 miles as the crow flies from urban Montecito's Upper Village.
After three hours of steady hiking, passing another old iron sign noting "Pie Canyon Jeep Trail," we get to shaded Lower Buckhorn Camp. (Do not take the grown-over Pie Canyon Jeep Trail.) The wooden table in Lower Buckhorn has collapsed, but we sat on its wooden surface at ground-level and consumed our mid-morning repast (peanut butter sandwiches, carrots, dried prunes, Clif bar). I was exhausted, and we chose not to march another .4 mile to (Indian) Meadows Camp.
The simultaneity Foucault writes of comes with Chris having his cell phone: We are far from town, but actually very near in audio terms, if we choose to call.
FDR's Civilian Conservation Corps workers constructed Lower Buckhorn Camp in 1933, but it was originally a base camp for Chumash hunting parties. The Douglas family of Goleta and the Lambert brothers of Summerland also used Lower Buckhorn Camp as a hunting camp. It's pretty shabby and obviously little-used. Chris and I had imagined this site as a way-station, not of the universal mind, but en route to deep and twisty Indian Creek Canyon and Indian Camp.
We had both wanted to stride on, into fabled Indian Camp, but this would make it a 16-mile day trek, and the heat was rising dramatically by 11 a.m. I am mindful about getting seriously off trail (or, overtired) as I had done this past June, so it felt correct to head back, and my friend was gracious about this since he could have pressed on himself.
By hiking faster in the burgeoning warmth we arrived back at my truck in just two hours, likely because we knew the trail much better. I'd been looking forward to making this reconnaissance dayhike into Indian Canyon in the direction of the old Indian Canyon Camp (now Indian Creek Camp) for three decades. Long ago, backcountry historian Jim Blakley recounted interesting stories about the fabulous falls a mile and a half beyond Indian Creek Camp, including amazing pools and caves. This recon venture proves there is still some water flowing in Indian Creek , and that a late May, three-day backpack deep into Indian Canyon is still feasible (using the water filter).
Standing at the iron trail sign, I'm seeking a relaxing ritual space, my way station or heterotopia, in order to take a deep spiritual breath and then return to our glorious urban Santa Barbara, re-energized and re-calibrated.
Driving Directions: It takes 90 minutes to drive the 31 miles from Santa Barbara's Westside to the Mono Creek Gate Trailhead just past Little Caliente Hot Springs. At the junction of Gibraltar Road and East Camino Cielo, turn east (right) and drive along the asphalt, passing the water tower (elev. 3400 ft) above Montecito Peak, continuing as the road becomes dirt down to Juncal at the Santa Ynez River. Stay with this road "back" past Pendola Station and P-Bar Flat to Mono Camp, then another mile to the Mono Creek Gate Trailhead near Little Caliente Hot Springs. Park and hike! Note: The dirt road is fairly rough and we used my 4-wheel drive Ranger truck.