Drink
Presqu'ile Unveils Winemaking Palace
Southern Fam Puts New Face on Santa Maria Valley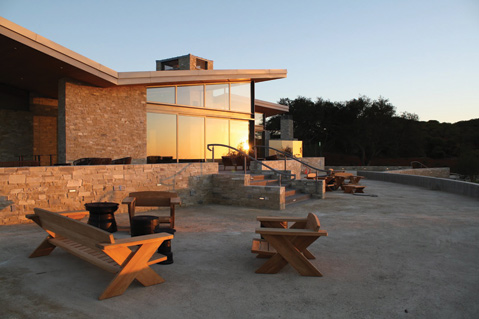 Though serious wines have been coming out of the Santa Maria Valley since the 1970s, it's never been the most inviting appellation to tour. Many of the prime wineries and iconic vineyards are off-limits or appointment-only, the settings can be quite rustic, and they almost all are located deep in the valley, requiring lots of driving to get there.
But that's all about to change. Last week, Presqu'ile Winery opened the doors of its palatial, three-tiered production facility and tasting room off of Clark Avenue, just a few minutes from the steady traffic of Highway 101.
With bocce ball court views extending from Point San Luis to the dunes of Guadalupe to the historic Bien Nacido Vineyard across the river, the new winery — which required two years of steady construction to build and must have cost many millions, though the family won't say — is making it much easier to get a taste of the Santa Maria Valley. And with sleek modernist architecture, the latest 21st-century winemaking technology, and a commitment to sustainable practices in both the winery and surrounding vineyards, Presqu'ile is bringing a polished style to the boot- and blue-jeans-wearing region, all while staying focused on making some of the tastiest wines around.
"We want to make world-class wine here," president Matt Murphy told me during a tour of the buzzing construction site last February. "We want to be a place to show off Santa Maria."
If you've ever met Matt or any of the other Murphys, you know his comments were delivered with an earnest and endearing Southern drawl, as the family hails originally from Arkansas but is involved in farming, timber, oil, gas, banking, and other profitable industries in both that razorback state and neighboring Louisiana. The winery's name (pronounced press·keel) translates from Creole to "almost an island" and refers to a property on the Gulf Coast where the Murphy family would come together for holidays and reunions over generations until Hurricane Katrina wiped it off the map. In addition to Matt, who is 30 years old, the operation is staffed by additional siblings, as well as wives and in-laws doing everything from helping with winemaking to planning events to running the tasting room. Said patriarch Madison Murphy, "It gives a whole new meaning to a family-run business."
Long interested in wine, the family stumbled upon the Santa Maria Valley by partnering in the Ambullneo project that was located at Bien Nacido in the mid-2000s. In addition to being the place where Matt worked as a cellar rat under the dreadlocked South African Dieter Cronje, now the head winemaker at Presqu'ile, Ambullneo was where the family learned that the region's reliably cool climate allowed for long hang time and grapes that achieved balance naturally with little intervention. That's critical for making world-class pinot noir. "Pinot is the passion and what drives the brand at Presqu'ile," said Matt, to which his father, Madison, quickly added, "It's why we do what we do where we do it."
In 2007, they purchased a 200-acre, former gladiola farm along Clark Avenue, amid the nearby vineyards of Solomon Hills, Dierberg, Ontiveros, and, formerly, Addamo, and started planting pinot as well as chardonnay, sauvignon blanc, syrah, and a tiny bit of nebbiolo under the guidance of vineyard manager Jim Stollberg. There are nearly 75 acres planted today, but Presqu'ile also sources fruit from other vineyards, as well, offering about 10 wines at any given time since its first public releases in 2009. Despite the large facility, though, the Murphys don't expect to ever make more than 15,000 cases of wine, ensuring it will be an intimately made product into the deep future.
"It's all terroir-driven wine," said Cronje while tasting through the latest releases a few months ago, ranging from green-peppery sauv blancs and marshmallow-like chardonnays to pinots with green-olive and tea notes. Hand in hand with the certified sustainable farming practices, Cronje employs natural winemaking techniques, as well, relying on the wild fermentation that comes from letting native yeasts do their work. "If you want to give wine a sense of place," he explained, "it's fundamental to use yeasts from that area."
Until last week, it was much harder to understand what Cronje meant, but now Presqu'ile's full package is on public display at the new tasting room, with a couple of different flights to choose from. There are also 75-minute tours offered to give an up-close look at the gravity-fed winery, horseshoes to go along with the bocce ball, and even some musical events being planned. Wine club members have access to their own area, complete with concierge services, but Matt Murphy thinks most folks will take their tastes outside, enjoying the best views of the Santa Maria Valley. Compared to "bellying up at the bar," as is the usual tasting-room setup (including at their own existing tasting room in Los Olivos), Murphy explained, "This is a more elegant, laid-back experience."
Perhaps most importantly, it's an experience that's only a few minutes off the 101, so it provides a perfect starting or ending point for an exploration of the entire valley, or an ideal spot to simply stop off the freeway and buy some wine while driving through. Because of that, it should help float the entire Santa Maria Valley's tourism profile. Said Murphy, "We believe it will put us on the map as a destination."
4•1•1
Presqu'ile Winery is located 1.5 miles off of Highway 101's Clark Avenue exit at 5391 Presqu'ile Drive. See presquilewine.com.