Cover Story
District Attorney Hunts Illegal Gun Applicants
Joyce Dudley's Campaign to Punish Those Who Aren't Supposed to Get Guns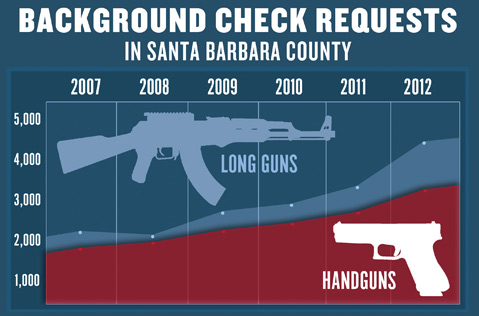 Every month, the state Department of Justice sends letters to law enforcement agencies with information on the people who applied for a background check to buy a gun but were denied because of their criminal records. Because the act alone is another crime, the state's expectation is that some of the illegal applicants would be tracked down and arrested again. But that doesn't seem to happen in most of California, as agencies tend to be overloaded with existing work. The California Department of Justice, however, does have agents actively collecting weapons from people who are convicted of crimes or institutionalized for mental illness if those people do not voluntarily turn over their guns.
"Everybody gets the notices," explained District Attorney Joyce Dudley recently, "but nobody was doing anything." So nearly two years ago, she started finding these people, and now her department is actively arresting and prosecuting them as part of their regular jobs. "To my knowledge, no one around the state is doing this," said Dudley. "I want people to know we're watching."
The timing couldn't have been better: Due to growing concern over stronger gun laws nationwide, there's been a spike in gun buying even in Santa Barbara County, and the number of folks trying to do so illegally has also jumped. The letter used to list about four or five people a month, but that number is closer to 15 or 20 today. "It's just a flood," said investigator David Saunders.
Once found, some claim ignorance of their banned status, others admit that they thought no one was paying attention, and some didn't think past crimes would cross state lines. But many appear to be just plain guilty of trying to sneak through the system, and Dudley's prosecutors have already put some of those back in prison for years. She explained, "If we can prevent someone from getting a gun who shouldn't have one, that's the easiest thing we can do."