Film & TV
Unfinished Song
Terence Stamp, Vanessa Redgrave, and Gemma Arterton star in a film written and directed by Paul Andrew Williams.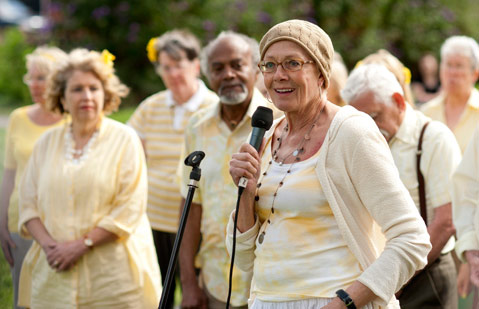 Thanks to the stellar and subtle work of seasoned Brits Terence Stamp and Vanessa Redgrave, Unfinished Song may be one of the year's strongest examples of a film whose acting talent far outshines the hosting project. Things get slow, dull, and sentimental in this tale of a group of elderly singers whose involvement in a choral group gives them a life-affirming charge late in life, but our attentions keep returning to the couple at the center of the story.
Gemma Arterton plays the relatively young spirit with demons of her own, who organizes the chorus of seniors and gears up for a competition, getting them to sing songs from the modern jukebox, such as "Let's Talk About Sex." Seeing seniors channeling childish things and going goofy is the cheap trick of the film's premise, but its deeper message beneath all the feel-good folderol has something to do with the healing power of music and the enduring balm of love — even when death steps in.
Redgrave puts in a brave and infectiously empathetic performance as Marion, a woman afflicted with an incurable cancer but who is intent to go out in robust internal form and, well, singing. Tellingly, the film's title in the U.K. was "Song for Marion," which gets to the heart of a story in which the character radiates a bold presence, even in her absence.
That impending — and actual — absence is telegraphed through her husband's behavior and actions, in ways belying the minimalism of his expressive nature. Stamp is in his element here, in a way, and yet pushing ever slightly outward. His cool-surfaced demeanor has made him ripe for roles of intrigue (he was offered Bond, at one point, post–Sean Connery) and coiled inner turmoil (can you say Billy Budd?). But to see him as an aged man, dealing with his wife's final days, and struggling to transcend his inherent curmudgeonliness is something to behold.
A climactic scene of Stamp taking a steely but heartfelt solo to the tune of Billy Joel's "Lullaby (Goodnight My Love)" is a weep-worthy moment worth half the price of admission. Redgrave in action is worth the other half.