Arts & Entertainment
Review: Outside Lands 2013 – Friday
San Fran Welcomes Sir Paul McCartney, Lots of Fans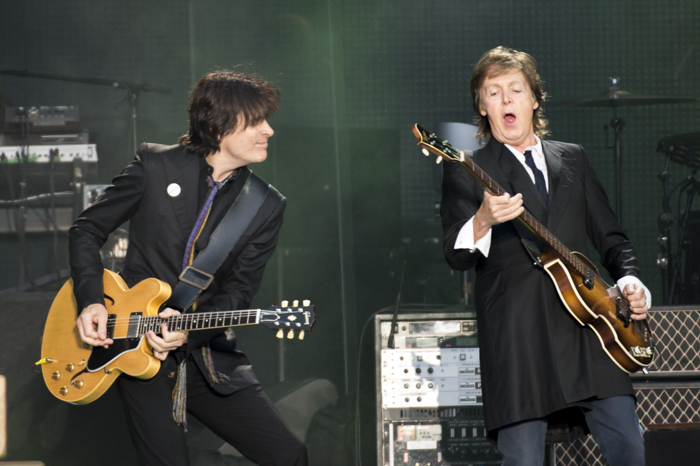 Outside Lands began with a cartography lesson – the show opened up with the dynamic duo of "Jack Crosbie Can't Read Maps," and "I'm Sorry Sir, Press Credentials are Located at the Other Gate, 30 Minutes from Here." But despite the staggering dimensions of Golden Gate Park, the Indy eventually got inside the gates in time to catch Band of Horses, who put on a thoroughly pleasant welcome act on the venue's Lands End main stage, running through most of their hits and closing the show with a clear, energetic, rendition of fan-favorite "Funeral."
After a relatively brief turnaround, Brooklyn-based-by-way-of-Ohio act The National took the stage. Frontman Matt Berninger strolled into the spotlight in a three-piece suit, sipping what appeared to be a glass of Sauvignon Blanc from any one of the festival's Wine Lands vendors. The band then launched into one of the best sets of the day, breaking into "Fake Empire" within the first three songs and interspersing their typically melancholy lyrical matter with a fun, humorous stage presence (Berninger made sure to note that his daughter's pre-school teacher was in the crowd, putting himself in strong position for the "Best Dad on Stage" award this weekend). And to cap it all off, Bob Weir of the Grateful Dead popped up on stage, grabbing a guitar and singing along to the bands' last number.
As with any multi-stage festival, it's pretty much impossible to catch every band you want to see – and that's especially true at Outside Lands, where the walk between stages can take upwards of 15 minutes of weaving through dads, drunks, picnickers, and people wearing parts of animals on their heads (no joke, one guy sported what looked like half of a flattened squirrel as a headdress.) We eventually made it across the divide to Twin Peaks, the venue's second-largest stage, in time to catch Yeasayer, who turned up the volume on a surprisingly funky and high-energy set. They seemed appreciative of the audience – making self-referential jokes about the fact that legendary headliner Paul McCartney's set was about to begin and they were surprised to still have a crowd – but kept everyone there entertained throughout.
Speaking of the big man himself – McCartney killed it, playing for a staggering two hours and 45 minutes, hitting all of the Beatles classics and McCartney originals, with a heavy (and welcome) emphasis on the former. During the time he played, the Twin Peaks stage saw headliner Pretty Lights come and go in a cavalcade of strobes and spots – the sound was there, but the artist clearly needs a different venue to live up to his name. Chiefly, a large cage of can lighting surrounding Derek Smith (aka Pretty Lights) completely obscured any view of the artist to the photo pit, relegating this reporter and a crew of other media to taking crowd shots in between strobe flashes. The crowd, however, didn't seem to care that the press couldn't see, as Pretty Lights well-produced brand of bass-y beats hit in all the right places and kept people jumping. As the lights went out on Twin Peaks, McCartney shot off his first round of fireworks behind the Land's End stage, blasting himself into the middle of an explosive set peaking with a suitably loud version of "Helter Skelter," before signing two fans' wrists in Sharpie (to be inked in as their first tattoo, no doubt), hoisting guitars in the air one-handed, running around the stage with American, California, and British flags, explosions of confetti, more fireworks, and a thorough thank-you to the fans, the crew, and everyone who made the festival's first night a resounding success. Not bad for a 71-year-old.