S.B. Questionnaire
The S.B. Questionnaire: Bob Wesley
An Interview with The Winehound's Head Hound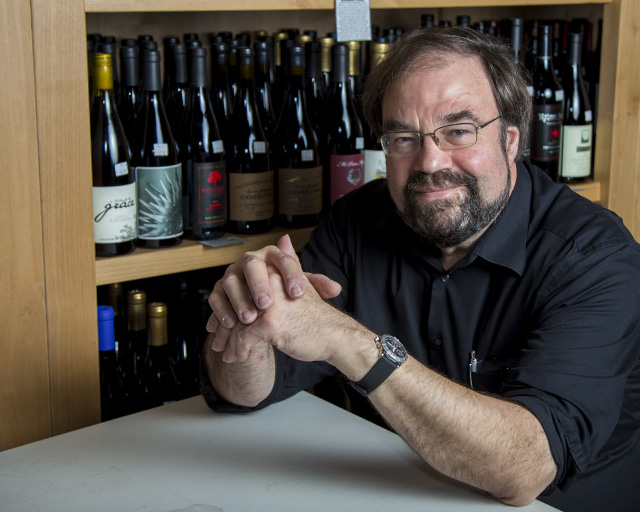 I've always been scared of wine stores because I would feel overwhelmed by my lack of knowledge and by all the labels and choices. The day I first walked in The Winehound, however, Bob Wesley made all those fears disappear.
He's this jolly, bearded fellow — yes, it sounds like I'm describing Santa Claus — who is self-deprecating and witty, but oh-so-knowledgeable about wine. He banishes any sense of snobbery relating to wine culture, and he helps you navigate through your selections, giving you immeasurable guidance and confidence. He's not interested in gouging you or making you a sell — he's interested in your long-term friendship.
He also runs an absurdly popular monthly wine club where you get two wine selections (each usually under $20) accompanied by detailed tasting notes written by Bob himself. I have kept every single note he's written, for they're as educational as they're hysterical.
Not only does he describe the wines in full detail, he also adds food pairing suggestions. And it's the latter that usually make me laugh out loud because, although they sound delicious, they are almost impossible to concoct for the accidental cook without some extensive planning. For example, he recently recommended whipping up bell pepper and onion burgers with melted fresh asiago and a side of Cajun potato wedges.
Lucky for us, he's been here in Santa Barbara for the past three decades. He recently moved his shop on Chapala Street to a more convenient location (parking!) at La Cumbre Plaza.
What is your current state of mind?
Doubtful.
What is your idea of perfect happiness?
Friends, reposado tequila, and bowling.
What is your greatest fear?
Premature burial, thanks to Edgar Allan Poe.
What is your greatest extravagance?
Hermitage.
Who do you most admire?
Charles Bukowski.
What is the quality you most like in people?
Personability.
Which words or phrases do you most overuse?
Exceptional. Outstanding.
When and where are you the happiest?
By the ocean with its roar in my ears, anytime I can visit. Hendry's Beach.
What or who is the greatest love of your life?
Cheryl from 4th grade in Lackawanna, NY.
Which talent would you most like to have?
Playing the piano would be…magic. And performing magic would be second.
If you could change one thing about yourself, what would it be?
Being more like my older brother, Nick
What is your most treasured possession?
My brother-in-law's watch.
What do you consider your greatest achievement?
Selling wine in Santa Barbara.
Where would you most like to live?
Where I am right now — near La Cumbre Plaza on a quiet street in a cozy cottage.
Who would be your ideal dinner party guests?
Jim McLeod, Betty, Mike, Vicky, Dave, Drea, Deanna, and Chris. Close friends. All are still with us, except Jim.
What wine would you serve them?
The Champagne would be an obscurity, no Yellow Label stuff, not to be snobby. Jean Lallement Brut Reserve. Smells like an unbaked apple pie.
And a brunello. I wish I could find an '01 Talenti Riserva. I don't know if it's brought to the States anymore, as I'd heard the importer had gone out of business.
And the syrah would be French, the 2007 Marc Sorrel Hermitage. It will age forever, but is a stunner now, at least for me. So aromatic, you get the idea without tasting.
4•1•1
See TheWinehound.com.