Drink
Not Just Another Blue Agave
On Verge of Annual Tequila Harvest, Wahaka Mezcal's Raza Zaidi Breaks Down Mexico's True Spirit
For millennia, Mesoamerican peoples have harvested more than 40 types of the spiky-tipped agave plant, roasted their starchy cores in wood-fire pits, and then fermented the resulting juices into strong drink. So it was only by historical happenstance and lucky timing that tequila, which is liquor made solely from the blue agave, rose to prominence as Mexico's national spirit of choice and export, a twist of fate involving a late-19th-century railroad through the city of Tequila that spurred widespread distribution of the region's preferred booze, and the 20th-century industrialization/marketing boom that followed.
In so doing, countless liquors traditionally made from the dozens of other agave plants found throughout Mexico were left in tequila's wake. Most of these drinks, known collectively as mezcal (which is what many old-timers still call tequila anyway), fell into relative dormancy, made and drank locally but never rising near the prominence of tequila. That's all changed in recent years, thanks largely to the ambassadorial work of Del Maguey founder Ron Cooper, and now mezcal is a quickly expanding genre. My "aha" moment came at last year's annual Tequila Harvest Festival, where amid a lineup of excellent tequilas, I spent most of my time hanging in the mezcal corner, learning about the drink's fascinating political, social, and natural histories while sipping on smoky samples from a handful of vendors.
One such purveyor was Raza Zaidi, the Mexico City–raised, San Francisco–based co-owner of Wahaka Mezcal, which he founded a few years ago with some childhood friends. They had considered doing a more run-of-the-mill tequila project — slapping a slick label on premade bottles, as so many do nowadays — but fell for mezcal after stumbling into one of the many mescalerías popping up in Mexico City's hip neighborhoods and heading south to Oaxaca to investigate further.
"The further we went, the more we realized that the magic of mezcal is really something that's passed from generation to generation through families," said Zaidi, who eventually teamed up with a fifth-generation mescal maker named Alberto Morales, who's now an equal shareowner in the company. "We own the land, and we control production from end to end," said Zaidi, who also achieved certified organic status recently. "It's always a single vision: the magic of Alberto Morales."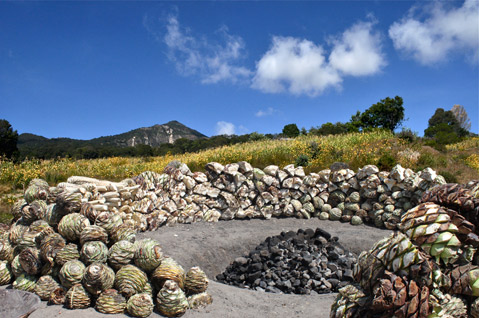 To further enlighten the masses, Wahaka's bottlings, which sell for between $37 and $90, show off the myriad possibilities of mezcal: estate-grown versus wild-harvested agave, highland versus lowland plants, un-aged versus aged in oak barrels, and even blends. "Once you consider blends, the number is infinite," said Zaidi. "That gives you a glimpse of how vast the mezcal universe can be compared to tequila, which is just one variety." And since mezcal comes with its own environmental issues — some over-harvested wild varieties are already extinct, for instance, and there is a shortage of wood for the pit fires, too — the Wahaka team formed a nonprofit called AgavesSilvestres.org to do their part in ensuring a brighter future for the people and places producing the liquor.
4•1•1
Raza Zaidi returns to pour his Wahaka Mezcal (wahakamezcal.com) in Santa Barbara this Saturday, August 31, at the fourth annual Tequila Harvest Festival in Elings Park (1298 Las Positas Rd.), which features more than 25 tequila and mezcal brands, as well as food, live music, freshly rolled cigars, and more. The event takes place 4-7 p.m. (3pm for VIPs), and tickets cost $65-$100. Visit agaveavenue.com for info.