Film & TV
Review: Gravity
Sandra Bullock and George Clooney star in a film written by Alfonso Cuarón and Jonás Cuarón" Jonás Cuarón and directed by Alfonso Cuarón.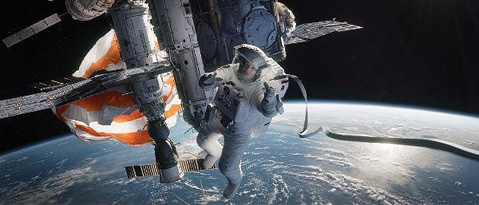 "Space is the place," according to the late great avant-jazz icon Sun Ra. Sandra Bullock, a beleaguered and gravity-deprived astronaut in distress, expresses a different opinion deep into her travails in Alfonso Cuarón's striking new film, Gravity: "I hate space."
Well, okay, I take that muttered comment out of context. In fact, Bullock's Ryan is an earthling with a sad backstory on terra firma, who loves the quiet, the vastness, and the cosmic vantage point of space, as seen from her slowly drifting, gravity-challenged perspective. But the plot thickens when her mission, with goofy quipster astronaut Matt Kowalski (played by George Clooney), is threatened by human error: a Russian antisatellite test resulting in hailstorms of deadly cosmic shrapnel. Kowalski at one point gives a mock weather report of "clear skies, with chances of satellite debris." Elsewhere in this hypnotic, organically suspenseful, and remarkable film, he sums up the dichotomy of the wonder and fragility of life "up there" by saying, "I'll admit one thing. Can't beat the view."
Just as the title itself has a minimal bluntness and doubled-up meaning, Gravity is a beautifully realized, spare, yet genuinely spacious (including the stunning ersatz spatiality of artfully deployed 3-D) film, teeming with references to modern science and modern existential angst. Alfonso Cuarón, one of the handful of Mexican-born directors on the scene, is a masterful filmmaker, who brings a freshness and empathetic power to his various cinematic worlds, whether the libidinal vertigo of the great road movie Y Tu Mamá Tambien or the vivid mise-en-scène of the apocalyptic end-gaming film Children of Men. In what is an odd combo of a virtual one-woman show — Bullock, in unusually strong form, essentially carries the film in eerie floating mode, except when strapped into a command module — and a metaphorical misadventure, Gravity carves out a place for itself in the ranks of space cinema. We may be reminded, in a general way, of the fear and torpor of another lost-astronaut film, Marooned, of Andrei Tarkovsky's Stalker, or even the man/machine/void trip of 2001: A Space Odyssey, but this is a new kind of allegorically lined, empathetic odyssey. Gravity gravely — and humanely — goes where many have gone before, but with a new cinematic view.