Food & Drink
Global Gardens Café Opens in Los Alamos
Local Food Scores an Olive-Oil-Led Menu
"I'm trying to decide what I want to be when I grow up," jokes Theo Stephan, who has just opened Global Gardens' Caliterranean Café in Los Alamos. She started her olive-oil and gourmet-food business in 1998, opened a storefront in Los Olivos in 2006, and says of her latest venture, "I always told the kids I'd never open a restaurant, so I'm calling this a culinary and tasting experience. It's my excuse to get the commercial kitchen and the baker's oven I always wanted."
Seriously, the spot is adding to Los Alamos's ever-growing foodie cred, with Stephan developing a different menu each week to serve lunch and dinner, Thursday-Sunday. "We post the menu on Facebook as our new website is under construction," she explains. "Whenever we did tastings, people would say to us, 'I want to come to your house for dinner,' and now they can."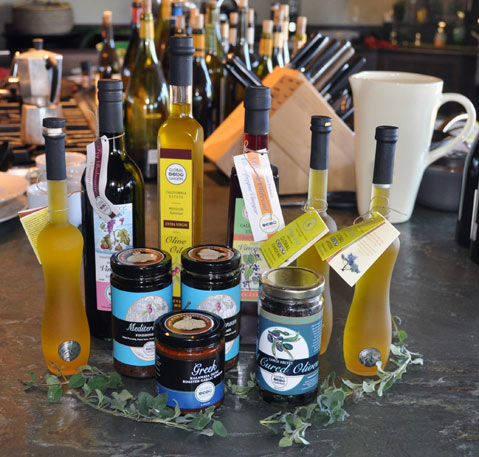 The menus feature Stephan's signature food style Caliterranean — that's a portmanteau of Californian and Mediterranean, awash in the fine olive oil she produces. "Caliterranean eating is a more plant-based diet, 85 percent vegetarian, but we also serve meat and cheese," says Stephan, who is especially fond of serving DeyDey's Best Beef Ever, "the most perfectly marbled grass-fed beef I've worked with."
A typical weekly menu features five or six well-priced mains and three desserts. The mains will include a daily dip and a protein power plate, but those change with the seasons — recent offerings included either a curry or Kalamata-olive yogurt dip with veggies, a ciabatta roll and focaccia square, and a protein plate of roasted almonds, Holey Cow "Swiss" cheese, chèvre cheese balls, and olives. "If people eat here, they're going to taste something really fresh that tastes really good," Stephan asserts. "I'm big on creating intense and memorable flavors."
She also wants you to be able to replicate the meals at home, claiming, "We have an area in the store called 'Now Playing' that shows what products are in each week's menu." So if you like your meal, you can buy that California Estate Mission Blood Orange Extra Virgin Olive Oil or Mexican Chipotle Mustard — perhaps even the Olive Oil and Vinegar for Life cookbook — and get Caliterranean in your own home kitchen.
And if you eat outside at the new location, you might be dining right where your food came from — there are Montecito Urban Farms Tower Gardens, planters along the walls, and even plants growing in the building's gutters. "They are not just for show, oh my gosh, no," Stephan insists. "We did at least a dozen salads from our own gardens last weekend, and that's just going to increase. We're also planting a much larger garden in the back."
Stephan is sharing her spot with the Casa Dumetz tasting room, recently expanded and moved down the Bell Street block. "It's been fantastic," Stephan says. "Sonja [Magdevski, owner and winemaker at Casa Dumetz] and I have so much in common — her parents are from the same region in Macedonia that my father is from. We're not business partners, but our core business philosophy is the same. And we hope this spot is a place to pull up a barstool to eat or taste and chat. We have a great sisterhood, and I think it's going to get stronger and stronger."
It's Stephan's daughter Ani who is the driving force behind the ice creams, as she's loved them since she was very young: As Stephan says, "Her sister would take money for good grades; she'd take ice cream." Of course at Global Gardens, the ice cream is olive-oil based, which means "it has a different creaminess" that leads Stephan to claim, "We really want to take the ice cream somewhere." For now, you just have to take yourself to Los Alamos to enjoy it. There will be a pumpkin flavor all through the fall.
4•1•1
Delight in the deliciously local at Global Gardens' Caliterranean Café (380 Bell St., Los Alamos). Call (805) 344-2222 or visit globalgardensonline.com.