Food & Drink
Chef Suzanne Goin Comes to Town
The Hungry Cat Hosts Dinner Celebrating The AOC Cookbook
Award-winning chef and restaurateur Suzanne Goin has quite a bit on her proverbial plate. Along with partner Caroline Styne, Goin runs Los Angeles restaurants A.O.C. (which just moved), Lucques, Tavern, and The Larder (which will soon have another location in LAX), and she's just published her second recipe collection, The A.O.C. Cookbook. Despite the fact that women tend to be overlooked when people think about superstar chefs (see: Time magazine's "Gods of Food"), Goin has earned plenty of recognition: In 1999, she was named one of Food & Wine's Best New Chefs, and in 2006 won the James Beard Award for Best Chef California and the James Beard Award for Best Cookbook. Her husband, chef David Lentz, is executive chef of The Hungry Cat restaurants and will host Goin this Monday for a special cookbook dinner at The Hungry Cat on Chapala Street, where guests will be treated to some of A.O.C.'s most beloved dishes (including bacon-wrapped dates, black bass with fennel puree and green harissa, and pork cheeks with mustard cream and horseradish gremolata) in a four-course meal that's sure to make you purr.
Here, we talk expansion, collaborating with a spouse, and that Time story.
This is your second cookbook. What inspired you to write another? I really enjoyed writing the first book and get great satisfaction having something that's permanent — unlike a meal that people eat in less than two hours and is gone! Also, restaurants are kind of like children, and I wanted to honor and represent my second "child" (A.O.C.) like I did my firstborn (Lucques). The book is for avid home cooks who really enjoy cooking … but also for people who love food and want to learn the craft of cooking. I went to great lengths to explain why I do what I do, why certain techniques are important, and why it's worth doing them (plus, of course, how to do them).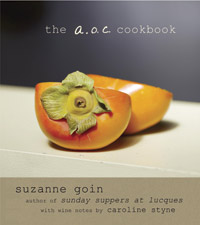 You and Caroline seem to have a really great, definitely really prolific partnership. What's it been like working together all this time? I'm very lucky to have Caroline as my partner — I think we double or maybe triple each other's powers. … When you have that other person to lean on and go through things with, it gives you more energy and a more well-rounded view of what to do and what not to do. It's sort of like a marriage: We joke that we're "restaurant wives" — we've been partners for over 16 years and, like any marriage, have had our ups and downs and really gotten to know each other. … It's so nice to have someone going through the fun part and the hard part with me.
For a while there was talk of you opening a new spot in Montecito. What happened there? Caroline and I both love Santa Barbara and Montecito. A deal was brought to us, and it sounded really great. We worked on it for almost a year, but for reasons beyond our control it didn't work out. I'm not necessarily a "things happen for a reason" person, but a lot of things took off for us in L.A.: We moved A.O.C. after 10 years, finally found a wholesale baking space, are opening at LAX — so it probably just wasn't the right time. We are not considering anything new in 2014 because we're maxed out taking care of all of our new (and old!) places, but who knows about the future. We definitely love that area!
In Santa Barbara, the closest we can get to a taste of your style is the Hungry Cat, originally a collaboration between you and your husband [chef David Lentz]. What's it like working together? Really The Hungry Cat is David's place. We worked on the concept together in the beginning, but really my role was to encourage him to do his thing and create a personal restaurant, which The Hungry Cat is. We're better off working at our own places and coming home to each other to tell our stories of the day, but not have our workdays intertwined. We've gotten better at working in the kitchen together at home, but when we first met we couldn't even agree on cooking Thanksgiving! You know, "too many chefs …" Really, there's only room for one per kitchen!
There are some interesting stereotypes that exist about professional chefs. What was it like entering that world as a woman, when you did, and how have things changed? I can only speak to my experience and hate to generalize for the whole gender. My mom's a doctor, and my sister and I were raised basically having no idea that anyone thought women were any lesser than men. So that gave me a good amount of confidence going out into the world. Secondly, I worked for a lot of great and famous women chefs: Johanne Killeen at Alforno in Providence, Jody Adams at Michaela's (now Rialto) in Boston, Alice Waters at Chez Panisse, Nancy Silverton at Campanile. But also pretty much all the male chefs I worked for (except one unnamed French chef) seem to judge on your talent, not your gender. … As women in the kitchen, you have to come in confident (or pretending to be confident), and you definitely have to work at least as hard as the guys to prove yourself.
What did you make of Time magazine's "Gods of Food" list? It doesn't highlight any female chefs, though it does mention a couple, and listed no women in its "family tree" of chef influence and lineage. There are women on that list. I think the whole thing was made worse by [Time magazine editor Howard Chua-Eoan's] pathetic and clueless responses to an interview about it on Eater. … And the chefs they chose [as most influential, topping the "family tree"] were all men. For me, Alice Waters should have been on that list. She changed the way people eat and think about food, and including her would have included under her umbrella many women — and great male — chefs.
You've done a lot of expanding recently, and most interesting might be the foray into LAX. What's happening there? We haven't opened LAX yet. It keeps getting delayed, maybe for the best for us because now The Larder at Burton Way is open, the book is out, A.O.C. is moved, and the new bakery is open. Phew, it's been a crazy year of expanding … great, but not going to do that again any time soon — or ever!
4•1•1
Suzanne Goin's cookbook dinner takes place Monday, December 2, 5-10 p.m., at The Hungry Cat (1134 Chapala St.). Dinner is $60 per person and an additional $35 for wine pairings by Caroline Styne. Signed cookbooks will be available for purchase. Call 884-4701 for reservations.