Food & Drink
The Evening SB Dining Got Goin
The a.o.c. cookbook Dinner at Hungry Cat, December 2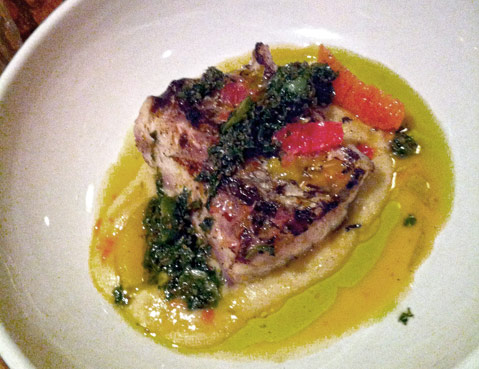 It hurts even more now, that Suzanne Goin and Caroline Styne's restaurant project rumored to be coming to Montecito isn't. That's because Goin and Styne brought their acclaimed Los Angeles hotspot a.o.c. to Santa Barbara for an evening on December 2 and that dinner was a total delight. Of her many going concerns now, from Lucques to the Tavern to the Larder, a.o.c. is where she helped birth the small plates revolution. I like to think of Goin as an ascetic sensualist with enough talent to make that seeming contradiction not just work, but illuminate, refreshing a diner's jaded mind and palate. There's never an ingredient wasted on a plate, but what is there adds up to a whole beyond her always market-driven ingredients.
Take course two for the evening that celebrated the release of the a.o.c. cookbook, following the painstaking but perfect Sunday Suppers at Lucques. That course was a salad, a biting pile of dandelion greens dressed just enough to be oiled, integrated with a number of roasted carrots, long as pencils and even sweeter than fresh carrots thanks to their caramelizing time in the oven. To that she added a sprinkling of black olive slices and a scatter of Cotija cheese, both bringing salt variations you need with greens. Simple, somewhat different, utterly delicious.
Styne, as usual serving as somm, picked wines to go with each course, surprisingly none from California, let alone Santa Barbara (but, of course, the whole a.o.c. idea is European, so when in the appellation…). That salad, for instance, came with a 2011 André and Michel Quenard Chignin-Bergeron (the menu misprinted "chignon," but no hairdo however fashionable was involved), a subtle pairing if ever there was one as Roussanne from the Savoy is milder to the point you can practically taste its Alpine-ness (as opposed to that from the Rhone, or particularly from the US). All one could want of it was more (the wine pours did seem a tad stingy all night, to tell the truth).
As it should be, course III, that is the main, stole the show, a scrumptious bowl of grilled bass atop a fennel puree, and all of that topped by citrus supremes (mostly grapefruit) and a green olive/green harissa with just a hint of heat but more than anything wildly warming flavor. You never lost track of the beautiful fish (there is an art to grilling it just right, you know, or at least Goin does), but all the other piquant flavors took that fish on one last terrific swim. That Styne opted to pair the dish with a red, and a mostly Nebbiolo blend at that, just added to the audacity, even if the 2011 Vallana, Spanna, Colline Novaresi is far from as tarry a wine as a Barolo – see, those A.O.C.'s matter after all.
I only regret I won't go on and on about the bacon-wrapped dates with parmesan and pork rillettes that kicked the meal off and the St. Agur with marscapone (how rich can you make your blue – very, it turns out) and pumpkin fritters with chocolate sauce and candied pepitas that put every churro ever fried to shame that ended the meal.
And I slightly regret the service, as the Hungry Cat, which hosted the evening – since Goin's husband is Hungry Cat owner/chef David Lentz – seemed a bit overwhelmed by the turnout. Wines came a bit late after courses so you had to worry about missing the fine pairings Styne designed; a possible veggie option for the meaty first course that was hinted at never came for our one non-carnivorous party member; our credit cards sat atop the bill for a good twenty minutes after the meal was done and we hoped to leave (it was a work night, after all).
The good news is Goin herself still hopes something will happen with her ever-growing empire – now there's an 8000 square foot commercial bead bakery she's opening, if Eater can be trusted – in Santa Barbara, or so she intimated. Please, oh please.