Cover Story
'Tis the Season 2013
S.B.'s Complete Guide to Holiday Splendor and Merrymaking
by Terry Ortega with Jake Blair and Ginny Chung
No matter what time of year, Santa Barbara remains charming, but it's safe to say that our county is at its most enchanting during the holiday season. From walking down State Street amid its twinkling lights to sipping hot cocoa at a neighborhood coffee shop with a friend, it's the little things that make this time of year so enjoyable. So, be sure and take a well-deserved break from working, shopping, parenting, or homework to gaze at the glittering boats in the harbor or attend the 61st Holiday Parade, featuring this year's grand marshal, actor Michael Imperioli, or, another favorite, the living nativity at the Old Mission on Christmas Eve — because honestly, who doesn't love goats?
Parades
61st Annual Downtown Holiday Parade
Kicking off with the lighting of the tree by the Christmas prince and fairy, this king of holiday traditions in Santa Barbara brings the city alive with holiday cheer. More than 50,000 spectators will line the sides of State Street and wave at a brilliant host of floats, bands, entertainers, Parade Marshall Michael Imperioli (The Sopranos), and of course … Santa! And, immediately following the parade, more good tidings will be exchanged in De la Guerra Plaza.
Fri., Dec. 6, 6pm. Parade travels down State St. from Sola (1300 block) to Cota (600 block) sts. Free. Call 962-2098.
Solvang Julefest Christmas Parade
Solvang continues its tradition of taking the holidays to entirely new levels in its annual Julefest Celebration, kicked off by a parade that travels through Solvang's charming downtown. This year's lineup includes Danish dancers (because it's Solvang), vintage vehicles, horses, and Santa!
Sat., Dec. 7, 11am. Parade starts at Old Mission Santa Inés (1760 Mission Dr.), travels west on Mission Dr. (Hwy. 246), turns left on Fourth Pl., left on Copenhagen Dr., left on Alisal, and ends on Mission Dr. Free. Call 688-6144.
Annual Parade of Lights
What better way to celebrate the holidays on the coast than watching festively decorated boats from along the breakwater or on Stearns Wharf? This "Rock'n & Roll'n Holiday"–themed parade is preceded by a Santa's Village activity celebration on Stearns Wharf in the Harbor with a short fireworks display immediately following the parade.
Sun., Dec. 8., 3pm. Parade: 5:30pm. Parade occurs in the water visible from Santa Barbara Harbor, Stearns Wharf, and West Beach (off of Cabrillo Blvd.). Free. Call 963-0611.
Carpinteria Holiday Spirit Parade
Area dancers, musicians, and all-around cheer-spreaders will assemble in this unique community celebration of the holidays. Who knows, Santa might even show up!
Sat., Dec. 14, 3pm. Parade kicks off at the intersection of 6th St. and Linden Ave. and finishes on 9th St. in Parking Lot #1. Free. Call 684-4264.
60th Annual Milpas Holiday Parade
In an exciting development, this year's parade will take place at night, meaning all floats and participants will be lit by street and twinkle lights, truly making this a "A Magical Night on Milpas," which is this year's theme. Preceding the parade will be a toy drive and classic-car show.
Sat., Dec. 14. Car show and toy drive: 2-4pm. Parade: 5pm. The parade travels down Milpas St. from Canon Perdido to Mason sts. Free. Call 636-0475.
Tree Lightings
Downtown Santa Barbara Christmas Tree Lighting
At the kickoff of the downtown parade, the tree is lit by this year's prince and fairy!
Fri., Dec. 6, 6:30pm. State and Sola sts. Call 962-2098.
Solvang Julefest Tree Lighting Ceremony
This holiday tradition includes free treats, dancers, and the triumphant arrival of Santa Claus!
Fri., Dec. 6, 5pm. 486 1st St., Solvang. Call 688-6144.
Bacara Christmas Tree Lighting Ceremony
For four nights, this magical tree sculpture by area artist David Shelton will be lit, complemented by plenty of hot cider and cookies.
Sat., Dec. 21 - Tue., Dec. 24, 4:30pm. Bacara Resort & Spa, 8301 Hollister Ave. Call 968-0100.
Light Up a Life Celebration
Hospice of Santa Barbara will host three special nights of remembrance this holiday season, giving folks a chance to celebrate the lives and memories of their loved ones with a memorial star.
Goleta: Sat., Dec. 7, 5:30pm, Camino Real Marketplace, 7004 Marketplace Dr.;
Santa Barbara: Sun., Dec. 8, 5:30pm, Casa de la Guerra, 15 E. De la Guerra St.; Carpinteria: Sat., Dec. 14, 5:30pm, Seal Fountain at Linden Plaza, Linden Ave. Suggested donation for a star: $15. Call 563-8820.
Schedule of Holiday Singing
Noël Carolers Strolling Along State St.
Sat., Dec. 14, 11:30am-1pm. Strolling downtown State St.
San Marcos High School Choir
Sat., Dec. 14, 2-3:30pm. Marshalls Patio, 900 State St.
Monroe Elementary Glee Club
Sat., Dec. 14, 2-3:30pm. Santa Barbara Museum of Art, corner of State and Anapamu sts.
D'Palmsemble Music Project
Sun., Dec. 15 and 22, 2-4pm. Marshalls Patio, 900 State St.
Inner Light Community Gospel Choir
Sun., Dec. 15, noon-2pm. Strolling downtown State St.
Channel City Chorus
Sat. and Sun., Dec. 21 and 22, noon-2pm. Strolling downtown State St.
The Holiday Horns
Sat., Dec. 21, 2-4pm. Marshalls Patio, 900 State St.
Holiday Fun for All Ages
Family Chanukah Party
Join for a slate of seasonal dancing, games, crafts, and latkes. Additionally, there will be a raffle held for a basket of Chanukah gifts, and toiletry donations will be accepted on behalf of Angels Bearing Gifts, with a portion of the evening's proceeds going to the nonprofit's cause.
Thu., Dec. 5, 5pm. Bronfman Family Jewish Community Ctr., 524 Chapala St. Free-$5. Call 957-1115.
Solvang on Ice
For the first time ever, Solvang will have a skating rink! Each session lasts 40 minutes, and tickets (which include skate rental) should be purchased in advance.
Fri., Dec. 6 - Sun., Dec. 8, 9am. Solvang Park, 468 1st St. $9-$12. Call 688-6144 or visit julefestsolvang.com.
Olde Fashioned Christmas in Downtown Los Olivos
Christmas has never been quainter, with downtown Los Olivos transformed into a small-town holiday wonderland harking back to simpler times, complete with music, carolers, and Grandma's famous cookies.
Sat., Dec. 7, 4-7pm. Downtown Los Olivos. Free. Call 688-0305.
S'moresFest!
This veritable candyland will have something for everyone, with plenty of candy-centric activities for the sweet-toothed and music from area favorites The Molly Ringwald Project. Tickets include s'mores and all of the hot chocolate you could possibly drink.
Sat., Dec. 14, 4-7pm. Solvang Park, 486 1st St., Solvang. $10-$17. Call 688-6144.
Shop 'n' Roll: Roller Rink and Food Court
This festival is sure to make Earl Warren Showgrounds the place to be for wintertime fun. The main arena will be converted to a roller rink, complete with a food court serviced by a brigade of food trucks. Skate rentals range from $10-$16, pads and helmets of all sizes are available, and skate lessons can be booked for those looking to take their skating to the next level. Proceeds from this event will benefit the SBCC Center for Sustainability and the Eco-Entrepreneurship Program.
Fri., Dec. 14 - Sun., Dec. 22. Mon.-Thu.: 11am-9pm; Fri.-Sun.: 11am-10pm. Earl Warren Showgrounds, 3400 Calle Real. Free-$5. Call 628-2696 or visit shopnrollsb.com.
Holiday at the Ranch
Find your holiday spirit the old-fashioned way in this rustic celebration of yuletide that comes complete with live music, crafts, story time, and whatever "rein-goats" are (probably magic flying goats, but that's just a guess).
Sun.-Mon., Dec. 14-15, 1-4pm, 11am-4pm. Rancho La Patera, 304 N. Los Carneros Rd., Goleta. $2-$5. Call 681-7216.
Especially Fun for Children
Santa at La Cumbre Plaza
Get a photo taken with the bearded man himself and visit his delightful holiday home, conveniently located between Macy's and Pottery Barn.
Through Tue., Dec. 24, Mon.-Sat.: 10am-7pm; Sun.: 10am-5pm. La Cumbre Plaza, 121 S. Hope Ave. Call 687-6458.
Candy Cane Train
Treat your little ones, naughty or nice, to a ride on the elaborately decorated miniature Candy Cane Train (riders must be at least 34 tall). And, while you're at it, take in the newly minted "Toy Trains and Teddy Bears" display at the museum!
Through Dec. 24. Closed Dec. 10-11. Weekends: 1-4pm; weekdays: 2-4pm. South Coast Railroad Museum, 300 N. Los Carneros, Goleta. $4. Call 964-3540.
Holiday Nature Craft Workshop
Create and craft gifts and trinkets, with an array of natural supplies and goods provided by the botanic garden! Project opportunities include the creation of wreaths and ornaments, and there will be plenty of cider to sip.
Sat., Dec. 7, 10am-noon. S.B. Botanic Garden, 212 Mission Canyon Rd. $5-$15. Call 682-4726.
Christmas in the Lincoln White House
President Abraham Lincoln presenter and historian John Voehl, in full costume and persona, will give a first-person portrayal of the Lincoln family Christmases at two branches of the Santa Barbara Public Library System.
Thu., Dec. 5, 6pm, Solvang Library, 1745 Mission Dr., Solvang, 688-4214; Sun., Dec. 8, 2pm, S.B. Central Library, 40 E. Anapamu St. Call 564-5604.
Snow Leopard Festival
More than 80 tons of snow (that's 160,000 lbs., if you're curious) will be trucked into the zoo, morphing one of the Central Coast's most beloved destinations into a habitat fit for the endangered snow leopards, the preservation and protection of which this event aims to promote.
Sun., Dec. 8, 10am-3pm. Santa Barbara Zoo, 500 Niños Dr. Free-$19. Call 962-5339.
Winter FUNderland
Keeping with the theme of holiday transformations, the Winter FUNderland will see the Natural History Museum become a veritable yuletide extravaganza, complete with BBQ from the famed Georgia's Smokehouse food truck, face-painting, crafts, a special presentation in the planetarium, and a meet and greet with winter animals at the "zoo and you" presentation at 2pm. Parents can even get some holiday shopping done while kids listen to traditional Chumash stories.
Sat., Dec. 14, 10am-4pm. S.B. Museum of Natural History, 2558 Puesta del Sol. Free-$12. Call 682-4711.
"The Act of Giving" Craft Workshop
This workshop gives kids ages 5-12 a chance to be inspired by the works on display in the museum, using their new perspectives to produce some work of their own in the shape of ornaments, cards, and prints.
Sat., Dec. 14, 9am-3pm. S.B. Museum of Art, 1130 State St. $65-$75. Call 963-4364.
Winter Decorations Teen Craft Workshop
Junior high and high school students are invited to turn paper into extraordinary snowflakes, ballerinas, and calling-bird ornaments. Preregistration is recommended.
Sat., Dec. 7, 2:30-4:30pm. Townley Rm., S.B. Central Library, 40 E. Anapamu St. Free. Call 564-5646 or visit sbplibrary.org.
Holiday Markets
The Yes Store: 45th Anniversary
A celebration of Santa Barbara's longest-running artisan co-op. This year's hand-crafted holiday offerings include (but are far from limited to) pottery, jewelry, sculptures, and woodworking.
Through Dec. 24, 10am-9pm. The Yes Store, 629 State St. Call 966-9777.
Holiday Pottery Sale
Find that special, one-of-a-kind gift at this sale of spectacular ceramic works, hand-made by faculty and staff.
Fri., Dec. 6, 9am-5pm. Allan Hancock College, 800 S. College Dr., Santa Maria. Works are $5-$75. Call 922-6966.
Folk and Tribal Arts Marketplace
Collectors, art lovers, and holiday shoppers will love this sale of all things rare and whimsical, the largest folk art show in Southern California! With goods from more than 50 countries, a trip around this market and tantalizing cuisine at the Tribal Arts Café will feel like an adventure in and of itself. Proceeds benefit the museum's exhibits and educational programs.
Fri., Dec. 6, 10am-7pm; Sat., Dec. 7 - Sun., Dec. 8, 10am-5pm. S.B. Museum of Natural History, 2559 Puesta del Sol. Free. Call 682-4711.
Peabody Charter School Holiday Boutique
Handcrafted jewelry and candles are just some of the artisan goods being offered at this sale of one-of-a-kind wares, with proceeds benefiting Peabody School. Do it for the kids, won't you?
Sat., Dec. 7, 10am-3pm. Peabody School, 3018 Calle Noguera. Free. Call 451-7142.
Mercado y Fiesta de Navidad
Once a year, Casa Dolores brings artisans and collectors together for a mercado, where you can buy everything from small tin Christmas decorations and handwoven clothing to collectible pottery, toys, and jewelry. A Oaxacan artist will be carving alebrijes (brightly colored sculptures) on-site. There will be an arts-and-crafts table for the kids and a holiday party, too!
Sat., Dec. 7, 10am-4pm. Casa Dolores, 1023 Bath St. Free. Call 963-1032.
Tone-Up Santa Barbara Annual Holiday Boutique
Sip 'n' shop at this one-night-only holiday boutique, with vendors like Thomas Rhodes Jewelry, Bella Notte, and Cupcake Queen offering unique and classy gifts for everyone on your list.
Sat., Dec. 7, noon-5pm. Tone-Up Santa Barbara, 3006 De la Vina St. Call 682-2736.
Solvang Library Holiday Book Sale and Craft Fair
Give the gift of the written word, and save some dough in the process, with hardback books being offered at a mind-boggling $2 each and kids' books at an even more staggering 50 cents! Plus, there will be a bounty of handmade goods to complement this literary fire-sale, with proceeds of all sales benefiting the library.
Sat., Dec. 14, 10am-3pm. Solvang Library, 1745 Mission Dr., Solvang. Call 688-4214.
Girls Inc. of Greater Santa Barbara Holiday Book Sale
Pick out a new or used book on sale starting at $1, just in time for gift giving. Sales benefit the organization's library and literacy program.
Through Dec. 6, 5-6pm; Girls Inc., 531 E. Ortega St. Free. Call 963-4017.
Breast Cancer Resource Center Annual Holiday Tea, Fashion Show, and Jewelry Boutique
Watch winter fashions modeled by BCRC clients while enjoying a light lunch, divine desserts, and tea. There will be a jewelry boutique, raffle, and silent auction. Funds benefit BCRC educational programs and services addressing the needs of those with breast cancer.
Sun., Dec. 8, noon-3pm. Four Seasons The Biltmore, 1260 Channel Dr. $75. Call 569-9693.
Christmas Art & Craft Fair
Living Faith Church's Women's group provide an opportunity to support area artists and find the perfect holiday gift and the ideal baked good. Proceeds will go to the Teen Challenge Women's group in Ventura.
Sat., Dec. 7, 11am-4pm. Living Faith Ctr., 4597 Hollister Ave. Call 453-7254.
The 6th Annual Holiday Massage Gallery Gift Boutique
Listen to live music as you look at and buy works featured by South Coast artists and crafters. Raffles will be held to benefit Girls Inc. of Greater S.B.
Sat., Dec. 7 and 14, 11am-5pm. The Massage Gallery, 1506 Chapala St. Free. Call 448-8967.
Theater/Dance
A Rubicon Family Christmas Concert
The candles are lit, and the halls are decked. All is in the readiness for this Christmas concert that offers a mix of traditional carols, pop hits, and Broadway standards sung by six stars of shows including Cats, Phantom of the Opera, and Rent.
Thu.-Fri., Dec. 5-6, 8pm. Sat., Dec. 7, 2 and 8pm; Sun., Dec. 8, 2pm. Rubicon Theatre, 1006 E. Main St., Ventura. $20-$59. Call 667-2900.
Little Miss Scrooge
This Dickensian musical extravaganza follows Estella Scrooge, a young Wall Street tycoon and direct descendant of Ebenezer, who travels to Pickwick, Ohio, on Christmas. Part love story, part ghost story, Little Miss Scrooge is a testament to Charles Dickens's passionate belief in social reform and the overwhelming power of human kindness and generosity.
Wed. and Sun., Dec. 18 and 22, 2 and 7pm; Thu.-Fri., Dec. 19-20, 8pm; Sat., Dec. 21, 2 and 8pm; Mon., Dec. 23, 7pm. Rubicon Theatre, 1006 E. Main St., Ventura. $20-$59. Call 667-2900.
Miracle on 34th Street
Come watch the movie about Kris, an old gentleman who really seems to believe he is Santa Claus and becomes the department store Santa at Macy's.
Shows through Dec. 22. Fri.-Sat.: 7pm; Sun.: 2pm. Ojai Center for the Arts, 113 S. Montgomery St., Ojai. $10-$15. Call 640-8797 or visit ojaiact.org.
A Christmas Carol
Calling all Scrooges; you know who you are. Enjoy this annual tradition of this Dickens classic story of redemption and the true meaning of Christmas, starring an all-local cast.
Shows through Dec. 8. Fri.-Sat.: 7pm; Sun.: 2pm. Plaza Playhouse Theater, 4916 Carpinteria Ave., Carpinteria. $7-$12. Call 684-6380.
Rudolph
Gustafson Dance featuring members of the State Street Ballet Young Dancers perform this holiday story we all know, but this one is on toe shoes! Rudolph, the abominable snowman, the Misfit Toys, and Santa will all be in this special production.
Sat., Dec. 7, 2 and 6pm. Lobero Theatre, 33 E. Canon Perdido St. $14-$25. Call 963-0761.
The Nutcracker
The Goleta School of Ballet presents its 28th annual Nutcracker performance, the holiday classic that has been a family Christmas tradition for more than a century.
Sat.-Sun., Dec. 7-8, 3-5:30pm. Marjorie Luke Theatre, 721 E. Cota St. $18. Call 328-3823.
The Nutcracker Tutu Suite
The Goleta School of Ballet presents its children's division performing its version of The Nutcracker, otherwise known as teeny tots in tiny tutus.
Sat., Dec. 21, 1:30pm. San Marcos High School Auditorium, 4750 Hollister Ave. $5. Call 328-3823.
Santa Barbara Festival Ballet's The Nutcracker
Celebrating its 39th year, the SBFB takes you on a magical journey with Clara and her Nutcracker Prince. A cast of 100 and a full symphony orchestra will perform.
Sat., Dec. 14, 2:30 and 7pm; Sun., Dec. 15, 2:30pm. $21-$52. Arlington Theatre, 1317 State St. Call 963-4408.
Solvang Nativity Pageant
The "Christmas Story" comes to life with a choir, actors, and live animals onstage. Seating is first come, first entertained.
Sat., Dec. 14, 5 and 7pm. Solvang Festival Theater, 420 2nd St., Solvang. Free. Call 688-6144.
The Christmas Revels: In Celebration of the Winter Solstice
The Spirits of Haddon Hall features 800 years of glorious English and European music, dances, and stories that share the stage with ghostly generations inhabiting this historic manor house.
Sat., Dec. 21, 2:30 and 7:30pm; Sun., Dec. 22, 2:30pm. Lobero Theatre, 33 E. Canon Perdido St. Free-$40 (ask about the family discount). Call 963-0761.
The Montecito School of Ballet Presents A Winter Wonderland
These three original ballets that celebrate the Christmas season were inspired by the Royal Ballet of England.
Sat., Dec. 14, 7:30pm; Sun., Dec. 15, 3pm. Marjorie Luke Theatre, 721 E. Cota St. $12-$17. Call 560-0597.
Music
Pink Martini Holiday Show
A charming and wholly unique musical experience, Pink Martini returns to Santa Barbara with Portland's 12-piece "Little Orchestra" led by the one-and-only China Forbes, with the eternally zestful Thomas Lauderdale on piano.
Thu., Dec. 5, 8pm. Arlington Theatre, 1317 State St. $23-$153. Call 893-3535.
Mannheim Steamroller Christmas by Chip Davis
Chip Davis and Jackson Berkey changed the Christmas Music landscape in one fell swoop with the fast-paced, classically minded electro-ballads of Manheim Steamroller. Take advantage of this rare opportunity to see them perform live so that the next time you hear their music playing at a Christmas party, you can nonchalantly say, "Eh, they're better live."
Thu., Dec. 5, 8pm. Granada Theatre, 1214 State St. $33-$85. Call 899-2222.
Songs on a Mid-Winter's Night
Organizers ask that you bring a toy for the Unity Shoppe's annual toy drive as your admission fee to this music and art gathering that aims to strengthen communal bonds and spread the joy of this holiday season.
Fri., Dec. 6, 7:30pm. Cambridge Drive Community Church, 550 Cambridge Dr., Goleta. Free. Call 964-0436.
Westmont Christmas Festival
Westmont College flexes all of its musical muscles every year in the Christmas festival, taking full advantage of this breathtaking venue. Stunning renditions of Christmas ballads both well known and obscure are woven together for a seasonal celebration that's become an annual highlight.
Fri.-Sat., Dec. 6-7, 8pm.; Sun., Dec. 8, 3pm. First Presbyterian Church, 21 E. Constance Ave. $5-$10. Call 565-7140.
Trinity Episcopal Advent Organ Series: Kevin Rose
This is the second of a four-part performance series that prompts noted artists to share their interpretations of Advent and Christmas music using this most dramatic of musical instruments.
Sun., Dec. 8, 3:30pm. Trinity Episcopal Church, 1500 State St. Free. Call 965-7419.
Messiah Sing-Along
Phillip McLendon will conduct this performance of George Frideric Handel's choral masterpiece Messiah by an orchestra assembled by James Mooy, with a slate of noted solo artists. There is a catch: There is no chorus, save for the audience! Sing your heart out with world-class musical accompaniment at your back.
Tue., Dec. 10, 7:30pm. First Presbyterian Church, 21 E. Constance Ave. $10. Call 565-7140.
22nd Annual TubaChristmas Performance
A host of more than 40 brass musicians of all ages will perform renditions of traditional Christmas carols, in conjunction with performances taking place all over world as a tribute to the late William J. Bell. This year marks the 22nd performance in Santa Barbara and the 38th in the world, and will be conducted by Santa Barbara City College Band Director Eric Heidner.
Sat., Dec. 14, noon. Storke Placita, 700 block of State St. Free. Call 962-2098.
Santa Barbara Choral Society's Hallelujah Project
Let this chorus of more than 90 area singers and performers, highlighted by Metropolitan Opera tenor Eduardo Villa, transport you and yours into seasonal bliss with a performance of holiday music. This year's show will also mark the first performance of the Hallelujah Project Children's Chorus!
Sat., Dec. 14, 8pm; Sun., Dec. 15, 3pm. Lobero Theatre, 33 E. Canon Perdido St. $26.50-$46.50. Call 963-0761.
Winter Concert
Musicians ages 5-18 will showcase their talents in multitiered ensemble performances, playing everything from Bach to Mendelssohn.
Sun., Dec. 15, 6pm. First Presbyterian Church, 21 E. Constance Ave. Free. Call 687-0754.
Trinity Episcopal Advent Organ Series: Emma Lou Diemer
In the third of a four-part exploration of the breadth and depth of musical expression, Diemer ushers audiences into hallowed space with a profound and soulful performance.
Sun., Dec. 15, 3:30pm. Trinity Episcopal Church, 1500 State St. Free. Call 965-7419.
The Venice Holiday Concert
Venice is a well-seasoned rock 'n' roll outfit, with each member's résumé flush with high-profile appearances and performances, with members having performed alongside or recorded with Bruce Springsteen, Jackson Browne, and Ozzy Osbourne, to name a few. If your desire for Christmas tunes has a slightly harder edge, it's hard to imagine a source better equipped to share holiday joy with electric guitar.
Sun., Dec. 15, 8:30pm. SOhO Restaurant & Music Club, 1221 State St. $25. Call 962-7776.
Dave Koz and Friends Christmas Tour 2013
For 16 years, Grammy-nominated saxophone extraordinaire Dave Koz (and a group of exceptional musical companions) have put a unique twist on holiday music classics, making for Christmas concerts that are truly fun for the whole family.
Mon., Dec. 16, 8pm. Granada Theatre, 1214 State St. $43-$93. Call 899-2222.
Community Christmas Carol Sing-Along & Wassail Party
These community sing-alongs are a tradition that's 20 years running, with voices from the community joining together in songs that have endured for generations. The poetry of Diane Wyman will be featured, and soprano/flutist Jane Hahn will lend a note or two for setting.
Fri., Dec. 20, 7:30-9pm. Trinity Episcopal Church, 1500 State St. Free. Call 965-7419.
Quire of Voyces' Mysteries of Christmas
One of Santa Barbara's most breathtaking venues will be brought alive by an a cappella performance from Quire of Voyces. Called a "voluptuous tapestry of sound, vocal purity, and radiant sonorities," this year's performance promises to entrance and inspire all who are fortunate enough to attend.
Sat., Dec. 21, 7pm; Sun., Dec. 22, 3pm. The Chapel at Garden Street Academy, 2300 Garden St.
$15-$20. Call 965-5935.
Trinity Episcopal Advent Organ Series: David A. Gell
The fourth and final performance of the Advent series, David Gell's performance on the church's organ is sure to delight audiences.
Sun., Dec. 22, 3:30pm. Trinity Episcopal Church, 1500 State St. Free. Call 965-7419.
18th Annual Santa Barbara Master Chorale Holiday Concert
This is not just a concert but a sing-along and a party, too! The Meistersingers featuring harpist Laurie Rasmussen will sing carols of the season.
Sun., Dec. 15, 7pm. Unitarian Society of S.B., 1535 Santa Barbara St. $10-$20. Call 964-3282.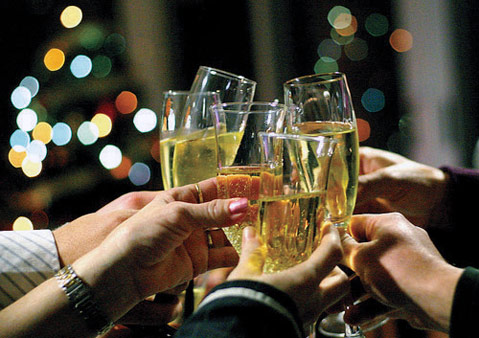 21+ Holiday Fun
7th Annual Vodka Latke Party
The Young Adult Division of the Jewish Federation's event will feature DJ Audio 77, dancing, a gourmet latke bar, appetizers, open bar, dreidel and casino games, and a Glohoop light performance! Casino Royale attire suggested.
Sat., Dec. 7, 7-11pm. S.B. Maritime Museum, 113 Harbor Wy., #190. $27-$30. Ages 21-45. Call 957-1115 x107.
Julefest Holiday Wine Walk
Get a taste of all that Solvang has to offer by taking a stroll among the 13 tasting rooms that have opened their doors and hearts in the name of Julefest cheer. Ticket includes a souvenir wine glass, which you can easily regift and present to your in-laws or boss.
Sat.-Sun., Dec. 14-15, 11am-4pm. Solvang Park, 486 1st St., Solvang. $40. Call 688-6144.