Film & TV
Mabon "Teenie" Hodges: A Portrait of a Memphis Soul Original
Director Susanna Vapnek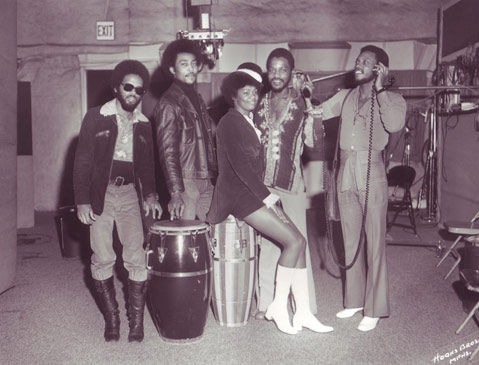 It was a chance encounter that led Santa Barbara artist Susanna Vapnek to Memphis soul legend Mabon "Teenie" Hodges. On the road with friend Cat Power (aka Chan Marshall) in 2006, Vapnek forged a fast friendship with Teenie, who had joined Marshall's ranks as lead guitarist. Over the course of that stint, Vapnek found herself taken by Teenie's stories, family, and musical history. (He'd cowritten songs with Al Green, including the ubiquitous — and oft-covered — hit "Take Me to the River.")
In the years that followed, Vapnek set off on a journey to make her first film, traveling back and forth to the Hodges' home in Memphis to tell their story. The result is Mabon "Teenie" Hodges: A Portrait of a Memphis Soul Original, a 40-minute-long film filled with behind-the-scenes tales, archival footage, and interviews with some of Memphis soul's greatest players.
Below, Vapnek talks about her unlikely foray into movie making, and why Teenie's story — and fashion sense — should be universally inspiring.
Can you tell me a bit about your relationship with Chan, and how that led you to Teenie?
I moved to New York in 1996, and Chan was my first real friend in the city. At the time my sister, Brett Vapnek, who is a filmmaker, was shooting Chan's first music video. Brett asked me to assist on the video — I was the only other person working on it, so we got to know each other quickly. Over the years, Chan and I remained very close.
In 2006 Chan had to cancel her tour for The Greatest, and I was actually the person that helped her sort of put her life back together and get back on the road. Because of that, she asked me as a friend to join her on tour for the album. I'll never forget when we were going to meet the entire band from Memphis, she said, "I know Teenie is going to be your favorite. You're going to love him."
She was right. He was just such a character. I've never met anybody like him. Over the tour, Teenie and I became great friends. He started telling me about his life and about Memphis, and I just became fascinated.
How long after meeting him did you start entertaining the idea of making a film?
I met Teenie in 2006, and I kept saying to anyone who would listen, "Somebody needs to make a movie about Teenie," not thinking that it would ever be me. Then in 2007, after the tour was over, I kept talking about him.
I said to my sister, Brett, "Somebody needs to make a documentary about Teenie." She said, "The only person who is going to make a documentary about Teenie is you. You should do it." At this point, I didn't have any film experience, except for helping on my sister's various film projects. I am trained as a painter and an artist, so I sort of had to take a leap of faith that I was capable of filming and making the documentary.
What was his initial reaction to being the subject of a documentary?
Teenie for some reason always believed in the project. I think he felt like he wanted to tell his side of the story. A lot of people outside of Memphis didn't know who he was. Almost any musicians you talk to will know who he is. A lot of people know the music he and his brothers played on, but they don't know about him. He was actually very open to the idea, and he trusted me. Of course along the way there were moments where he would say, "Please don't film this," and I always obeyed his wishes.
Was the Hodges family pretty willing to take part and open up on camera?
The Hodges family are some of the most incredible people I've ever met my life. They were all very willing to open up on camera to me. They got to know me over time and trusted me. The other thing that I'd like to say about them is that they're pretty open people in general. So I think it's just sort of a part of who they are to tell the truth and not to sugarcoat things from their lives.
What was your level of familiarity to soul music and its history prior to starting this project?
I had very little familiarity with soul music before starting this project. I knew who some of the artists were, like Otis Redding or Al Green, but I didn't know that the music was made at a specific studio in Memphis or even that it really came out of Memphis before I started this project.
You touch on a handful of topics — religion, civil rights, family — in a pretty short run time. What was the biggest challenge you faced in filming/editing this thing together?
My biggest challenge with this project was to make something that was accessible to someone who knew about the history of soul music and also for somebody who didn't. The hardest part, for me, was giving general background information while also telling Teenie's story. I also think a real challenge was making it feel authentic to Teenie and to who he is. To stay true to his spirit and keep that spirit running throughout the movie.
Given the room to stretch Teenie's story out to feature length, what do you think you'd want to focus on? What were some of the better moments left on the cutting-room floor?
I think I would put in more about the Hodges family history. There were a lot of details about growing up in the South from the '40s through the '60s. For example, Teenie and his siblings started chopping and picking cotton at age 8. The schools that they attended were segregated; at the African-American schools, their calendar was based around the schedule of cotton, and they were given time off during cotton season to go work in the fields. This is one reason Teenie started playing in a band professionally at age 12 — he wanted to keep earning money to help his 14-member family.
It would to be great to be able to talk about some of the other amazing artists that came out of Hi Records, too, like Ann Peebles … or some of the sessions that took place there, like Rod Stewart's recording of Atlantic Crossing.
I really wanted to include this hilarious story that Willie Mitchell told and that all the members of the band told. It doesn't start out funny, but while they were all on tour with the Willie Mitchell Band, they got into a really bad car accident. The van that they were all in flipped over several times. They all ended up having to go to the hospital and getting bandaged up. To show you how tough Willie was, he made the whole band perform that night. They said they were all bandaged up like mummies for the whole performance and were barely able to play their instruments.
What do you think makes a song timeless?
I'll use the song "Take Me to the River" as an example of that. It was recorded by so many different people, and everybody was able to put their own spin on it. The story of the song remains intact. You can use the Talking Heads version of "Take Me to the River" in stark contrast to Al Green's version. They are both so pleasurable to listen to.
Finally, what do you hope people take away from Teenie's story?
I just hope people realize that there's more to listening to Al Green's music than just Al Green. There's the genius of Willie Mitchell — who put the sound together, and hand picked each musician (including Green) for the sound he wanted. Then there was the genius of Teenie's songwriting abilities, his soulfulness, and his deep spirituality. And then the sound of the Hi Rhythm, who are bonded by this amazing, god-given sense of timing and rhythm.
I also hope that people are not afraid to dress as outrageously as Teenie every once in a while!
Check the latest schedule here.