Drink
Armada Wine & Beer Merchant Now Pouring
Ladies Helm the Ship at S.B.'s Newest Wine Bar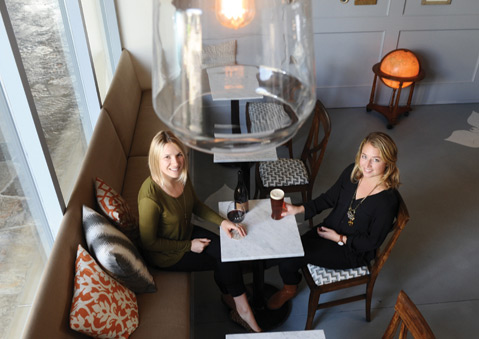 Tucker Huget and Jaime Heer, proprietors of Armada, Santa Barbara's newest wine and beer bar and mercantile, are having a chuckle. I'd asked what it's like to work in such a male-dominated industry — apparently the gender-ambiguous nature of their names combined with today's tendency to conduct business via email leads to a lot of surprised faces when new distributors walk through the door only to spot the two young women, both 27 years old.
But theirs are familiar faces to our town's wine-loving community. Huget (from Kingston, Washington) and Heer (from San Diego) both came to Santa Barbara for college and stuck around, each landing what they initially considered "fun, part-time" jobs at Carr Winery's downtown tasting room. The jobs ultimately lasted years, spawning relationships with producers and consumers and sparking a deep thirst for knowledge of the industry and passion for its culture. After years of dreaming, they marked their grand opening two weeks ago, at a packed event that spilled onto the courtyard (and surely had the downward-doggers at CorePower Yoga more than a little jealous).
Their palates came of age on Central Coast juice, but exploring other regions is a cornerstone of what they're doing at Armada — hence the name. Inspired by the Spanish architecture and images of explorers and conquistadores carved into the facades of San Marcos Plaza, the off-State Street courtyard between Figueroa and Anapamu where they're situated, their offerings are infused with a spirit of exploration.
And beer! With a Telegraph brewer serving as consultant, they're also stocking an extensive list of craft brews that has aficionados stoked.
The space itself is casual, inviting, and beautifully designed, a chic, modern spin on a coastal theme balanced by cool, industrial touches. Off the tourist-beaten path, with plenty of cozy seating and a big open bar, it's a score for locals, some of whom are already regulars. There's even Wi-Fi and a TV that'll be brought out for must-see events.
"We're all about being comfortable, not intimidating, and not too expensive," said Heer. As one patron put it, it's "a breath of fresh air."
Here's some of what to expect:
Matua Sauvignon Blanc: Crisp and refreshing, this herbaceous 2013 from Marlborough, New Zealand, has notes of tropical fruit and melon; bright acidity keeps the finish nice and clean.
Lafage Miraflors Rosé: This mourvèdre-grenache gris 2012 blend from Provence, France, is a smooth specimen: Light and dry, the peachy drinker is slightly spicy, with melon, berry, and floral notes.
Baker & Brain Pinot Noir: This silky 2011 Central Coaster tastes like cherry cobbler baked in an outdoor oven, the fruit balanced with hints of baking spices, leather, and earth: dangerously drinkable.
St. Archer Blonde Ale: The Kölsch style leaves nowhere to hide, which is just fine in the case of this light ale out of San Diego. With notes of citrus and grass and a mild hoppiness, this beer is made for drinking.
Orval Trappist Ale: It's like eating an apricot on a forest floor, we determined. (Yes, we'd been drinking.) This Belgian brew is equal parts floral and funky on the nose, earthy, and appropriately bitter in the mouth, with lots of carbonation. Chimay fans will be all over it.
Hercule Stout: It's a classic stout and looks it; sipping reveals it's relatively light bodied and not overly creamy. With notes of chocolate, coffee, and dark fruit, this needs to be poured over a scoop of vanilla ice cream and turned into a Beer Float. Immediately.
4•1•1
Armada Wine & Beer Merchant is located at 1129-A State Street. Call (805) 770-5912 or see armadasantabarbara.com.