Food & Drink
Find Out About State & Fig
Patrick Casey and Marisa Moran's Farm-to-Table Restaurant in La Arcada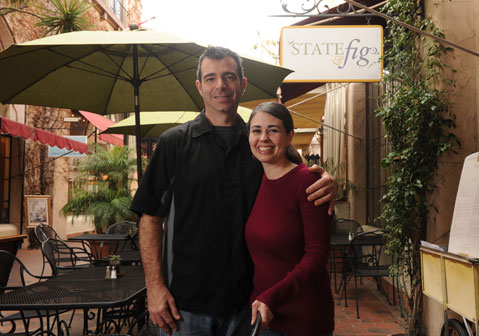 Located in La Arcada Plaza on State Street, State & Fig is one of Santa Barbara's hidden culinary gems. Owners Patrick Casey and Marisa Moran were first drawn to the location while vacationing in Santa Barbara a few years ago. After meeting the building's owners, a family who is well known for being supportive of their tenants, the married couple decided in 2012 to take a leap of faith and move themselves and their then 2-year-old son up from Los Angeles to make the restaurant, then known as the Whale Tail Deli, their own.
"We've spent most of our careers in the business," said Patrick. "I used to work on corporate leases for a company in L.A. and had never met our landlord. This was just too unique of a situation, and we thought, 'Why not?' The opportunity was too good to say no."
After moving to Santa Barbara, the couple had to run the deli for a bit before they could get the necessary permits to renovate the building. Once the permits were acquired, they worked with an architect and an interior designer to give their new restaurant a rustic Californian design. When asked about the name of the restaurant, Patrick said, "The premise of the name State & Fig is meant to be [about] whatever is grown and raised in the state, and what best represents the Riviera, the fig."
And State & Fig certainly operates on a farm-to-table basis. According to Patrick, the dishes are made with whatever ingredients are in season, and while these ingredients may not always be available locally, they are always bought from within the state.
The restaurant serves brunch, lunch, and dinner seven days a week. Here is a peek at some of their best menu items:
Chicken and Biscuits for Brunch: "It's a great way to start your weekend, or [an excuse to] go back home for an hour nap," Patrick said. This dish comprises a buttermilk chicken that is brined overnight, and then is double breaded and fried to crispy perfection. Add in a homemade buttermilk biscuit, bacon jalapeñno gravy, and eggs on top, and you've got one heck of a dish. In fact, this meal was so popular that it had to be changed from a menu item to a special item because the kitchen kept running out of ingredients.
Fig Burger for Lunch: This burger is made with fresh California beef, bleu cheese, wild arugula, and California figs, all placed in between a locally made bun. "The Fig Burger is a great representative of what we have in California," said Patrick of this popular dish. This burger is loaded with flavor and makes for a delicious lunchtime treat for the hungry office worker.
Ricotta Gnocchi for Dinner: While the gnocchi is always on the menu, the dish changes based on what kinds of ingredients are in season. Currently, it's butternut squash, roasted mushrooms, and Tuscan kale with butternut-squash sauce. "We see a lot of similarities in what comes in every week, but the face [of the dish] changes based on what we find at the market Tuesdays and Saturdays," Patrick said. This delicious taste of the restaurant's farm-to-table practices is perfect for date night or a preshow dinner.
4•1•1
State & Fig is located in la Arcada Plaza at 1114 State Street, Suite18. Call (805) 965-1730 or see stateandfig.com.