Briefs
UCSB Student Dies During Swim Practice at Santa Barbara High School
UPDATE: Identity of 19-Year-Old Released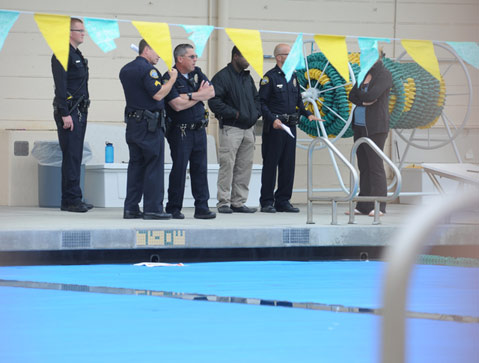 A 19-year-old UCSB student has died after he was found unresponsive at the bottom of the Santa Barbara High School pool Monday morning. Police said the student — a Santa Barbara High School graduate whose name is being withheld as authorities notify his family — was practicing alongside members of the high school swim team during a Spring Break training session when he was discovered at around 9:45 a.m. Few details have been released.
Police spokesperson Sgt. Riley Harwood said three of the high school swimmers, all trained as life guards, pulled the teen from the water and administered chest compressions while others called 9-1-1. He was transported to Cottage Hospital but declared dead soon after. Harwood said unless police find any suspicious evidence in their investigation, the case will be turned over to the Coroner's Office.
Audible shouts and cries could be heard from the pool area as news of the teen's death reached students and coaches. Harwood said grief counselors have been dispatched and are meeting with teammates and others who were present during the incident. As police spoke with members of the media, parents arrived to pick up the young swimmers. Harwood, explaining further details are being withheld as the investigation continues, described the teen as "well-known and highly regarded."
Check back for updates to this story.
[UPDATE, 2:15 p.m.]: Santa Barbara officials have confirmed the name of the teen who died Monday morning after he was discovered unresponsive at the bottom of Santa Barbara High School's pool. Nicholas Johnson, a 19-year-old UCSB freshman athlete, was swimming laps at the time during a joint practice with the high school's swim team. It's unclear what caused Johnson to lose consciousness, and police and coroner's officials say they continue to investigate the incident.
Johnson was a Santa Barbara High School graduate and was studying psychology at UCSB, where he played water polo. The oldest of four siblings, Johnson enjoyed fishing and named his parents as his personal heroes on his UCSB athletics web page.
Johnson's father posted a message on his Facebook page at around 1:45 p.m. It reads: "It is with infinite sadness that I let everyone know that our oldest son, Nick Johnson age 19, passed away this morning while doing a hard swim set at Santa Barbara High School. He was surrounded by fellow swimmers and lifeguards and they did their best on the pool deck. The doctors in the emergency room also made every effort but could not revive him. Karen and I simply do not know what to do. We want to thank all of you for your heartfelt condolences and we'll go to ground at home and try to regain our equilibrium. Nick was a sweet boy and I cannot tell you how much we all will miss him."