Food & Drink
Surf Dog Still Riding Carpinteria Wave
Bill Connell's Bailard Avenue Hotdog Stand Cranks Out Lunchtime Franks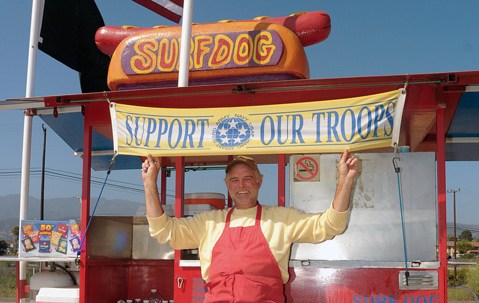 "I'd like to start off by pointing out that I'm not taking any new customers at the moment," says Surf Dog sole proprietor and executive chef Bill Connell, only half joking, as a sizable crowd of hungry locals and out-of-towners gather around his hotdog stand. For the past two decades, Connell has been a fixture on the ocean side of Highway 101's Bailard Avenue off-ramp, dishing dogs and carrying multiple conversations about the latest news, weather, and sports.
Connell's menu is sizable, considering that his stand is a trailer cart. He sets it up pretty much daily (unless the weather is particularly nasty) near the Carpinteria Bluffs Nature Preserve parking lot, and he's open for business from just before lunchtime to "whenever I get tired," he says. Connell's lunch special ($5, cash only) includes a hotdog, a bag of chips, and an icy can from the usual pallet of effervescent colas livened up with lemon-lime, cream soda, and root beer. Condiments include mustard, ketchup, relish, chili, stewed onions, and rough-chopped raw onions and jalapeño peppers, and there's a bucket of red licorice for the kids, on the house.
"I had a hot sausage dog with buffalo sauce," said Los Angeles resident Lula White, 10, chewing Red Vines while reflecting on her very first Surf Dog experience earlier this year, "and it was delicious!"
That sausage dog dispatched by young White ranks third on Connell's list of best-selling menu items. The Vietnam veteran and former professional heavyweight boxer serves up mild and hot versions, both equally popular among those who opt for a bit more bite and snap than a standard wienie.
Connell's second best-selling entrée is the all-beef monster. It's your standard hotdog in supersize form, overhanging its soft-bread bun on both sides, more than ample satiation for weary road-trippers, their growing children, and patrons from the local labor force.
Topping out Connell's most popular fare is the ubiquitous staple at a certain Southern California baseball stadium. "The Dodger Dog is my biggest seller," he says, "especially if they're winning."