Food & Drink
Chef's Table: Chef Pink
Crystal DeLongpre to Open Bacon and Brine in Solvang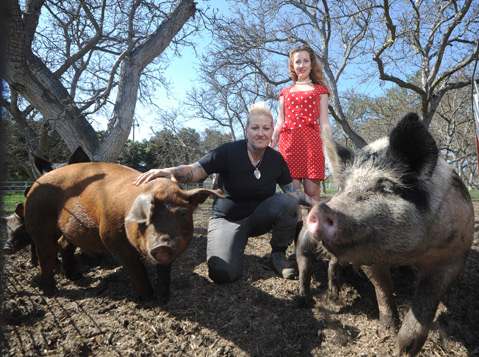 Name: Crystal "Chef Pink" DeLongpre
Age: 36
Hometown: Santa Barbara, California
Why She Cooks: Raised between Los Angeles and Santa Barbara, Chef Pink grew up with a passion for food, tattoos, and chaos. Working alongside such top chefs as Eric Greenspan of L.A.'s Foundry and April Bloomfield of New York's The Spotted Pig, Chef Pink sources locally to create menus that are seasonal and straightforward, but with a bit of sass.
"Every chef I have worked with has been farm-to-table," she explained. "It wasn't a thing back then, it's just how we did it. I never had to stray from that."
Coined with the nickname "Pink" while sous-ing at former Victoria Street restaurant Epiphany thanks to her ballsy pink hair, DeLongpre now wants to help low-income families understand the importance of healthy eating, and hopes to open a community garden/education center in the future. "I want to change the paradigm of food in the Santa Barbara community, making good food accessible to all," she said. "Life is political. You have to stand up for what you believe in."
Favorite Purveyors: B.D. from Earthtrine Farm, Chris Milliken from Milliken Family Farms, Jacob Grant from Roots Organic Farm, and Shu and Debby Takikawa of The Garden of… . "They are all so much more important to making food than I am," said Pink. "I am so blessed to have these connections in my life."
Signature Ingredient: With a fascination for hairy Hungarian pigs, Chef Pink, a former vegetarian, is a pork enthusiast and believes in good animal fat. "I can't remember not loving pork," she explained. "All of my babysitters were waitresses at Dutch Garden [Restaurant], feeding me bratwurst since I could walk."
Favorite Local Haunt: Tino's Italian Grocery, whose founder recently died and which is moving to Carrillo Street. "When I have a really bad day, I go down there, have an Italian sandwich, and everything is right in the world," said Pink.
Recent Claim to Fame: After surviving culinary hazing and years of sleep deprivation, the Le Cordon Bleu graduate was ready to take on television. After a raucous casting call for Top Chef nearly eight years ago, Food Network approached the chef with a new cooking concept. A favorite with agents, she was eager to try her hands at televised chaos on Cutthroat Kitchen. Coming out victorious in her second season, this outspoken chef offers poignant advice to any culinary newbie: "The best meals are meals that have been made from the heart. Having instructions on how to eat your food doesn't make sense to me. Use your hands, pick up your food, get it in your face, and lick your plate!"
What She's Up to Now: After years of culinary wanderlust, Chef Pink will open her first brick-and-mortar spot on Solvang's Atterdag Square at the end of April. Aptly titled Bacon and Brine, the 300-square-foot sandwich shop will feature a simple, straightforward menu, with pork likely coming from the heritage pigs of Mud Creek Ranch and a smoker outside to make bacon and other cured meats from all types of animals. And there will be plenty of pickles, kimchi, sauerkraut, and kombucha, too, for Pink's wife, Courtney, is "very passionate" about fermented foods. "She's the pickle, and I'm the smoke — à la Bacon and Brine," said Pink. "It's our little piece of heaven."
Together, enough bacon and brine just may cure the world's ills, too. "I changed all of my health problems with foods and fermentation," said Pink. "Our gut is the most important thing. It rules our brain, it rules everything. What we put into our bodies is so incredibly important."