Living
Mountain Drive Memories
Remembering Ann Johnson and Bill Richardson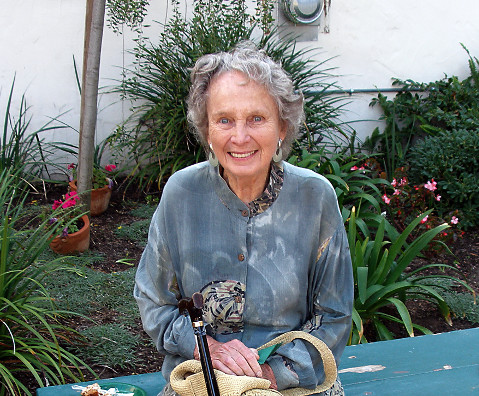 I consider one of the great experiences of my life to be the years I lived on Mountain Drive, in the late 1960s and early '70s. This made me a bit of a latecomer to this scene, but it still enjoyed the distinctive flavor of a bohemian community, still occupied by most of its pioneer inhabitants.
I met Bobby Hyde just once, not on the drive but at the kitchen table at the Santa Barbara Free School. I was a neighbor of his widow, Floppy, and his son, Gavin, in the home I shared with my first love, Jackie Peake, and her daughters Sara and Miranda. We lived in a rustic home with a beautiful detached studio on the edge of a canyon, built by Robert Venable, from whom Jackie bought this property, for $23,000. Robert sold the house in the course of building a boat and sailing it around the world, one of many ambitious journeys he took until he was tragically swept off his boat and lost in the Pacific.
Too many wonderful and distinctive characters to list … our neighbors the McPhersons, Frank Goad and Beth Regal, Dick Johnston, the Schertzes, the Neelys, Jackie's brother Michael and his wife Laura, the Robinsons, the Hills — and those are all before you even started on the long driveway UP from the road, where you would find Jack Boegle, Kallina de Montmorency and her son Douglas, and, at the very top, Ivana, to name a few.
On her own hill was Stevie (Schott) Sheatsley, in a grand home she built overlooking the area, where I later lived in an old L.A. transit bus for a few years.
It was sad to see this area, that Bobby and these other adventurers had recognized as so special and desirable, inevitably come to be more widely recognized for its value, with the attendant gentrification and dramatic escalation of property values. The first residents had bought their acre of land from Bobby on a handshake, for $50 down and $50 a month.
Still, many of the old group continued to live there, enjoy each other's company, and continue traditions they had shared for many years. So it was devastating to see the almost total destruction of this unique community in the wake of the Tea Fire a few years ago.
I felt a similar, perhaps even deeper, sense of loss as I read in your December 26, 2013, paper that two of the historic members of the Mountain Drive community had died within just a few days of each other. Bill Richardson and Ann Johnson lived along the upper driveway, possibly a stone's throw away from each other, if you had the advantage of throwing from the greater elevation of the Richardson house toward the Johnson house. And of course, no one called it the Johnson house — it was The Castle.
These were both big characters, who lived exciting and ambitious lives, guided by their own visions of how they wanted to spend this short time we all have. They were certainly both vital players in the Mountain Drive community, but their activities and influence were felt strongly in a much wider sphere, as well. They were not unique in their embodiment of the spirit and values shared in this group, but each of them occupied a place very much in its heart.
Ann's husband, Verne, died many years ago, and I remember a eulogy delivered by John Stack at his memorial. John spoke of the sourdough starter Verne loved to share with his friends. He noted that this was a living thing that could be divided, shared, and perpetuated almost endlessly, and he likened the sourdough to Verne, and the reverberating spirit and energy that could be shared and passed on through contact with a force like him.
I think the same can be said for Bill and Ann, in the effect they each had in the many, many people they touched throughout their lives, imparting, in part, the spirit of a very special place and time.