Living
Scene in S.B.
Flowers and Ducks and Ponds
"It's been great to see the reactions on people's faces when you hand them a free flower," said Bob Craig while giving away flowers to unsuspecting strangers at the Tuesday Farmers Market on State Street. Craig is the director of marketing for Lotusland and helped to organize the "flower mob," which is based on the idea of a flash mob and advocates Santa Barbara's Public Gardens Partnership for the month of May. "We want to promote how wonderful and peaceful it is to be in a garden, especially at the beginning of spring," added Craig.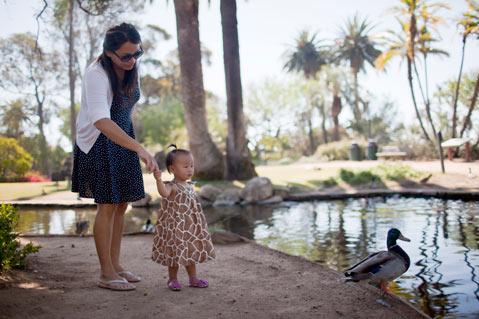 Hee Jung Kwan and her daughter, Lida Yang, kill time at Alice Keck Park Memorial Gardens while they wait for Lida's kindermusic class to begin. "We both especially love the ducks, turtles, and natural feeling here," said Kwan. Kwan, who was a biology teacher in Korea, came to Santa Barbara four and a half years ago when her husband began doing his post-doc work at UCSB, but will soon have to return to Korea for work.