Food & Drink
Harvesting Baobab, the Tree of Life
Introducing Kaibae, Luc and Barbara Maes' New Fruit Powder Company; Plus More Treats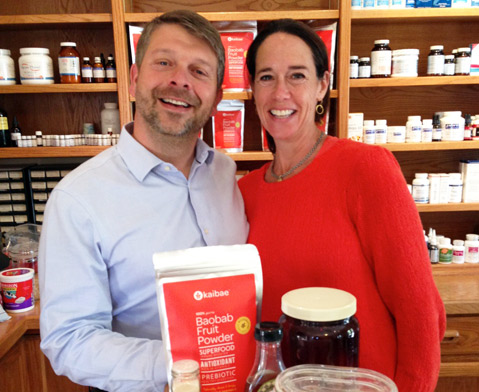 Baobab fruit is the next super-food to be excited about, and Luc and Barbara Maes are the charming husband-and-wife duo behind Kaibae, the ecologically conscious, community-driven business that's bringing the baobab fruit to Santa Barbara. "They call it the Tree of Life," said Luc about the baobab's legendary status in Africa. "It is the center of the community, a source for food and tools, and it's a place of protection."
It was a trip to Ghana that first planted the baobab seed for Luc, a naturopathic physician and chiropractor. He wanted to harness the fruit's powers for American consumers but also founded Kaibae as a One Percent for the Planet company in order to support the people of Ghana, as well. Today, Kaibae works with four separate communities to sustainably harvest the fruit, which isn't an easy task. While the trees are respected, ancient, and abundant, the fruit is considered a "lost crop" since its benefits are neglected or underused, so the trees tend to be remotely located deep in the African savannah rather than easily accessible on farms or orchards.
Among other baobab benefits, Kaibae's packaging lists high amounts of fiber, antioxidants, vitamin C, calcium, potassium, thiamine, and vitamin B6. It's also a natural energizer, said the Maeses, and it enhances the growth of probiotic bacteria in the immune system. In fact, baobab's benefits are so well known in African communities that it is often blended as a formula that substitutes for breast milk.
Kaibae's main product is a jar of 100 percent pure baobab fruit powder, which is derived by crushing the naturally dry fruit into a fine dust. The pale-orange-colored powder has a tartly sweet taste that is not overpowering when added to smoothies, yogurt, or beverages. It slips seamlessly into everyday foods, and it can easily substitute for artificial multivitamins. The fruit powder works as a recipe addition rather than a main ingredient, which makes it ideal for daily use. Kaibae's certified-organic, vegan, and nut-, GMO-, and gluten-free products are sold at the Maes Center for Natural Health Care, Brasil Arts Café, Montecito Natural Foods, and Pacific Health Foods, among other places. Visit gokaibae.com for more information.
Here are some other natural food products made in California worth checking out, as well:
Primal Essence Cinnamon Sweet Coconut Oil: To say nothing of its heavenly scent, this kosher, organic product from the Oxnard-based Primal Essence reduces blood cholesterol despite its high amounts of saturated fat. For breakfast, spread Cinnamon Sweet Coconut Oil on toast or pancakes, add to oatmeal, or flavor your drink. It's also a healthy alternative for butter or oil in baking. See primalessence.com.
Real McCoy's Sweet and Spicy Rice Chips: For a savory snack, Real McCoy's rice chips are an all-natural choice from a family-owned, environmentally friendly company in Madera. Made with organic, whole-grain brown rice, the chips are gluten-free, vegan, and non-GMO. Try the Sweet and Spicy flavor, which packs a flavorful punch without the guilt. See realmccoysnax.com.
Foxy's Cheeky Pash Mango & Passionfruit Smoothie Frozen Yogurt: This gluten-free and kosher frozen treat is a cool refreshment from Ventura's Foxy's Frozen Yogurt. It contains minimal calories from fat and roughly half the sugar of most name-brand ice creams. The mango passion-fruit smoothie flavor adds a tropical tang to your dessert as spring turns into summer. See foxypash.com