News
Lompoc Kidnap and Torture Trial to Begin
Surenos Street Gang Members Macias and Almanza in Court
[This story was originally published by the Santa Maria Times and can be found here.]
Jury selection began Monday in the trial of an alleged top gang leader and another gang member in connection with the kidnapping and torture of a Lompoc man over a drug debt.
Authorities allege that Raymond Daniel Macias, known by the gang moniker of "Boxer," was responsible for the collection of drug sales taxes from street gangs for the Mexican Mafia.
Macias is alleged to be one of the top leaders of the Santa Barbara street gang the Eastside Krazies and a member of the Surenos street gang, according to Lt. Dan Cohen of the Santa Maria Police Department.
Macias is charged with four felony counts: kidnapping for extortion, torture, solicitation of extortion and sale of methamphetamine.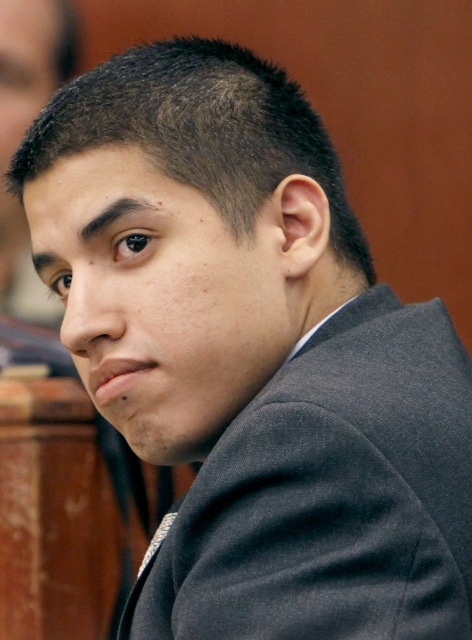 Luis Alfredo Almanza, 22, who is known by the gang moniker "Lucky" is on trial with Macias and charged with two felony counts: kidnapping for extortion, torture and use of a deadly weapon, a firearm.
Senior Deputy District Attorney Ann Bramsen is prosecuting the case, which originally began with 12 defendants and now is down to just two.
"Everyone else has pled," Bramsen said.
Originally a narcotics investigation, the case evolved after authorities learned of the Jan. 3 torture and kidnapping of an unidentified man who survived the attack.
The morning portion of the trial was used to hear hardship cases of potential jurors, many of them being allowed to defer serving on the estimated six-week trial due to financial hardship. Afterward, the court clerk called 18 potential jurors' names, 12 who will be seated as jurors and the remainder who will serve as alternates.
Judge Patricia Kelly was personable and funny as she interacted with the potential jurors and explained that "no Googling" of the case would be allowed during the trial, which made a majority of those present in the courtroom laugh.
The judge went over the charges against both Macias and Almanza stating the crimes were alleged to have occurred in late 2012 to early 2013. Kelly also explained the added gang allegation to the prospective jurors telling them both men had entered pleas of not guilty to all charges and both denied the gang allegation.
Michael Scott, defending Macias, was the first and only attorney to ask questions of the 18 potential jurors. Charles Biely, who is representing Almanza, and Bramsen both will have a chance to do so today.
Jury selection will resume at 1:30 p.m. in Department 8 of the Superior Court in Santa Maria.