Living
LaBlast
A New Form of Exercise Comes to Santa Barbara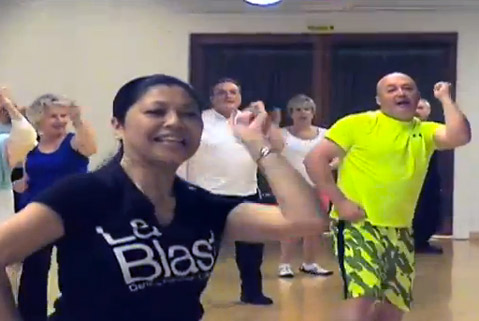 Nigel Clarke is getting people pumped up about dance while instructing a brand-new exercise class: LaBlast. The only certified LaBlast instructor in the area, Clarke brings an exuberant attitude to working out that is appreciated by his students. Set to music — everything from new hits by artists like Pharrell to classics from the 1960s — the dance-style form of exercise is an energetic, fun way to work out without noticing you're doing so.
LaBlast is a fitness program designed by Dancing with the Stars choreographer Louis Van Amstel and aims to combine one's exercise routine with learning many different dance styles. Clarke said that this is the main difference between Zumba and LaBlast. "With LaBlast, you're actually learning ballroom dances. What is being taught, you can actually dance with a partner. So it's an easy, fun way to learn ballroom dances."
Another difference between Zumba and LaBlast is the type of workout, said Clarke. "While Zumba is anaerobic, with the same high heart rate the entire time, LaBlast is an interval workout; it is more focused on cardio interval training." Clarke is not joking about LaBlast being an interval workout. The class starts out with a simple but energetic dance routine and works up to fast-paced routines that each incorporate different dance styles. The class is as hard or as easy as you make it. While instructing, Clarke pointed out added moves that can be done to increase the level of workout being done. The more power you put into the moves, the better the workout is. Each class can burn anywhere from 500 to 1,000 calories.
Right now, Clarke is teaching cha-cha, disco, salsa, jive, samba, and paso doble routines. There are 12 levels total in the LaBlast system, but since Clarke was just recently certified, he is only teaching levels one and two. As the class picks up and more students learn the routines, he plans on expanding into more difficult levels.
4•1•1
LaBlast classes at the Santa Barbara Dance Center are $15 each or 11 for $100. They are offered Mondays and Fridays, 9:30-10:30 a.m.; Wednesdays, 5:30-6:30 p.m.; Thursdays, 6-7 p.m.; and Saturdays, 2-3 p.m. The Thursday class is solely for going over the choreography of the routines while the rest of the classes are entirely spent exercising. The Santa Barbara Dance Center is located at 127 West Canon Perdido Street. For more information, call (805) 899-2901.