Outdoors
The Bike Warrior
Ed France Wants You to Ride Your Bike
You might assume that Ed France, executive director of the Santa Barbara Bicycle Coalition, is a bike nerd, but you'd be wrong. Not about the nerd part. He's definitely a nerd. Get his mind free-associating, however, and it doesn't wander to the merits of tubeless tires. He's thinking about the differences between incorporated cities (like Goleta) and charter cities (like Santa Barbara), or the history of China's transportation construction. At the end of the day, France is a policy nerd.
His biggest victories ​— ​beginning when he was an environmental studies major at UCSB, heading the campaign that secured $1 million to complete the bike path circuit around campus ​— ​proceed from the unsexy but fruitful work of scouring legislative bylaws and studying bureaucratic records. He ascended to the helm of the Bike Coalition after leading the charge to open a DIY bike repair shop in Santa Barbara. The result, Bici Centro, is so successful that the coalition is on the cusp of purchasing its current location on East Haley Street.
Despite such victories, France is still a scrappy underdog. Including in-kind contributions, the Bike Coalition operates on an annual budget of about $500,000, not much for an organization that hopes to influence public decision-making, and only enough for the equivalent of six full-time staffers. A confluence of factors, however, has offered France a unique opportunity to leverage the coalition's sway.
The three South Coast cities, the county, and the Santa Barbara County Association of Governments are all updating their bike planning documents within the next two years, opening the door to the possibility of a coordinated long-term plan for integrating cycling into Santa Barbara's infrastructure. Also not to be ignored is the fact that the president of Trek Bicycles, John Burke, bought a second home in Montecito a few years ago. He has infused the Bike Coalition not only with financial resources but with connections. All of a sudden, Santa Barbara has become a destination for important players on the national bike-advocacy scene.
On a recent Friday morning, for instance, a group of cyclists embarked upon a tour of Santa Barbara, including the Eastside, Westside, and downtown. This expedition included representatives from the Bike Coalition, the city, the Coalition for Sustainable Transportation (COAST), Fastrack Bicycles, and a handful of statuesque Trek employees riding on a fleet of bikes that could pay down the national debt. (I was admittedly also on my road-race bike for the five-mile-an-hour ride.) The guest of honor was Stephen Clark, who works for the League of American Bicyclists and specializes in making communities more amenable to bikes. Sarah Grant, the city's mobility coordinator, led the tour. Every so often, the cyclists would stop and gather to listen to Clark share tips.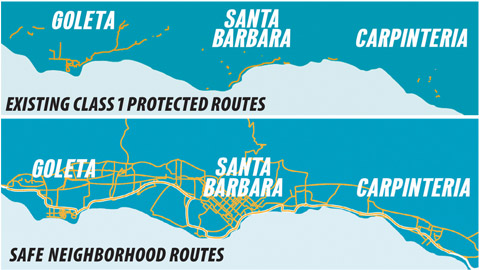 Recently, I caught up with France to ask about that ride and to talk about his vision for a bike-friendly South Coast. Below is a condensed version of our conversation:
What did you learn from Stephen Clark? He's compiled all the solutions to all the toughest problems in other American cities. We've got these tough problems that we basically said we can't do anything about it. Meanwhile cities that have a little more ingenuity than us have been willing to try things, test them, evaluate them, and they know what works. The toolbox just got a lot bigger. And a lot of the tools are cheap. They don't necessarily mean taking parking or space from traffic.
Give me some examples of the low-hanging fruit. Protected lanes are something we eventually want, but paint is the low-hanging fruit. Paint is something you see in Goleta and Ventura. Oakland and Long Beach both have green lanes that are shared lanes, but it's really clear that a bicyclist belongs in that space. The perceived safety just shoots up. And because of increased motorist attention, the actual safety [does as well]. And that's paint. That's not breaking any asphalt, any curbs. It's super cheap, and it's effective.
Bicycle boulevards [which are clearly marked bike routes]. We have these dumb sharrows [shared-lane markings] that are not backed up by anything else. And you put it on a dangerous street like San Andres. People are confused, and they continue to drive really fast. Get yourself on Rancheria Street down to the City College. You don't just have sharrows but directional sharrows. You have bicycle boulevards.
Let's just get a coherent bicycle-networks signage system. People don't know about the Anapamu Bridge. People don't know about the Ortega Bridge. How many millions of dollars went into those bridges? They should be marked. That's like a $200 solution for a $2 million bridge.
Which projects are your top priorities? The missing links. Hollister in Old Town Goleta. Upper State Street. The area around Mission Street where Bath and Castillo just end. [These are all areas where a bike lane ends abruptly.] The return of the Haley Street bike lane [that only runs from West to East].The Western Goleta Valley from where El Colegio ends connecting to Ellwood. Why is it so hard for people living in Ellwood to get to the [UCSB] campus?
The biggest and best project in all the South Coast in my personal opinion: Carpinteria Creek in Carpinteria already has an undercrossing, and that needs to be extended along where Via Real is to get to the neighborhood on the mountain side of town. Carp is a great bike town, but the 101 has severed it, and all of the bridges are too narrow. You already have an undercrossing that's a bike path. It's just not connected, and it's only 200 yards.
Your average driver might see big infrastructure changes as a huge cost just to appease a few cyclists. That's a political problem we have. We're seen as a special-interest lobby. We're not here to be appeased. We're here to make cycling accessible to the general population. We're here to get our transportation-funding policy to be thoughtful, and to make those investments effectively and prudently. If you are constantly investing in more capacity, it's a self-fulfilling prophecy. … You put in more lanes, [and] people will drive on them.
There is finite space, but how do you manage that 38 feet curb to curb? First off, let's be real. We over-invest in parking. The high cost of free parking is that there's not parking available in a lot of places, which is not economical. In a true liberal, laissez-faire economy, parking should be structured. Whatever the government provides for free without a lot of rules gets abused. Parking gets abused.
Furthermore, congestion is logarithmic. The last 10 percent of traffic causes 90 percent of the problems. If you could convert the last 10 percent of trips off of any congested road into walking, bicycling, bus, carpooling, you would not reduce congestion 10 percent. You would reduce congestion very significantly.
And bicyclists pay into the transportation system. The gas tax only covers about a third of our transportation costs. The rest of it is property tax and sales tax. So if somebody ever says to you, these bicyclists aren't paying their way, bring them to me, and I'm going to give them a talking to. [Laughs.]
We have to look at our transportation system and how we manage it. I think we haven't. I think we've emotionally looked at how our transportation system works. If you ask an investor who lost a lot of money why they invested in a certain company, they'll say, "Oh, I love that company. I feel good about that company." Was that a thoughtful investment? Did you have a diversified portfolio? Were you putting the right amount of money into high-growth stocks? Bicycling is the fastest-growing means of transportation on the South Coast.
What are some of the numbers? On the South Coast, bicycling makes up 7.5 percent of all work trips, according to the census. That's a lot. The average U.S. city is less than one percent. But we still have a long way that we could go. Boulder, which has way worse weather and is more hilly than us, is at 14 percent. Davis is at 25 percent. Santa Barbara prides itself on being an environmental leader, but we're an environmental amateur in the bicycling arena, but that's good because it means there's potential for growth.
What is the Bicycle Coalition's role in fostering that growth? The Bicycle Coalition is dedicated to making cycling accessible to anyone from 8-80 in the Santa Barbara community. For short trips, it's a simple solution that's affordable, flexible and convenient, healthy, environmentally friendly, and reduces congestion. It's just a positive thing for the individual and for the community. Part of how we are doing this is through our Bici Centro DIY community center. We have helped 4,000 in our space over the last seven years.
We also make cycling more accessible to our community through education at nine schools and community centers from Carpinteria to Santa Maria, with the eventual goal of bike education for K-12 being a normal part of going to school, a basic part of PE curriculum. Our education work also complements the work done by COAST with Safe Routes to School.
The latest and greatest way that we're helping to make cycling more accessible is we're gathering input and building a base of community stakeholders to advocate for a connected, safe network of bicycle paths and lanes and boulevards throughout the South Coast. So you should be able to bicycle through any neighborhood in the South Coast to get to where you want to go safely.
What is your goal? We'd like to see our rate of bicycle use ​— ​through infrastructure and all of our programs ​— ​go where it is today (7.5 percent for the South Coast) to 20 percent by 2020. So one out of every five trips would be by bike.
Tell me about the Bicycle Coalition's lending program. We are going to make available to members a small fleet of cargo bikes, tandems, an electric bike, and a couple of town bikes with gears. Because these are otherwise unavailable for people who want to borrow a bike that they wouldn't want to store in their garage, or if they have a guest come stay with them for a weekend, and they want to borrow a real bike for them. … It will be Santa Barbara's first bike share ​— ​but for Bike Coalition members only.
How do you become a member? You can become a member on our website or at any of our events. It's $30 for the year, and there are all kinds of perks besides the lending library: events, discounts, free bike lights.