Living
The Mission Archive-Library
Take a Look at California History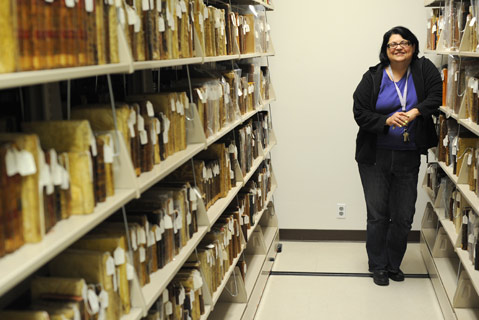 Unless you are a California history buff of the highest order, you probably know nothing of the Santa Bárbara Mission Archive-Library, one of the New World's most important but least-known treasure troves of historical documents.
Located in a series of specially constructed rooms at the western end of Mission Santa Barbara's portico, the library, which was founded as a nonprofit in 1968 and opened in 1970, is open to all, whether you're interested in studying the correspondence between the friars and soldiers of the late 1700s, perusing the baptismal records of the early 1800s to find out about your genealogy, or just need to scan a copy of the latest academic tome on Golden State history, as the centuries-old collection continues to grow weekly. But because of a tight budget and a staff of just one paid person, library visitors must schedule an appointment, sign up for an annual membership ($35, but $15 for students), and shed a little light on what they're looking for before they arrive.
That's why the facility, although quite renowned amidst professional and academic historians, remains somewhat of a secret to Santa Barbara at large. They're hoping to change that this year, though, starting with a free event on May 22 that will show off the 21 oil paintings created in the late 1800s by Edwin Deakin and donated to the mission by Howard Willoughby. Event attendees will listen to a lecture from art conservator Scott Haskins, get to check out the Deakins, and then, if they so desire, pledge money to help with its ongoing restoration via the new Adopt a Mission Project, which already has matching funds donated.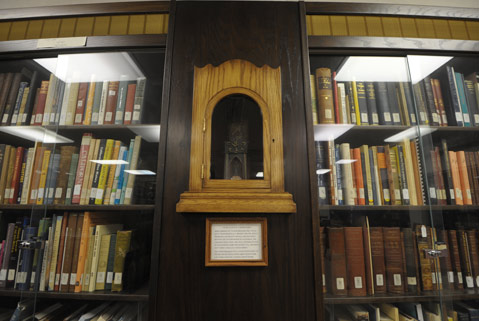 "These paintings tell us about the state of disrepair of the missions in the late 1800s, which was symbolic of the neglect of people who weren't valuing their mission-era history," explained the library's sole employee, executive director Monica Orozco, a second-generation Santa Barbaran, PhD historian, and UCSB graduate. "Artists like Deakin and Edward Borein brought this era back into the public consciousness, and people began investing resources back into saving what they could. It still sparks an interest in our history and reminds us not to forget where we can from, for better and worse."
Check out the Santa Bárbara Mission Archive-Library for yourself on Thursday, May 22, 6-8 p.m. Call (805) 682-4713 x152 or see sbmal.org.