Film & TV
Review: Ida
Agata Trzebuchowska, Agata Kulesza, and Dawid Ogrodnik star in a film written by Pawel Pawlikowski and Rebecca Lenkiewicz and directed by Pawlikowski.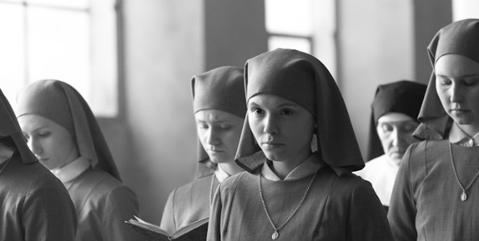 Agata Trzebuchowska's eyes are wide and dark and seem even more so because her face is wrapped in a novitiate's scarf and then filmed in unsparing black-and-white against a background that re-creates 1960s Soviet satellite Poland. As the title character, Ida is our passport to this world, and all the environments and institutions we enter with her seem bleak. There are urban apartments and peasant farmhouses — all beautifully composed — as well as a jazz café, where Ida gets more than a glimpse of a world she has been pushed out of the convent to see, a world possibly without God in it. But even when she takes off her nun clothes and sways to the music or rides across town on a bus or sits on the edge of cot in a parish priest's spare room, it's Ida's eyes we watch as she watches her world.
Ida's story is simple but set against a number of archetypal circumstances. Just before she is to take her vows, the convent's superior forces her to leave the cloistered life and look up her last remaining family. What she finds is worldly Aunt Wanda (Agata Kulesza), who in turn tells Ida that she needs to examine the story of her family, and by the way, she's Jewish. Wanda herself, a former Communist party official, becomes another story of lost faith, and in the end Ida climbs out of a grave and walks a long road against prevailing traffic.
But the outcome of this spiritual odyssey is nowhere near as interesting as the scenes that director Pawel Pawlikowski creates. The monochromatic photography and the reduced image aspect of the film make us feel as if we are watching something created during that era, the golden age of European art films. But Ida also avoids mere gimmickry — it's not The Artist — with stunning compositions and weird perspective choices that force us out into the film's wintry bleakness. This is Trzebuchowska's first screen performance, and in the end, it seems barely relevant whether her character finds God or Man on her quest. What you won't forget are her eyes.