Food & Drink
Bacara's Food & Wine Extravaganza
Inaugural Ode to Santa Barbara's Culinary Awesomeness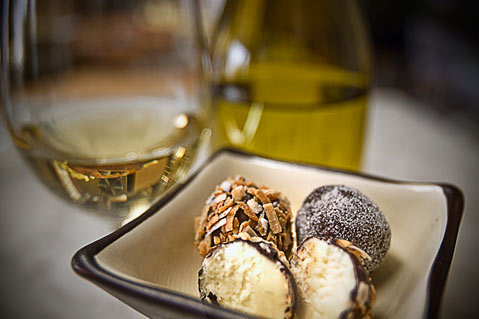 Santa Barbara's culinary scene is riper than ever before, so it's an opportune time for a flavorful reflection on how we've arrived. That's what the Bacara Resort & Spa is doing this weekend with the first-ever Santa Barbara Food & Wine Weekend, which features an impressive variety of speakers, classes, screenings, sips, and bites Friday-Sunday, June 6-8. The foodie festival is benefiting the Julia Child Foundation, whose inspiration spent her last years living the Santa Barbara lifestyle.
"We want to keep food moving forward in our community," said Bacara's general manager, Kathleen Cochran. "We want to educate people about food and do it for a good cause." The weekend begins with a winery-packed reception, screening of Julia Child's Kitchen Wisdom, and panel of experts and friends of the legendary chef on Friday; continues with panels on food writing and classes on urchin and barbecue and more on Saturday; and ends with a grand tasting on Sunday, featuring three dozen restaurants and caterers representing six distinct neighborhoods, from Los Alamos to the Funk Zone.
Here's a small slice of the pro foodies who'll be sharing their best stuff during classes on Saturday, June 7. See bacararesort.com/sbfoodandwine for tickets and full schedule.
The Hitching Post: Frank Ostini's family has been using authentic Santa Maria barbecue techniques in their Buellton restaurant for more than 60 years. Using wood from the area's oak trees, Ostini will demonstrate cooking various meats and fresh Farmers Market veggies over a wood fire, the way, essentially, the Chumash did it long ago. "We are local chefs cooking with the indigenous local style," said Ostini. "It's very original and unique." The Hitching Post restaurant is best known for their quality cuts of beef, like the filet mignon and New York steak, but customers also rave about the perfectly grilled artichokes and mushrooms on the appetizer menu. Noon, $55.
Bob's Well Bread: Bob Oswaks of Bob's Well Bread will guide guests through a condensed version of the 36-hour process that yields a loaf of his wholesome bread. Each loaf endures a natural fermentation process with no added preservatives, which means that flour, water, salt, and yeast are the only ingredients. "When you make something organic by hand," said Oswaks, "there's some magic that happens there." Since Bob's Well Bread Bakery and Café is expected to open its first location this summer, Oswaks looks forward to this opportunity to make a personal connection with potential customers and share the simplicity of his delightful breads with the community. 2 p.m., $25.
Jessica Foster Confections: Prior to a screening of the French movie Le Chef, Jessica Foster will host a guided pairing of four of her truffles with four wines from Palmina Winery. Each of Foster's flavorful confections are handmade and hand-rolled rather than formed with standard molds, which yields a more delicate chocolate coating. "This helps the truffles melt immediately in your mouth and blend easier with wine," said Foster. The White Chocolate Meyer Lemon and Milk Chocolate with Sea Salt and Black Pepper Truffles are a couple of exotic flavors among Foster's customer favorites. 7 p.m., $15.