Visual Arts
Review: Perseverance at the Japanese American National Museum
UCSB's Kip Fulbeck Presents Japanese Tattoos in Los Angeles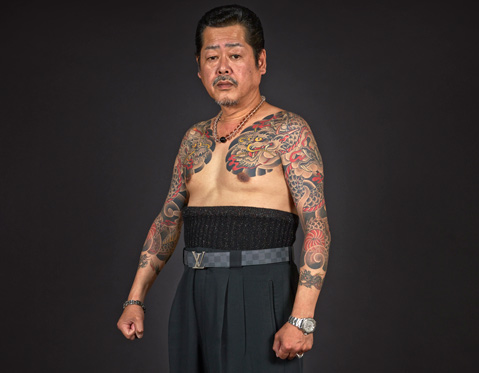 For this photographic exhibition documenting large Japanese-style tattoos, UCSB professor of art Kip Fulbeck teamed up with Takahiro "Horitaka" Kitamura, a highly regarded tattoo artist based in San Jose. The heavily inked pair traveled across two continents, assembling the models and arranging the photo shoots that would create this show, which can be seen at the Japanese American National Museum until September 14. Fulbeck is also responsible for the dramatic layout of the exhibition, which includes several arrangements of larger-than-life, double-sided prints that depict front and rear views of these extravagant, incredibly detailed designs. The seven tattoo artists who have created the work on view were carefully chosen to demonstrate the current vitality and cross-cultural reach of a specifically Japanese style of tattoo art that can be traced back to the 17th century and the Edo period.
Hundreds of years before Ed Hardy's tigers turned up on 21st-century T-shirts, the popular and dynamic style of art that he learned to imitate in Japanese tattoo parlors came into existence among Japanese fans of a Chinese adventure story called The Water Margin. Known in Japan as Suikoden, the outlaw heroes of The Water Margin were always heavily tattooed, their bodies inscribed with flowing images of wild animals, dragons, and monsters. When the tattooed Suikoden heroes started appearing in popular woodblock prints, certain tight-knit groups of Japanese men seized on them to represent their separation from mainstream society. The first two groups to embrace tattooing in Japan were thus the 17th-century street warriors known as otokodate and the community of firefighters known as hikeshi.
In subsequent centuries, Japanese tattooing has become a revered tradition among its fans and acquired an unsavory association with the yakuza, or Japanese mafia, among many others. The fact that this show is taking place at the Japanese American National Museum represents a breakthrough of sorts, as such formal institutions as museums have rarely recognized the art of tattooing. Instead, tattoo artists and their clients have created their own circuit of conventions and underground gatherings within which they explore and savor the work. For the artists in this show — Junii, Yokohama Horiken, Shige, Horitomo, Miyazo, Horitaka, and Chris Horishiki Brand — the Japanese tradition remains central, but the aesthetic demands of the present have come to modify and alter its expression in a variety of ways.
One striking example of the ongoing transformation of the Japanese tattoo tradition is its adoption by Mexican Americans living in Los Angeles. In an essay for the exhibition catalogue, Halpin describes her work for an anonymous L.A. client who came to her for a Japanese-style body suit that would reflect his Mexican heritage. Through researching Aztec and Mayan mythology, the artist was able to discover that such figures as Quetzalcoatl, a feathered serpent god, and Tezcatlipoca, a jaguar/turkey god, were well suited to her techniques. While the final result could hardly be said to represent Japanese culture, the design sensibility, as well as the painstaking approach the artist took to convey her client's cultural history through his tattoos, hews remarkably close to the roots of the irezumi aesthetic. As Horiyuki puts it, the paradigm of the Japanese tattoo "is no longer bound by locale and the cultural identity of its purveyors and collectors, yet it is still a recognizable entity." Congratulations to Fulbeck and to Horitaka for allowing outsiders a glimpse of this vibrant international subculture.