News
Rampage Victim Walks During UCSB Graduation
Thunderous Applause Greets Keith Cheung as He Gets Diploma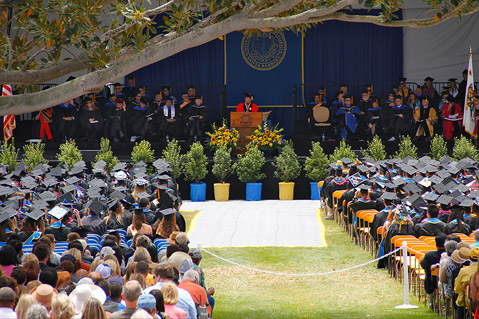 UCSB students wearing tassels, stoles, and cords flooded the streets of Isla Vista as their time to walk across the stage at the UC Santa Barbara Faculty Club Green, drew near this past Saturday, June 14.
"We've come together with support and kindness," said UCSB Chancellor Henry Yang from the stage. "We showed the world what it means to be a graduate and alum of UC Santa Barbara."
As the series of ceremonies unfolded throughout the day, proud families and friends walked with their to-be graduates carrying smiles spanned from ear to ear. Moving vans and mobs of people slowed traffic as the school year comes to an end. I.V.'s two bars were crammed with students who've recently crammed for their last finals. Students collectively cheered the Gaucho chant through the streets.
Contagious excitement spread as people moved onto campus heading toward their final moments of being a student. The commencement ceremony was wreathed by the UCSB Lagoon, harmonizing with sea birds squawking in the shining sun.
In the wake of the recent Isla Vista tragedy, Yang announced that five victims of the incident will be walking across the stage to graduate this weekend. One such victim, Keith Cheung, sat in a wheel chair as he approached the stage and courageously stood and approached the podium to receive his diploma. The crowd was asked to avoid lengthy cheers prior to the conferring of degrees, but that request was ignored for Cheung as multiple air horns and thunderous applause rattled over the lagoon.
Yang illustriously mentioned that UC Santa Barbara is among the top two percent of all universities in the United States and Canada. UCSB is of the top schools in research productivity. Multiple student speakers addressed the graduating class of 2014, with grace and wise words attained from their experience at UCSB.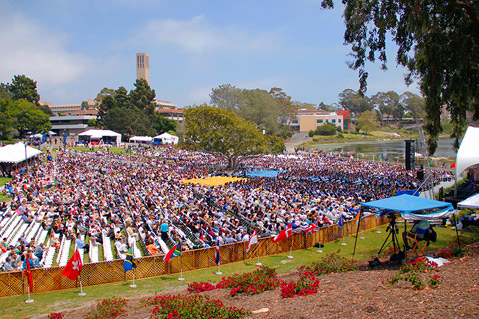 It was announced that an academic scholarship will be offered in honor of the victims that suffered the incident during the night of May 23, 2014. The commencement ceremony was concluded with the university song as the fresh alum roared their final hail to their alma mater.