Living
A Very Special Fiesta Lady
Garcia Dance Studio Float Dedicated to Jeanice Lugo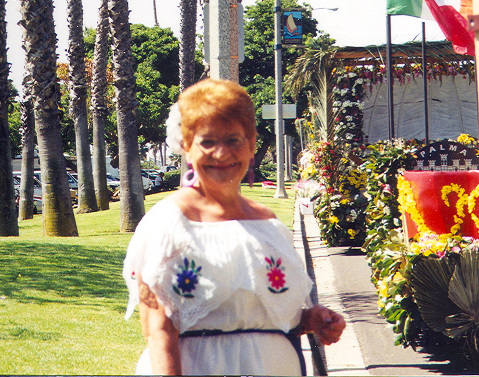 My sister, Jeanice Lugo, wrote to the Santa Barbara newspapers each year and happily recorded what Fiesta meant to her. Her incredible love of the festival was only strengthened when her daughter Laura Garcia Haas and her granddaughter, Marissa Urzua, became the Spirit of Fiesta in 1986 and Junior Sprit of Fiesta in 2003, in their turn.
Our mother, Edna Newton, introduced us to Fiesta when we were very young; we would help her at her charitable organization's refreshment stand at the courthouse. When we were too young to handle money, we helped with the popcorn or snow cone machines. We never missed a Fiesta parade and learned to love the music and wonderful spirit that abounded in Santa Barbara during those few days in August each year.
Jeanice's letters described her hard work as a single mother to provide for her three daughters, especially dance lessons for Laura. All of her hard work paid off in the years that came. Laura's Garcia Dance Studio has had a float in the Fiesta parade for 17 years. My sister put in countless hours decorating the float, and she laughingly would say she did it all in exchange for riding down State Street amidst all the beautiful dancers, usually with a pair of maracas in her hands. This annual event made her year!
Despite a diagnosis of multiple myeloma cancer several years ago, Jeanice fought through her pain to work on the floats and take that special ride down State Street. Sadly, she lost her struggle in January. It was the most wonderful surprise when the Old Spanish Days committee informed Laura that they wanted this year's Garcia Dance Studio float to be dedicated to her mother. Normally, each Fiesta float is specifically designed for an event in history, and this year's dedication to Jeanice is extremely rare. Each of us in Jeanice's family feels such happiness and gratitude for Jeanice's sake.
My sister may not be riding on the float this year in person, but she will surely be there in spirit. I know I will have tears in my eyes as I watch it drive by, and I will say a silent prayer to thank her for all of the joy and happiness she brought the rest of us not only at Fiesta but all year long.