Eat This
Veggie Find @ Lucky's
Marinated Tofu Dish Shines Over Steaks in Montecito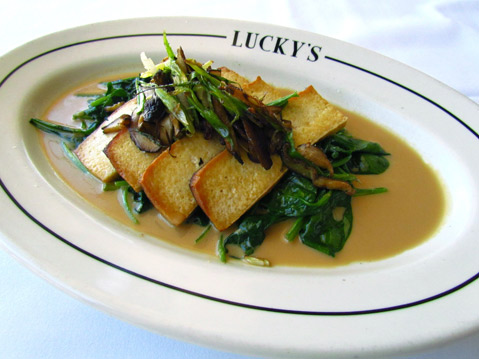 Lucky's, located at 1279 Coast Village Road, is one of Montecito's fine-dining restaurants that cater to meat lovers. With its commitment to quality cuts of meat and the freshest seafood, it may surprise its customers with an understated but exquisite vegetarian option.
This traditional steakhouse offers a tofu entrée that is composed of fresh baby spinach sautéed lightly in extra virgin olive oil and topped with slices of firm marinated tofu and wok-cooked shitake mushrooms and green onions, surrounded in a Japanese vinaigrette flavored with sesame oil, ginger, garlic, brown sugar, and lime juice.
"We had a guest request a vegan dish about a year and a half ago, and that's when I put together the tofu dish," said Leonard Schwartz, executive chef and general manager at Lucky's. "And it's proven to be very popular." Tofu might appear out of place amidst the "Big Players of Food" like decadent filet mignon and buttery-rich Maine lobster, but Schwartz and his team present it with the same sophistication and expertise that they apply to all their dishes.
Ordering the tofu dish as also an effective way to combat the current drought while still supporting one of Montecito's favorite meat-eater restaurants. "The drought has caused a 15 to 20 percent deficit in the amount of cattle that is available [to us] on a weekly basis," Schwartz said, explaining that tofu and vegetables are much more sustainable choices.
"We are a steakhouse that prides itself on serving the best quality meat," said Schwartz, "but also having a large variety of fresh seafood, a solid selection of good salads, and a solid selection of really fresh vegetable side dishes that are simply prepared. And so the tofu dish just fits right into it."