Sports
Gaucho's Athletic Director Heads North
After Six Years at UCSB, Mark Massari Makes the Leap to Oregon State
Like the middle-class families of America, the so-called mid-majors of college athletics are struggling to keep up. There are various ways to illustrate the gap between the revenue-soaked programs at the top (the BCS football schools that are enriched by television dollars and nationwide marketing) and those that have had to adopt drought tolerance. Consider the median athletic spending per athlete, as reported by the Knight Commission on Intercollegiate Athletics for 2012. In the Southeastern Conference, the figure was $163,931; in the Pac-12 Conference, $102,121. At non-football Division I schools, it was $39,201. According to UCSB's most recently reported figures, its athletic budget amounts to $35,000 per athlete.
"The gap between us and the big boys is getting wider and wider," said Gary Cunningham, UCSB's interim director of athletics. "It's a function of facilities and dollars. We're dealing with the same old problem: finances, finances, finances."
Despite that reality, it was with considerable reluctance that Mark Massari decided to make the leap to the richer side of the gap. The director of Gaucho athletics for the past six years, Massari has departed to become the deputy director of athletics at Oregon State (OSU). He had been a rising star in OSU's athletic department when UCSB recruited him in 2008. He succeeded Cunningham, who had retired after 13 years of steady-as-she-goes administration, and he brought a new energy to the campus.
"I could tell why I was able to get the job … the things I could bring to the table from an outreach standpoint, fundraising, marketing things," Massari said, "a little bit of [he clapped his hands for emphasis] 'Let's go somewhere; let's do a couple things.'"
Oregon State's athletic budget of more than $60 million is four times that of UCSB. Furthermore, 90 percent of the Beavers' support comes from outside sources (the Pac-12, TV revenues, football play-offs, ticket sales, sponsors, and donors), while 80 percent of the Gauchos' support comes from the campus (student fees and institutional funds). "The economics are a lot different, but at the core level, where you have dedicated, driven coaches and athletes, [UCSB] can maintain a high level," Massari said. "It's never going to be a level playing field. The facilities are better at certain schools. You have to choose the sports where you want to be bold, rather than invest across-the-board."
Massari highlighted Gaucho men's soccer, which has led the nation in attendance for seven years; he brought the 2010 College Cup to UCSB. He increased the support for baseball after bringing in Coach Andrew Checketts. Men's basketball has stayed near the top of the Big West Conference, but the women's program has been struggling relative to its years of domination under former coach Mark French. In replacing another legendary coach, Kathy Gregory of women's volleyball, Massari found Nicole Lantagne Welch, who led the Gauchos to a conference championship in her first year.
Much of Massari's impact has been decorative. Large banners adorn athletic buildings displaying his slogan "Dare to be Great." He honored past Gaucho greats by starting the "Legends of the 'Dome" program. He recognized the school's athletic history by reaching out to former Gaucho football players. The learning center in the Intercollegiate Athletics (ICA) building is dedicated to Jim Barber, a veteran of UCSB's 1965 Camellia Bowl team. Members of that team were primary donors to the construction of the Curtice Gate at the entrance to Harder Stadium, in memory of football coach "Cactus Jack" Curtice.
"One of the things I'm most proud about is how certain groups of alums feel about the place," Massari said. "Some of it is financial, but a lot of it is emotional support."
French, who was on the search committee that brought Massari to UCSB, said the outgoing athletic director "did a good job at what we thought he'd do — marketing, promotions, videos." Massari was less successful at nurturing camaraderie within the athletic department, which French attributed to "his inexperience in managing people hands-on."
Cunningham agreed to hold down the fort while a new search committee, chaired by former vice chancellor Gene Lucas, starts assessing candidates to replace Massari. "I expect it will take three to four months," Cunningham said. "My goal is to keep the program where it is. It's still an excellent program, one of the best in the Big West, if not the best. I'll leave long-range strategies up to the next athletics director."
Chancellor Henry Yang will make the final call on the next leader of Gaucho athletics, based on the committee's recommendations. Yang is very trustful of Cunningham, who also serves on the committee. The chancellor admired the John Wooden legacy that Cunningham, who spent years as the UCLA legend's top assistant, brought to Santa Barbara.
Massari did things differently, but he recognized Cunningham's legacy. "This place has the morals of Gary in it," Massari said. "He's a stand-up person, straitlaced, is always going to do things the right way. I inherited a department that has that in its DNA. It's going to do the right things academically and athletically."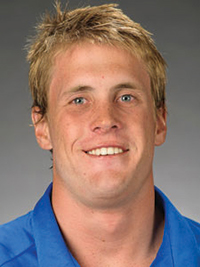 REMEMBERING NICK JOHNSON: Swimmers are invited to participate in this week's Reef & Run Series (Thursday, August 7) at East Beach in memory of Nicholas Johnson, a UCSB water polo athlete and instructor in the city's Junior Lifeguard program. Johnson died at age 19 last March from apparent shallow-water blackout during a swimming practice.
Reef & Run includes three ocean swims (500-meter, 1,000-meter, and 1-mile). The 500-meter event will be held in tribute to Johnson. The usual registration fees will be waived, but a minimum $5 donation will be requested for the Nick Johnson Memorial Fund. The Santa Barbara High School Aquatics Booster Club directs the funds to shallow-water-blackout education and capital improvements after consulting with the Johnson family.
"Nicholas will forever be remembered for his hard work ethic, teamwork, and his ability to find the best in everyone he encountered," said Rich Hanna, the city's supervisor of the Junior Lifeguard program.
Registration for Reef & Run starts at 5:30 p.m. with all swims starting at 6:30 p.m. At 7:20 p.m., there will be a short program at East Beach Grill to remember Nick and his connection to the local aquatic community.